Real Estate Investment Trusts make for compelling long term income investments. REITs build up portfolios of residential or commercial real estate, and lease their properties to people and businesses. Most often, REIT properties are leased out on long term rental contracts, providing the Real Estate Investment Trust with a steady flow of income over the term of the lease.
Real Estate Investment Trusts can invest in a whole range of properties including restaurants, hotels, hospital, nursing homes, and even "digital" real estate.
I am a huge fan of REITs due to their compelling income potential, and am always on the hunt for an attractive yield play.
One such REIT is Care Capital Properties, Inc. (NYSE:CCP), which I last covered three months ago.
At the end of July I called for caution in light of the surge in REIT valuations and because Care Capital Properties was at the risk of a major correction. Though the article wasn't published when Care Capital Properties' shares reached their latest high, it correctly pointed out the growing risk of a correction.
This is what I had to say in July when Care Capital Properties was changing hands for ~$30:
However, like most REITs, Care Capital Properties has become a lot more expensive in the last month (CCP is up ~19 percent over a one-month period), and its shares are at the risk of overheating.

Care Capital Properties said that it expects its normalized FFO to clock in between $2.85-$2.95/share this year, which implies that the REIT's shares are selling for ~10.3x 2016e normalized FFO. What's more, CCP is now WAY overbought, further putting the REIT's investors at risk of a pullback.
Read also: "Wait For A Drop Before Buying This 7.6% Yielding Healthcare REIT".
Shakeout Affords Investors With A Buying Opportunity
Care Capital Properties updated its FFO guidance in August, and now expects normalized funds from operations to hit $2.95 (midpoint) in 2016. This means that the healthcare REIT's shares are currently changing hands for ~9.1x 2016e FFO, making it a bit of an opportunistic investment after the latest consolidation.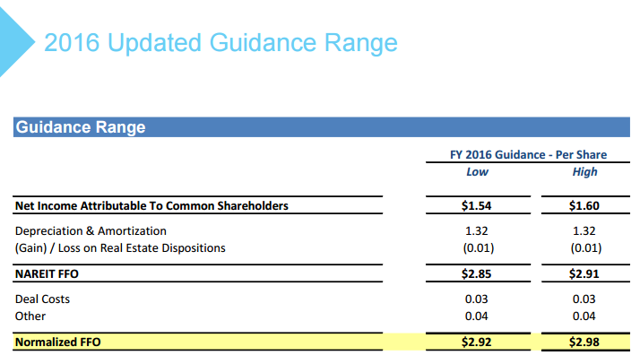 Click to enlarge
Source: Care Capital Properties
Care Capital Properties' share price has slumped ~15 percent from its latest high ($31.56), and an investment in this growing REIT throws off an 8.45 percent dividend yield.
Just as importantly, Care Capital Properties' shares appear to have bottomed out, and are no longer oversold. As far as I am concerned, the reward-to-risk ratio after this shakeout looks rather good, and the dividend yield in excess of 8 percent is nothing to scoff at either.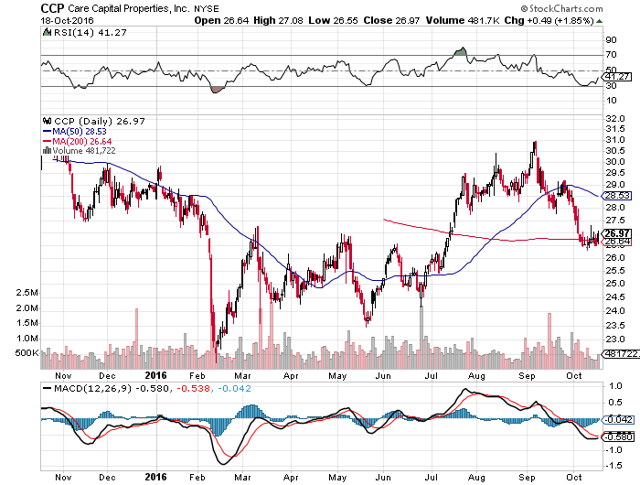 Click to enlarge
Source: StockCharts.com
Your Takeaway
I think the correction in Care Capital Properties' share price opens up a new buying opportunity for investors with cash at hand. Not all REITs are a Buy at today's market prices. In fact, many of them remain overpriced. However, I don't think this is the case for Capital Care Properties at all because the healthcare REIT sells for a low normalized FFO multiple of less than ten while shares are throwing off an 8.45 percent dividend. Buy for income and capital appreciation.
If you like to read more of my articles, and like to be kept up to date with the companies I cover, I kindly ask you that you scroll to the top of this page and click 'follow'. I am largely investing in dividend paying stocks, but also venture out occasionally and cover special situations that offer appealing reward-to-risk ratios and have potential for significant capital appreciation. Above all, my immediate investment goal is to achieve financial independence.
Disclosure: I/we have no positions in any stocks mentioned, and no plans to initiate any positions within the next 72 hours.
I wrote this article myself, and it expresses my own opinions. I am not receiving compensation for it (other than from Seeking Alpha). I have no business relationship with any company whose stock is mentioned in this article.