Most people have never heard of Domtar (NYSE:UFS). Most people however, use their products every day. Copy paper, magazines, books, diapers, even the junk mail you toss directly into the garbage, there's a big possibility it was made by Domtar. This is one of the most under followed companies I know, and I have no idea why. The company is a Canadian based maker of printing paper, known in the industry as Uncoated Free Sheet (hence the ticker UFS), as well as practically any other type of paper you can think of. They also manufacture and sell pulp, the raw ingredient for paper. More recently, Domtar has entered into the not so glamorous business of diapers.
Domtar is a boring old paper company doing business in a declining industry. The demand for printing paper has been in secular decline for many years. Because of this, Domtar has minimal need for CapEx, as they are more likely to close a paper mill than to open one. Everything changed in 2011 when Domtar entered the personal care business through the acquisition of Attends US for $288 million. In 2012 Domtar acquired Attends Europe for $232 million. Following the Attends deals, Domtar also bought EAM, AHP, and Indas, all diaper manufacturers based in various countries around the world. Following these acquisitions, Domtar's cumulative investment in its personal care business now stands at $1.4 billion.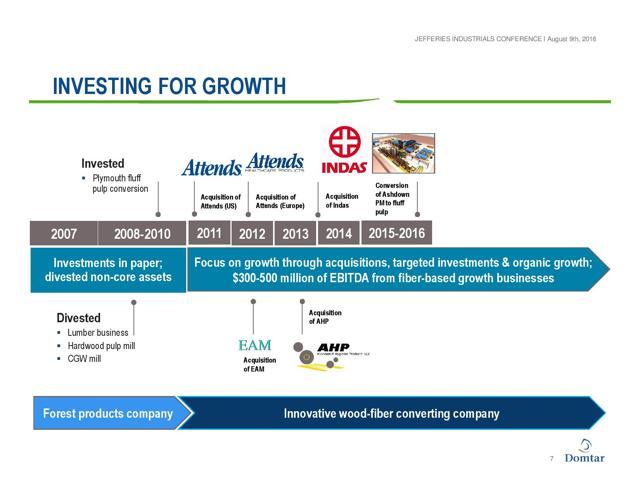 Click to enlarge
Source: Domtar
Why is this so interesting then? Well, Wall Street mostly ignores Domtar. Investors don't generally appreciate businesses in decline, which the paper business is and has been for years. So while no one is paying attention, Domtar is reinventing itself into a personal care company, not unlike how Kimberly Clark did many decades ago when they sold their paper mills and forestland in favor of growing into the more lucrative personal care business it is today.
For now, with Domtar, we have a personal care business hiding inside a paper company that no one cares about. Domtar does not get a premium multiple on its stock. It has a very nice free cash flow yield. This is something that might go unnoticed if one only looks at GAAP earnings. Being that Domtar does not need to spend excessive amounts of cash to grow and expand its paper business, much of the depreciation you see on the income statement falls through as free cash flow. A normal maintenance CapEx rate for Domtar is about 35% of depreciation, leaving a hidden stream of cash that people who only look at GAAP earnings just don't see. This hidden stream of free cash flow, basically the difference between what is expensed as depreciation versus what is actually spent on CapEx, amounted to $733 million, or almost $12 per share over the five year period 2011-2015, and $352 million, or almost $6 per share over the past three years. When you add that cash flow back to the reported earnings, you can see that Domtar's free cash flow is significantly larger than reported income. In the five year period 2011-2015, this hidden cash flow was large enough to fund all dividend payments to shareholders two times over.
This hidden stream of earnings, along with reported earnings, has been used over the years to ramp up the dividend, repurchase a large amount of shares outstanding, and to grow the personal care division. The beauty here, and the opportunity, is that no one really is paying much attention, therefore the company can repurchase its shares and allow existing shareholders to have a growing interest in a growing personal care business that they paid a multiple of earnings for that is normally associated with a dying company. And why is this personal care division so attractive? Well, first off, personal care companies are much more highly valued by Wall Street. The variance between an earnings multiple applied to a paper company versus a personal care company is very wide. Secondly, the underlying growth potential within the personal care segment is quite interesting.
From the Domtar 10K filing:
"Aging population

We compete in an industry with fundamental drivers for long-term growth. The worldwide aging population suggests that adult incontinence will become much more prevalent over the next several decades, as baby boomers enter their senior years and medical advances continue to extend the average lifespan. As an example, it is estimated that between 2011 through 2029, 10,000 Americans will turn 65 years old every day. By the year 2030, approximately 72 million Americans are estimated to be 65 years old or older, representing over 19% of the United States population. It is estimated that approximately 5% of the world population is incontinent. After age 65, nearly one in three people are estimated to suffer from incontinence."
In other words, people are living longer than ever, and unlike babies who grow out of diapers, adults who suffer from incontinence will not. Adult diapers are similar to other consumer products that are cheap, used once, tossed in the garbage and then you use another. Think chewing gum, cigarettes, food & beverages. These are the types of stable products that make up the portfolios of the world class companies that always sell for above market multiples to earnings. This one just happens to be hiding inside a boring old paper company.
Today Domtar has a market value of $2.35 billion. Since 2011, Domtar has generated $1.785 billion of free cash flow. It has used this free cash flow to acquire $1.4 billion worth of personal care companies. It has also spent $408 million on cash dividends, and $932 million repurchasing shares, which has reduced the share count by 34%. Domtar has also taken on some debt here, which is wise considering the growth potential of the assets they have acquired.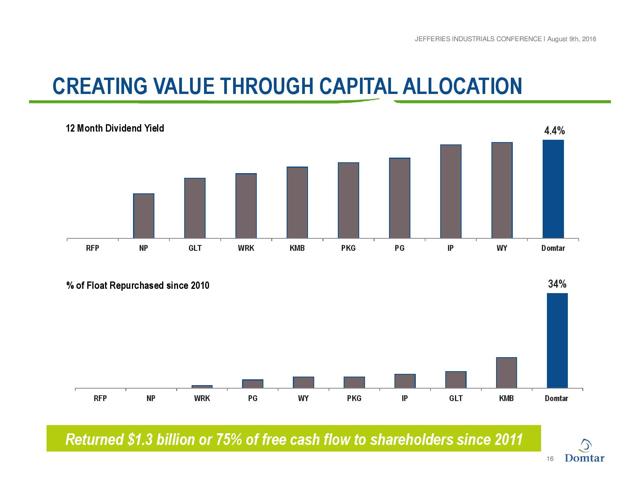 Click to enlarge
Source: Domtar
Domtar is currently trading for 0.44 times its revenue. For comparisons sake, Kimberly Clark is currently valued at 2.3 times its revenue. Proctor & Gamble is valued at over 3 times revenue. If one were to give a multiple of just 2 times revenue for Domtar's personal care division, which sells about $900 million annually, that would almost get you a valuation equal to the entire market cap of Domtar. Think of it like this, if someone came along and acquired Domtar's personal care division at a multiple of two times its $900 million in revenue, Domtar could pay off almost 70% their $1.19 billion of net debt and still have enough leftover cash to cut their shareholders a check in the amount of about $16 per share, or 45% of the current price.
Now, will Domtar sell its personal care division? I don't think they want to, but for the right price, they would have to consider it. Would an activist investor come along and try and force a sale? It wouldn't be difficult to acquire a meaningful block of shares, as there are only 62 million shares that exist and that number shrinks every year because the company continues to repurchase stock.
In the meantime, Domtar pays a very nice 4.5% dividend and has increased that dividend every year since 2010. If one wanted to break Domtar down into an overly simple investment thesis, one could simply say that the expected return for Domtar going forward would be the current dividend yield, plus the growth rate of the dividend. I know this sounds boring, but it's a great way to analyze a high yielding company that regularly increases its dividend.
For example, assuming next year Domtar increases its dividend 7%, the stock MUST RISE 7% in order to keep the 4.5% yield stable. I don't see much chance for Domtar's yield to increase based on a stock price decline, especially considering we live in a world of global negative interest rates, so this is a fair way to reasonably and conservatively predict future returns. Simply put, so long as Domtar continues to raise its dividend annually, one could almost be assured of double digit returns from a purchase of Domtar at these levels. In fact, because of the huge dividend, Domtar's stock price needs only to rise 20 cents per month for an investor to reach a 10% annual return for holding the shares.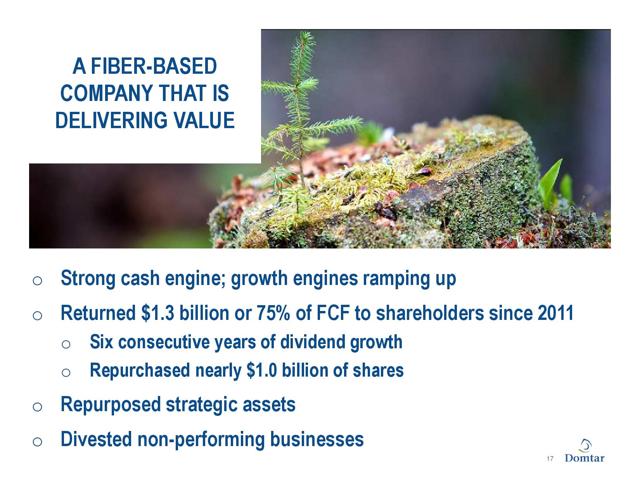 Click to enlarge
Source: Domtar
In conclusion, Domtar provides a great opportunity for an investor to have minimal downside with enormous upside. The dividend puts a floor under the stock. The growth of the dividend provides sufficient upside to allow for a double digit return. The personal care division is the free lottery ticket.
Disclosure: I am/we are long UFS.
I wrote this article myself, and it expresses my own opinions. I am not receiving compensation for it (other than from Seeking Alpha). I have no business relationship with any company whose stock is mentioned in this article.