On Wednesday, Saudi Arabia is set to issue its first wave of sovereign debt to foreign investors. The measure, first announced last November, is being offered in response to a historically severe compression and enduring slump in oil prices that has squeezed the nation's fiscal budget. Accessing the debt markets can help mitigate short-term fiscal pressure and provide financing during a necessary bridge period to a more diversified economy.
A transatlantic roadshow is currently ongoing, after which price guidance is likely to be released. At this point, it appears that the total debt issuance will come somewhere in the $10 billion to $15 billion range, which would mark the largest ever issuance coming from the Middle East. The bonds will be dollar-denominated and offered in 5, 10, and 30-year maturities, with initial yields expected to come in at those of US Treasuries plus 160-235 basis points. With US 5, 10, and 30-year yields at 1.26%, 1.77%, and 2.52%, respectively (as of October 17), initial Saudi yields are expected at around 2.80%, 3.60%, and 4.85% for the same maturities. Naturally, as some investors are given first dibs on purchasing, these yields should contract upon initial release.
Saudi delegates also assert that the bonds will be closely benchmarked alongside comparable regional debt instruments. Qatar, which shares similar economic characteristics to Saudi Arabia, currently has its 10-year bond maturing in 2026 trading at 3.07%. Saudi Electricity, which monopolizes the electric power industry in Saudi Arabia and is 80% owned by the government, currently has its 10-year bond (2024 maturity) trading at slightly above 3.50%.
These are not great returns, but with such a low-yield environment worldwide from an extended era of very loose monetary policy, investors are scrambling into higher yielding emerging markets (NYSEARCA:EEM). Other recent emerging market debt issuances, such as those of Argentina, Mexico, and Qatar, have seen substantial demand. Emerging market funds representing those countries [(NYSEARCA:ARGT)(NYSEARCA:EWW)(NASDAQ:QAT)] have been up 32.6%, 1.9%, and 4.5% YTD, respectively. Yields from the Saudi bonds are nonetheless very likely to be safe despite the fundamental uprooting of its economic foundation.
Some Saudi oil sheikhs believe crude oil is unlikely to attain its 2014 price points of $115 or above for a very long time (or ever in terms of today's dollars). Even as OPEC attempts to contractually uphold a production cut among participating nations (to be formally organized at its annual conference on November 30), oil may not rise significantly above $50 per barrel absent any major exogenous shocks. Many state-owned oil companies and private sector producers in non-OPEC countries will enhance production and contribute to the over-supply currently affecting the market.
According to the Saudi Arabian Monetary Agency, as of 2013, 92.5% of government revenue was derived through the petroleum sector, represented 97% of export earnings, and roughly 55% of GDP. In response to the oil slowdown, Saudi policymakers have taken the steps of slashing government spending, tapping into nearly $200 billion worth of foreign exchange reserves to pay down liabilities and maintain its currency peg with the US dollar, and are now accessing the debt markets to finance the nation's first budget deficits in twenty years. Over time, it's also expected that the Saudis will need to depreciate their currency to help remedy any ongoing fiscal concerns amid the transition period. The riyal is currently fixed to the US dollar at 3.75 riyals per dollar, but the peg is likely to be loosened to the 4.00-4.25 mark over the coming years. These measures should cause the country's debt-to-GDP ratio to climb from around 6% as of 2015 to north of 35% by the end of the next few years.
Yet Saudi Arabia is one of the most solvent countries in the world. Its debt-to-GDP ratio is still conspicuously low compared to the 200%+ ratios we see in Japan and China and the 90%+ ratios we see in the US, UK, and European Union as a whole. The country also has a foreign net assets total between 150%-200% of GDP.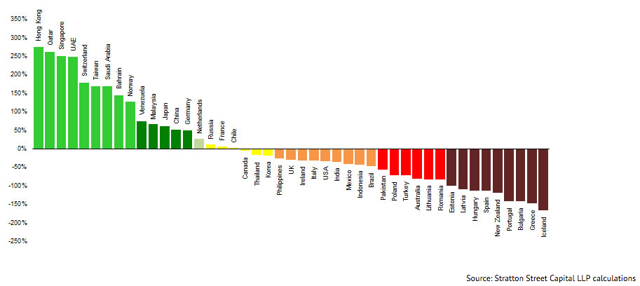 Click to enlarge
With 2016 year-end GDP estimated to come in right around the $656 billion mark, net foreign assets should come in at around $1.1 trillion. Even if we see a $300 billion decay in these assets by the time the 30-year issuance is set to expire in 2046 (unlikely), the country will nonetheless still have net foreign assets of around 120% of GDP. Saudi Arabia also retains proven oil and gas reserves of 260-270 billion barrels, second only to Venezuela.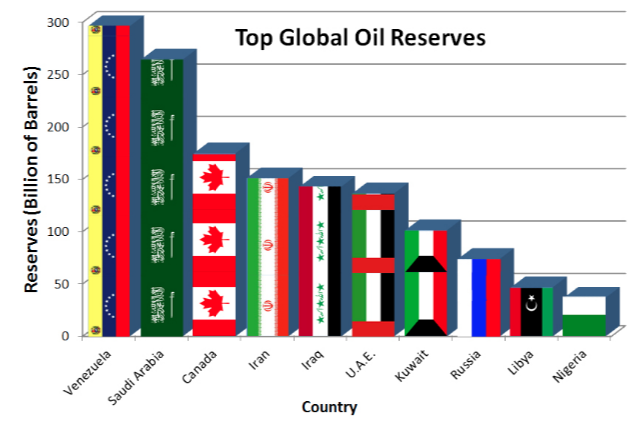 (Source: EIA, Oil and Gas Journal)
At $50 per barrel, that comes out to an extraordinary $13.0-$13.5 trillion, or roughly 20x the country's GDP. Current investors also have the advantage of a lack of dilution from previous debt issuances (though not for long). One can expect further $10+ billion debt issuances in the pipeline over the next few years.
Outside of geopolitical strife affecting the region (e.g., Syria, ongoing Yemeni civil war), Saudi sovereign debt offers US-like security at a slight premium. This leaves investors with a choice. Those who are seeking very safe yields at a premium to US Treasuries will likely be lured by prospective 4%+ returns on the 30-year issuance. Even so, for funds and investors striving for 10%+ returns to appease clients and meet personal returns expectations, Saudi bonds will provide little more than a volatility reduction tool for their portfolios. Many hedge funds will surely find some level of interest, but I would expect sovereign wealth funds -- who normally extract only a few percent of their holdings per year -- to be the biggest participants.
On top of the Saudi offering, the market can expect further issuances from the region down the road. Jordan is likely to issue additional bonds very soon with roadshows now set to begin in the major financial centers of the US and Europe. Saudi Arabia's state-owned oil company Saudi Aramco is also preparing for what may be the largest IPO of all time, on pace for early-2018.
Demand for capital market access is expected to receive a significant ongoing boost, as governments and companies attempt to finance their way through the oil downturn. The Gulf Cooperation Council ("GCC"), comprised of Bahrain, Kuwait, Oman, Qatar, Saudi Arabia, and the UAE ((UAE)) will need approximately $560 billion by the end of 2019 to plug fiscal deficits. At a combined GDP of ~$1.59 billion, this would come to approximately 35% of that figure. This largely inevitable uptick will have ramifications for the region's creditworthiness, with the only other method of fiscal budget plugging consisting of asset drawdowns. Saudi Arabia may be individually responsible for up to $340 billion. Assuming that the country decides to finance the gap with a relatively even mix of asset and debt financing, its current $10-$15 billion issuance may likely be only 10% of what it's likely orchestrating in the coming years.
Recap
The upcoming Saudi debt issuance will offer investors a crack at some of the safest sovereign debt in the world at a 160-235 bp premium to US Treasuries. This will likely be the first in a series of bond offerings not only in Saudi Arabia, but in the broader GCC region. Investors seeking outsized returns may not be interested outside of its use in moderating portfolio volatility and providing the comfort of steady 2.5%-5.0% returns, but the new issuance will likely hold attraction among numerous sovereign wealth funds.
Disclosure: I/we have no positions in any stocks mentioned, and no plans to initiate any positions within the next 72 hours.
I wrote this article myself, and it expresses my own opinions. I am not receiving compensation for it (other than from Seeking Alpha). I have no business relationship with any company whose stock is mentioned in this article.