One of Wednesday's biggest losers is chip giant Intel (NASDAQ:INTC), after the company's Q4 guidance failed to follow up the company's Q3 success. While management's forecast was below the street's current estimate, it seems as if the stock is being punished a bit much for how small the miss actually was.
If we take a look at Q4, Intel's guidance midpoint was about $160 million below the average analyst estimate. However, that was smaller than the $200 million beat Intel reported for Q3, and remember that analyst estimates soared after the company raised guidance. Additionally, while it looked like non-GAAP EPS guidance for Q4 missed by three cents, Intel did beat the street by 8 cents for Q3. In the end, the Q4 shortfall was less than the Q3 beat on both the top and bottom lines.
Additionally, we have to remember where things were just about a month ago. As you will see in the table below, analyst estimates were much lower prior to Intel's Q3 guidance raise. So in fact, Intel's Q4 guidance of $15.7 billion was ahead of where analysts were going into the Q3 raise. The most interesting point is that Intel shares are now about a dollar below where they were prior to the guidance raise.

Click to enlarge
(Source: Yahoo! Finance analyst estimates page)
If we combine Q3 actual results and the Q4 guidance, Intel is now forecast for about $900 million more in revenues and around 13 extra cents of EPS than where it was going into the raise, yet the stock is a dollar lower. Most investors will say that doesn't make sense, and I tend to agree here. 2017 revenue estimates are up about a billion dollars since, with EPS figures up more than a dime.
So why is the stock being hit so much? Well, there was a little bit of concern about the Data Center Group forecast for Q4 being a little light. I'd counter that by saying management mentioned on the call its restructuring plan and productivity savings were also coming through faster than expected. However, it also appears that a bit of selling took place once the stock broke below its 50-day moving average, as seen in the chart below. The stock's next major test could come at the 100-day moving average, which currently is very close to a 3.00% annual dividend yield.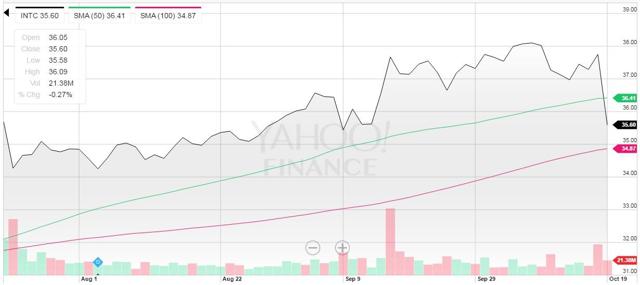 Click to enlarge
(Source: Yahoo! Finance)
Overall, I see the fall in Intel shares as a bit of an overreaction. While the company's guidance may not have matched expectations, the miss was smaller than the reported Q3 beat. Additionally, the stock is now a dollar below where it was before the company's raised guidance, so overall estimates for revenues and earnings are a bit higher yet the stock is lower. The stock's pullback from its 52-week high has raised the annual dividend yield by about 20 basis points, with the stock currently earning 40 basis points more than the 30-Year US Treasury. Selling may have accelerated due to some technical damage being done after falling through the 50-day, but that could provide an opportunity who believe in the company future.
Disclosure: I/we have no positions in any stocks mentioned, and no plans to initiate any positions within the next 72 hours.
I wrote this article myself, and it expresses my own opinions. I am not receiving compensation for it (other than from Seeking Alpha). I have no business relationship with any company whose stock is mentioned in this article.
Additional disclosure: Investors are always reminded that before making any investment, you should do your own proper due diligence on any name directly or indirectly mentioned in this article. Investors should also consider seeking advice from a broker or financial adviser before making any investment decisions. Any material in this article should be considered general information, and not relied on as a formal investment recommendation.