Coca-Cola (NYSE:KO) is one of my oldest holdings, and as much as I hate to admit it, I tend to pay less attention to it than many of my other holdings. Maybe the company has somewhat of a "halo effect" because of Warren Buffet's iconic position in KO shares, but after seeing what happened with Wells Fargo (NYSE:WFC) I decided that maybe I should do a quick check-up on my Coke holdings. I also want to stack the company up against the last company I looked into, Dr Pepper Snapple Group (NYSE:DPS) as well.
Starting out with ROIC...
I built the below model in Excel using data from Coca-Cola's annual report. The same model can be found for Dr Pepper Snapple here.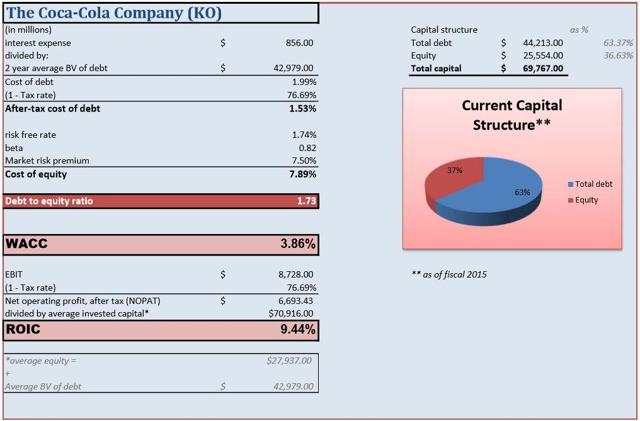 Click to enlarge
Coke's return on invested capital, or ROIC, isn't even half of what it was at the beginning of the decade. It's also inferior to Dr Pepper Snapple's ROIC, but Coke's operating profit has also taken a lot of hits on the chin due to negative currency headwinds, as well as restructuring and other "one-time" charges. It should also be noted that Coke's weighted average cost of capital, or WACC, is also slightly lower than Dr Pepper Snapple's by my estimates - largely because of its more "debt-heavy" capital structure, coupled with a lower overall cost of debt.
I'd chalk up the decline in operating margins largely due to currency headwinds, but Coke's first half of 2016 has shown some light at the end of the tunnel, with its operating income for the first six months expanding by roughly 4% year-over-year.
Still, this is hardly encouraging, especially when stacked up against Dr Pepper Snapple's ROIC of 14.83%. I adjusted DPS' return on invested capital to include off-balance sheet leases as well, but Coca-Cola doesn't have enough of them to move the ROIC-needle. Without theoretically capitalizing operating leases, DPS' ROIC is even higher by my calculations, pushing slightly above 16%. For more detail on this process, please refer back to my previous article on DPS referenced above.
The equity slice: A comparison of return on equity
Next I'd like to take the shareholder perspective and analyze Coke's return on equity. I broke ROE down into five pieces in the below DuPont using numbers pulled from its financial statements.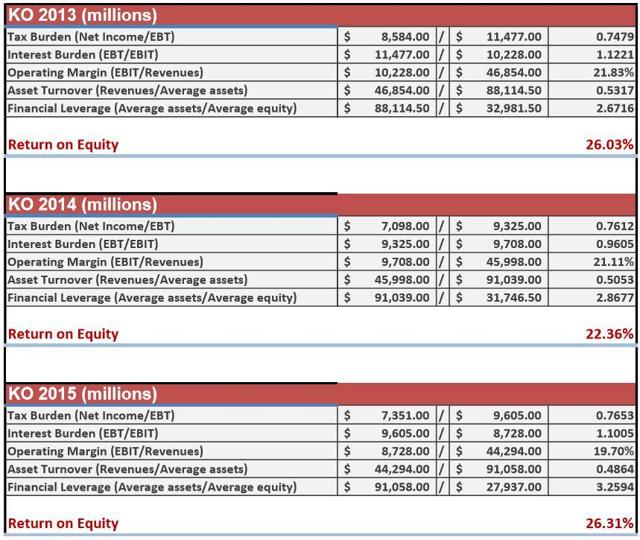 Click to enlarge
The company's ROE actually recovered in fiscal 2015, but there's more than meets the eye to this recovery. From the DuPont we can conclude that Coca-Cola's return on equity is being buoyed by the magnifying effects of increased financial leverage. The company's interest burden also improved, largely from an increase in "other income". Margins continued to sink in 2015, and the company's asset turnover also continued to deteriorate.
I'd argue that the firm's underlying ROE was actually worse year-over-year, therefore. Once again, Coke also plays second fiddle to Dr Pepper in this regard as well. I decided to illustrate this with another chart made in Excel.

We can clearly see some of Coke's advantages over Dr Pepper Snapple, most obvious being its lower tax structure from its more geographically diverse footprint. Coke also earns more interest, equity, and other sources of income which more than offset its interest expense - judging it by its superior interest burden.
Dr Pepper, however, is more efficient in utilizing its assets and maintains slightly higher margins, which can be chalked up to its more domestic exposure (at least in relation to Coke). I think these situations might actually reverse one day when/if the Dollar cools down and removes some of the sting from Coke's results. As of now, however, DPS shares look superior.
Conclusion
It appears that Coca-Cola's International diversification is temporarily backfiring, with negative currency headwinds throwing cold water on margins, growth, and its capital allocation metrics. This will likely reverse/even-out over the long run, but in the meantime it will likely be a real thorn in the company's side. Coke also continues to add to its debt pile, and despite its low cost, I'd like to see the company ease up off the leverage.
Dr Pepper appears to be running a better operation, but it's also more shielded from adverse currency effects. I still think Coke carries a much stronger brand portfolio, but it's hard to argue that it deserves its premium multiple versus Dr Pepper Snapple Group at this point. Sure, Coke beat Q2 estimates, but sales still took an 8% nosedive, so it's hard to get excited. I'll continue to hold shares, but I'm not adding at these level despite the above 3% dividend yield.
If you enjoyed this article and would like to receive further updates and articles in the future, please feel free to hit the "Follow" button at the top of the page next to the author's name.
Disclosure: I am/we are long KO.
I wrote this article myself, and it expresses my own opinions. I am not receiving compensation for it (other than from Seeking Alpha). I have no business relationship with any company whose stock is mentioned in this article.
Additional disclosure: Articles I write for Seeking Alpha represent my own personal opinion and should not be taken as professional investment advice. I am not a registered financial adviser. Due diligence and/or consultation with your investment adviser should be undertaken before making any financial decisions, as these decisions are an individual's personal responsibility.