OncoMed's (NASDAQ:OMED) shares are down 17%, since I first wrote about the company in late September, and continue to show signs of weakness.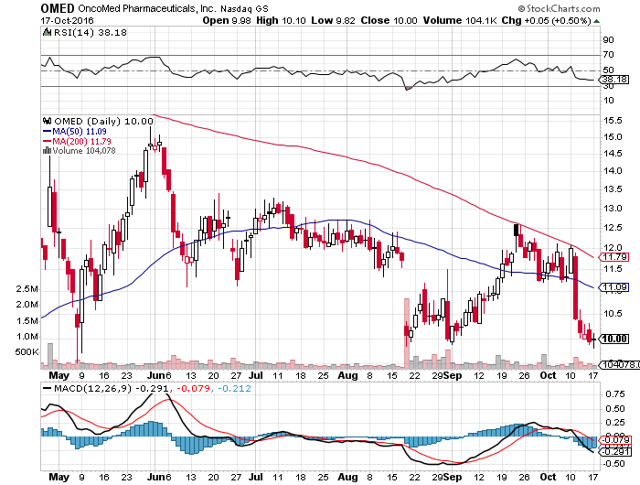 Click to enlarge
Figure 1: Stock chart (source: stockcharts.com)
In my write-up, I explained why I believe there's a good chance shares will rebound. I encourage investors who are new to this story to check it out before continuing. With the company's deep pipeline of intriguing candidates and several big pharma partnerships that add to its credibility, I continue to call this one a core idea.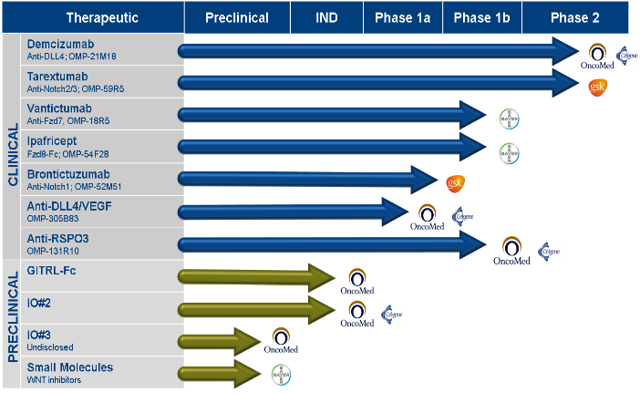 Click to enlarge
Figure 2: Pipeline (source: company webpage)
Data from mid-stage studies involving lead candidates demcizumab and tarextumab should be forthcoming around year-end. Additionally, if Celgene (NASDAQ:CELG), GSK (NYSE:GSK) or Bayer (OTCPK:BAYZF) decides to exercise its options to exclusively license and develop drug candidates, OncoMed could achieve over $172 million in 2017 in payments from partners.
Why I Believe Bayer Will Exercise Its Option
Ipafricept and vantictumab are first in class Wnt pathway inhibitors for which the company entered into a strategic alliance with Bayer in 2010. In 2013, researchers showed that activation of the Wnt/β-catenin pathway is required to initiate pancreatic cancer, as well as proved that Wnt signaling is critical for the progression of the cancer as well. A separate preclinical study demonstrated that targeting the Wnt pathway reduced tumor growth and showed synergistic activity with chemotherapy agents.
The numbers involved were quite attractive considering the preclinical nature of the assets involved - OncoMed received a $40 million payment upfront, and the company could receive up to $387.5 million in payment for each biotherapeutic drug or $112 million for each small molecule drug that is successfully developed through phase III. If Bayer exercises its option to exclusively license product candidates after phase 1 results, Bayer will lead development and commercialization, as well as hold rights for all markets. OncoMed will be eligible to receive double-digit royalties on net product sales (single-digit royalties on small molecule compounds).
At the European Society of Medical Oncology (ESMO) Congress roughly a week ago, OncoMed presented intriguing interim data on ipafricept and vantictumab that seems to have been largely unnoticed by Wall Street. Each drug candidate is being tested in combination with Celgene's Abraxane plus gemcitabine in patients with previously untreated metastatic pancreatic cancer. Each of the phase 1b trials is designed as dose escalation studies.
The ipafricept trial enrolled 22 patients in four dose cohorts, with median follow-up of the patients for 5.9 months (as of cut-off date of August 1). Of 18 patients evaluable for response, clinical benefit rate was 83% and overall response rate was 39%. 9 patients have been on the study over 168 days and two patients for over a year, providing evidence of durability. Of note, patients with a higher expression of Wnt pathway genes experienced over 40% reduction in tumor size compared to those with lower expression. Investigators have not yet determined the maximum tolerated dose (MTD) and are currently enrolling a fourth cohort.
The vantictumab trial enrolled 24 patients in 4 dose cohorts. Of 21 patients evaluable for efficacy, overall response rate was 48% and clinical benefit rate was 86%. Just as with ipafricept, OncoMed's predictive biomarker identified patients who responded better to the treatment. 8 patients had tumors that were positive for the biomarker, and of those patients 7 had partial responses and 1 had stable disease. A maximum tolerated dose has not been determined and a fifth cohort is currently being enrolled.
Importantly, neither candidate enhanced chemotherapy-related toxicities, an important factor for moving the program forward.
Investors would do well to remember that in a phase 3 trial in metastatic pancreatic cancer patients Abraxane plus gemcitabine resulted in a 23% overall response rate. Clearly because of the large difference in patient numbers for the trials, the comparison should be taken with a measure of skepticism.
Conclusion
My thesis from the original article remains intact and is strengthened by the data released at ESMO. Based on the above I have a high conviction that Bayer will exercise its option to exclusively license either ipafricept or vantictumab (or potentially both). This would be a material catalyst for the company, as well as extend its cash runway into 2018 instead of raising funds by mid-2017 as I originally projected. It would also provide the much-needed validation for the company's research capabilities and technology.
Major risks to the thesis remain unchanged - year-end data for either the YOSEMITE study or the PINNACLE study could prove disappointing, which would be reflected in a moderate drop in share price (cushioned by the company's deep pipeline).
Investors should take note that management estimates they will be able to present the opt-in package to Bayer by mid-year 2017, after the completion of additional dose cohorts and the associated follow-up. At higher doses there is always the possibility of a higher incidence of adverse safety events (including bone fractures), so that's a risk we'll have to wait and see how it plays out. There are no guarantees as to whether Bayer will opt in or not - in the case none of the big pharma partners opt in, the company would probably seek alternate sources of funding (potentially dilutive) by mid-year.
The average analyst price target of $18 offers 80% upside from where we are today. As mentioned before, if there's a significant run-up in share price prior to year-end data release, I would caution investors to take some risk off the table.
Clarifications For Readers
*While I don't own a position in the company, the above represents my point of view and my strategy for how I would approach a potential investment in the stock. For 2017 I'm focusing the majority of my funds on local business efforts and other personal endeavors. I look forward to being able to again establish positions as my personal economy allows.
**The Ceviche Fund is a model portfolio I started to show how a risk tolerant investor could go about establishing concentrated positions in a variety of growth and turnaround stocks with upcoming catalysts. I take pride in the transparency of the fund, as trades only take place on the days articles are published and readers are notified, with trades being executed at the day's closing price. The latest update on the fund can be found here.
Disclosure: I/we have no positions in any stocks mentioned, and no plans to initiate any positions within the next 72 hours.
I wrote this article myself, and it expresses my own opinions. I am not receiving compensation for it (other than from Seeking Alpha). I have no business relationship with any company whose stock is mentioned in this article.
Editor's Note: This article discusses one or more securities that do not trade on a major U.S. exchange. Please be aware of the risks associated with these stocks.