Fresh off a rally to $2.2190, copper has dropped back down to the $2.10 level after being unable to break above the July 13 highs at $2.2860 per pound. Copper is starting to look ill once again as fundamentals for the red metal continue to weigh on price. At the London Metal Exchange inventories at 348,000 tons remain high. In China, there is plenty of the red metal around, and producers are producing at a profit. Lower energy prices have caused the cost of output to decline over recent years. While oil has come back from lows of $26.05 in February, the price of the energy commodity is still less than half than it was in June 2014 when oil traded above $107 per barrel.
Since reaching highs in 2011 at over $4.60 per pound, copper has had a very tough time, and it continues to lag almost all other nonferrous metals when it comes to price performance. The bottom line is that copper remains in a bear market and over recent sessions it is beginning to look sick once again.
A long-term bear market in copper
After making all-time highs at $4.6495 in February 2011 when many other raw materials had rallied to dizzying heights, the price of copper fell alongside other commodities.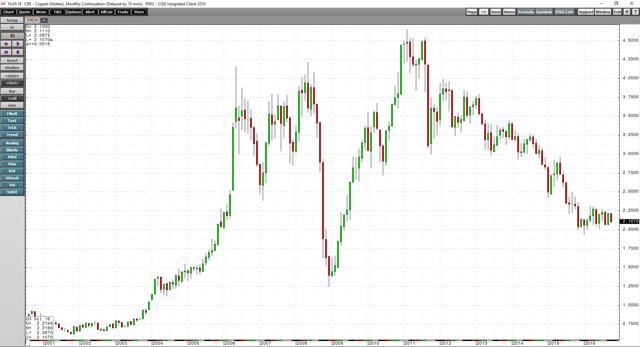 Click to enlargeAs the monthly chart of COMEX copper futures illustrates, the red metal traded to almost $4.22 per pound in 2008 before the global financial crisis made the price crash to $1.2475 that same year. However, copper then spent the next three years rallying ultimately reaching a higher high. One of the main reasons for the strength in copper was aggressive Chinese buying for infrastructure projects as well as for strategic inventories for the future. The music ended for the bull market in commodities in 2011 and the price of copper began falling, reaching $1.9355 during January 2016. While the price has recovered since to above $2 per pound, copper has been unable to break the streak of lower highs this year.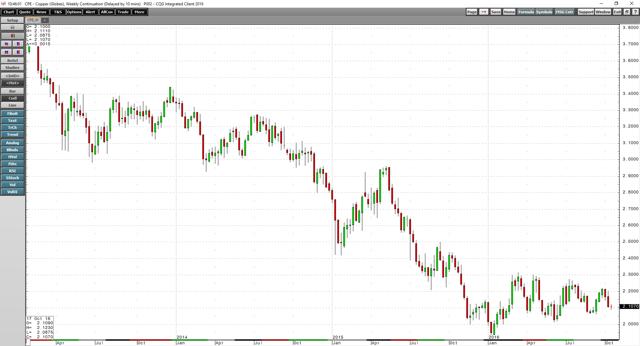 Click to enlargeThe weekly chart highlights the negative price action over recent years and the sideways trading pattern since the January lows. While copper has not declined to a new low since earlier this year, the highs have been lower, and the lows have been higher since June. There is currently a line in the sand for the red metal at the $2.0130 per pound level, the lows from the week of June 6 and copper remains mired in a long-term bear market despite the recoveries in many other nonferrous metals.
Copper continues to underperform other metals
Copper was trading at $2.1255 per pound at the end of 2015, and it is just marginally lower than that price as of Wednesday, October 19, 2016. All of the other nonferrous metals have posted gains since. Aluminum closed 2015 at $1,513 and is around the $1,670 per ton level. The price of nickel was at $8,700 per ton on December 31, 2015, and it is currently trading at $10,380 while lead has moved from $1,795 to $2,008. Zinc has moved from $1,616 to$2,308, and tin has posted gains climbing from $14,525 per ton to $19,750. Copper is the laggard in the base metals sector and the only metal that is currently lower than its closing price at the end of 2015.
A technical rally in the red metal runs out of steam
Copper made an attempt to rally in late September and early October. The December COMEX futures contract increased from $2.0640 on September 12 to highs of $2.2190 on September 30, the final day of the third quarter. However, since then the price has turned south once again as the rally ran out of steam. Copper could not follow through on September gains for several reasons, namely a rally in the dollar and a continuation of abundant supplies and growing stockpiles.
The stronger dollar is bad for copper
Copper picked an awful time to rally. As the price edged higher in late September, the dollar consolidated and then began to make a move in early October.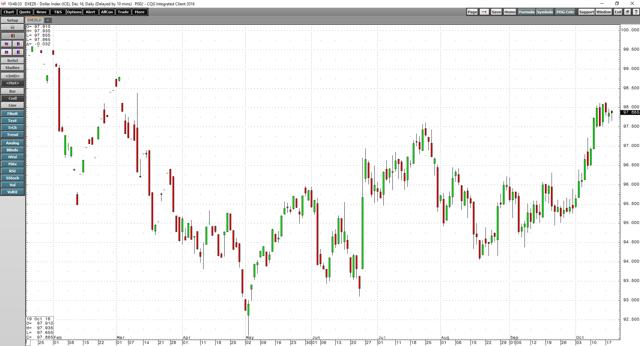 Click to enlargeAs the daily chart of the dollar index futures contract highlights, the greenback moved toward the 97.61 technical resistance level during the first week of this month and broke above that level last week on October 11.
The stronger dollar presents a problem for copper and all commodities. As the reserve currency of the world, there is a historical inverse relationship between the U.S. currency and commodity prices. Therefore, it became tough for copper to sustain its rally in the face of a stronger dollar. While other commodities have fared better over recent weeks, copper already suffers from weak supply-side fundamentals and the stronger dollar put a knife in the back of its rally.
Copper supplies point to lower price
Commodities are all economic animals. They rise to levels where producers increase output, demand declines, and inventories rise at which point they tend to peak in price. They fall to levels where production decreases - demand increases at lower prices and stockpiles begin to drop. The cyclical nature of raw materials is often the primary determinate of the path of least resistance for the price of a commodity. When it comes to the copper market inventories, remains high, and output continues to flow into the market as the price of producing a pound of copper is still below current market levels.
Therefore, the fundamental case for the red metal remains weak. Consistent supply in a market that already has high stock levels is a formula for lower prices. Since March, copper has made lower highs. In March, it rose to $2.3290 in a relief rally following the year's low in January. In April, it got up to $2.3090 before falling back to under $2.05 per pound. In July it rebounded to $2.2860 and most recently it was only able to get to highs of $2.2190 on the final day of Q3. The price pattern for copper is not bullish from a technical perspective.
Copper will need to drop to a level where production and inventories decline for it to have a chance to recover. One thing to consider when it comes to analyzing the prospects for the red metal is that before April 2005, copper never traded above $1.61 per pound on the nearby COMEX copper futures contract. Most of the time before 2005, copper was below the $1 level. The other nonferrous metals that have registered gains have a much better fundamental profile than copper at this time. Zinc and tin are both in deficits where demand is higher than the current level of supplies.
Copper is likely to remain a laggard in the base metals sector. The recent failure, the fourth since March, is likely to lead to more losses in the red metal. Resistance for copper is at the latest highs of $2.2190 while technical support is at $2.064. Below those September 12 lows, things could get mighty ugly and sloppy in the copper market and the year's low at $1.9355 per pound could be in jeopardy.
I have introduced a new weekly service through Seeking Alpha Marketplace. Each Wednesday I will provide subscribers with a detailed report on the major commodity sectors covering over 30 individual commodity markets, most of which trade on U.S. futures markets. The report will give an up, down or neutral call on these markets for the coming week and will outline the technical and fundamental state of each market. At times, I will make recommendations for risk positions in the ETF and ETN markets as well as in commodity equities and related options. You can sign up for The Hecht Commodity Report on the Seeking Alpha Marketplace page.
Disclosure: I/we have no positions in any stocks mentioned, and no plans to initiate any positions within the next 72 hours.
I wrote this article myself, and it expresses my own opinions. I am not receiving compensation for it (other than from Seeking Alpha). I have no business relationship with any company whose stock is mentioned in this article.