In July, I saw a buying opportunity in shares of Tile Shop (NASDAQ:TTS), which were trading just below $18 at the time. TTS is a bit of unique case: it's a retail growth story (which remain exceedingly difficult to find these days) but also one with a turnaround angle. And there's reason to be optimistic on both fronts. New management came in late 2014/early 2015 and has focused on 'blocking and tackling' in the stores, to some success, and growth in the first half, in particular, was highly impressive.
TTS shares are again just under $18, trading at a current price of $17.95 after the company's Q3 release on Tuesday, and I still see an opportunity here. There are standard growth stock concerns, among them valuation - TTS still trades at 39x the midpoint of full-year EPS guidance - and the long-term whitespace TTS truly has as it continues to expand. But the company clearly is on the right path, and took another step in Q3. Yet shares - looking back over the last six months - haven't really moved.
The Operational Initiatives
I wrote in July that after CEO Chris Homeister was promoted on January 1, 2015 (roughly six months after CFO Kirk Geadelmann joined the company), there "is a real sense that finally, the grownups are in charge." Tile Shop had a terrible turnover problem - while the company never disclosed the actual figures, it cited turnover as a driver of weak 2014 - and the new management team has focused on fixing a number of almost comical weaknesses and missing capabilities. Among the problems being tackled:
A frequent inability to collect freight revenue.
Significant damage and shrink, largely from employee neglect and, occasionally, theft.
Salespeople whose first rebuttal to any objection was a price cut.
No "Grand Opening" strategy for a concept that is targeting professional installers and is competing against mammoth home improvement retailers like Lowe's (NYSE:LOW), Home Depot (NYSE:HD), and privately held Menards in the Midwest.
No "scorecard" at the store level to measure manager performance. (Given turnover, the previous sample sizes may not have been large enough, anyhow.)
Price testing for products that had been sold "for years."
Limited managerial positions, except for store manager, which left little in the way of upward mobility for the best employees.
Tile Shop continues to make progress in these areas. Turnover "continues to decline significantly," per Homeister on the Q3 conference call, though TTS still hasn't disclosed actual figures (to my knowledge). Manager tenure is at its highest levels "in several years." TTS has added a "Senior Assistant Store Manager" position to create some of the previously missing upward mobility, and what appears to be the first cohort was promoted in Q3.
In the Q&A of the call, CFO Geadelmann cited continued progress in shrink and damage (aiding in part by the new 'scorecards'), with the company working to develop "standard operating procedures in the field." (Again, this is Retail 101-type stuff.) He also cited better collection of freight revenue, which pushed gross margin to an impressive, and better-than-expected, 70.2% in the quarter.
The work here continues, even if many of the benefits of these initiatives to the P&L have already been seen. But management believes there are more gains to be made from an efficiency standpoint, and Q3 at least should provide more reason to be confident in the management team. And this isn't just a matter of 20 bps in gross margin here or there: Tile Shop's niche model requires a better buying experience and better employee expertise than at its big-box competitors. Establishing a legitimate culture based on that edge is an important part of growth strategy: without it, Tile Shop is going to lose (or at least not gain) share within its existing markets and potentially see its whitespace limited as it begins to target smaller and/or newer markets. From that standpoint, Q3 bodes well.
The Fundamentals
Truthfully, my biggest concern with TTS is the extent to which the market already has priced in the benefits of the operational turnaround. There have been any number of retail turnarounds (TUES, VNCE and PIR come to mind) of late where expectations have either outpaced the potential benefits and/or the impacts of other issues in the business. And as for the fundamental aspect of the story - solid same-store sales growth and a plan to expand unit count 8-12% annually going forward - there aren't many peers in this retail environment. The ones that do exist haven't performed all that well of late. Tractor Supply (NASDAQ:TSCO) is an interesting, albeit more mature, comparison; that stock was Teflon until several weak quarters in the last year took shares down 25%. Zumiez (NASDAQ:ZUMZ) fell about 60% from peak to trough last year. The 'whitespace' opportunities often seem much stronger in the boardroom than on the retail floor.
And TTS likely is nearing saturation levels in some markets: it announced yesterday the opening of two new showrooms in the Chicago area, for instance; one was a relocation but that still gives the company 11 outlets in the metro. Obviously, Chicagoland is a giant market; but it's not as if there aren't multiple big-box competitors and independent retailers as well.
From my standpoint, the biggest risk is that the unit expansion plans will pause (or even come into question), which has been a negative catalyst for TSCO and ZUMZ. (Surf and skate retailer Tilly's (NYSE:TLYS) is another example.) But, at least in the Q3 numbers, there was little evidence of that risk arising in the near term. Same-store sales rose 5.7% in Q3, a notable deceleration from the first half (comps were 13.2% in Q1, and 8.2% in Q2), but that was largely expected due to more difficult comparisons: the figure came in line with analyst expectations, and TTS' two-year stack for the quarter is nearly 16%. Implied Q4 guidance of a 3-7% comp increase seems reasonable as well (against a 9.8% increase in Q4 2015).
Behind the headline figure, the news looks reasonably strong as well. Mature store comps were in the low single digits, which puts off any cannibalization fears (at least for now). Management said the sales strength was broad geographically and across the quarter, despite some fears that remodeling spend is slowing. Stores that opened last year performed "very strongly," per Geadelmann on the Q3 call. That's an important data point, given weakness in 2013-2014 vintages, in particular, and one that further shows the benefit of the operational improvements instituted over the past 6-7 quarters. 'Pro' sales, a key initiative, continue to outperform the rest of the chain, hitting 34% in the first half, per a recent presentation. (TTS hasn't given exact mix figures, but it does appear that retail comps are positive, albeit at lower growth than the chain as a whole.)
Combined with margin expansion and a full-year guidance raise on the bottom line, Q3 looks like a very solid quarter. Certainly, the report strengthens the bull case heading into the quarter, particularly in terms of operations and the P&L. As always, however, the question is valuation.
Valuation
TTS shares were undercut in 2013-2014 by a number of issues, including weak numbers (same-store sales were negative for full-year 2014), allegations of dangerous amounts of lead in the company's products and the discovery that a key supplier was owned by founder and former CEO Bob Rucker's brother-in-law, a fact that had not been disclosed at the time.
In my opinion, TTS shares should be past those issues in full: it's clear that management under Homeister and Geadelmann has improved tremendously. But trading in TTS shares implies the market as a whole already has moved on: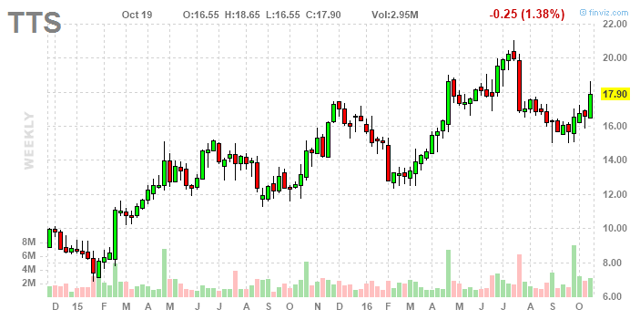 Click to enlarge
Source: finviz.com
So the one hesitation I have toward TTS is the extent to which the bull case is priced in. Again, shares aren't cheap, and my larger concern is the extent to which Tile Shop really can drive much more in the way of margin expansion. Adjusted EBITDA margins - at the midpoint of 2016 guidance - already exceed 21%. The operational improvements are comforting, but this isn't a case where there's substantial earnings growth simply from harvesting low-hanging fruit.
Tile Shop has to grow both comps and its footprint to support even the current valuation; whether that whitespace truly exists is a question that simply can't be answered yet. Certainly, results in Q3 and year-to-date give some confidence on that front; but that also appears to be a reasonably beneficial environment in terms of home renovation. Upside here still requires the long-term story to play out in terms of the 8-12% unit growth targets, and expansion into new markets (California and Florida key among them).
I wrote in July that I still see fair value in the low 20s, based on the company doubling EPS by the end of decade and receiving a mid-20s multiple discounted back, and I still think that's a reasonable target. It does seem likely that TTS will institute either a dividend and/or a buyback program next year, with its debt being quickly reduced by free cash flow, and that might provide an early-year catalyst as well. Still, the long-term story has some questions, and TTS likely would be an early casualty should macro sentiment weaken in the future.
It's that little bit of doubt that keeps TTS from being compelling; but I still see shares as undervalued at the moment even considering that risk. The 'story' here looks stronger with each passing quarter: TTS has an interesting niche, vastly improved management and room for incremental margin gains going forward. Growth looks solid and there's upside if the company can hit its targets. Given that TTS has continued to do so over the past 3-4 quarters, it seems like there should be more of a reward to the stock price than a low-single-digit gain from December-highs. But if TTS continues to hit those targets, the upside no doubt will come - eventually.
Disclosure: I/we have no positions in any stocks mentioned, and no plans to initiate any positions within the next 72 hours.
I wrote this article myself, and it expresses my own opinions. I am not receiving compensation for it (other than from Seeking Alpha). I have no business relationship with any company whose stock is mentioned in this article.