China (NYSEARCA:GXC) has a growing debt problem that may only be maintainable in the very short-term before undue stress on the banking system could coerce a debt paring and recapitalization of the financial sector. Moreover, as the economy converts from an industrialization focus toward a traditional developed system favoring consumption and services, debt needs should attenuate from lower capital spending and allow for corporate debt to peak.
From year-end 2010 (2010E) to 2015E, China's debt-to-GDP ratio increased 26.4% according to data from the IMF. Central government debt has fallen by about 25% over that period, going from 20% to 15% of GDP. Household debt picked up from 2012 onward (36% increase), partially led by the country's real estate boom and now stands at 38% of GDP. Local government debt has picked up by more than 50%. Corporate debt is the biggest burden, increasing 26% since 2010E and represents 126% of GDP and 57% of all debt.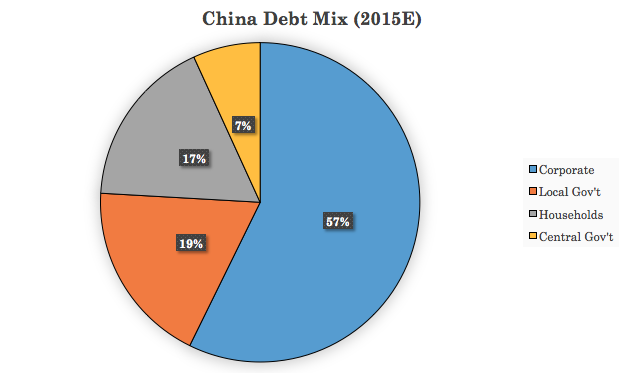 (Source: IMF; modeled by author)
Overall, debt over the six-year period running from 2009E-2015E increased at a pace 4.6% higher than GDP year-over-year. Obviously, over the long-run a country's debt cannot sustainably increase at a pace faster than its income. If not taken care of preemptively -- and they rarely are, hence why we have recessions -- it can eventually lead to vast shakeouts throughout the economy. In the interim, even while the party is still going, growing debt accumulation weakens asset quality within financial institutions. In addition, it undermines credit quality by increasing mandatory principal payments and requiring higher interest charges to compensate lenders for taking on the additional risk burden. And even though central government debt has been diminishing since the beginning of the decade, the surge in corporate debt has been implicitly supported by Beijing policymakers, given the banking system is still state-owned despite its increasing autonomy over the past couple decades.
According to one study done by Standard & Poor's, since 2010E, Chinese corporations' FFO-to-debt ratio has fallen by 45%, denoting a severe deterioration in investment efficiency. (Funds from operations, or FFO, is defined as EBITDA minus net interest and tax expense.) In equivalent terms, companies have been earning such a poor return on their debt capital that they are earning just 55 cents off every dollar of debt issued. Naturally this would already be implicitly suggested by the fact that debt has been rising faster than GDP for several years. The metals and mining and oil and gas sectors had the largest turndowns in this ratio at 86% and 69%, respectively, due to their inherent ties to the volatile commodities markets.
In terms of aggregate indebtedness, metals and mining came in at 14x total debt-to-EBITDA followed by real estate development at 12x. Just 12% of Chinese corporations as of 2015E, had debt-to-EBITDA ratios of 2x or under. An astounding 63% were levered above 5x. Of the 5x and above sub-sample, 10% had a negative EBITDA. On top of that, 51% had FFO-to-debt ratios of less than 12%. Of this sub-sample, nearly 20% had negative FFO readings. Based on the FFO metrics, roughly 10% of Chinese corporate loans could be considered non-performing (NPLs), or at a point where the borrower is no longer able to attend to principal and interest payments.
China's Financial Sector Is Probably Safe... For Now
In July, Reuters reported that China's outstanding NPLs exceeded two trillion yuan or roughly $300 billion, representing 2.15% of bank lending. However, the definition of an NPL is far from uniform given there is no standard agreement on what metric best represents cash flow and what threshold it should ideally meet. In April, the IMF reported that China's problem loan ratio is 5.5%. If we take the respective proportions of non-central government debt, 61% comes from corporate entities, 21% from households, and 18% from local governments. If we assume the amount of problematic loans in each category (based on the percentage having negative annual cash flow metrics) comes to 10%, 3.5%, and 1.25%, respectively, the problematic loan ratio could be as high as 7.06%. If we assume that these percentages are closer to 6%, 2.75%, and 0.8%, the ratio could be as low as 4.38%. The median would come to 5.7%, or close to the 5.5% calculated by the IMF. But if we err on the side of caution and use FFO as a better proxy for cash flow than EBITDA, the ratio is somewhere above 6% and very likely closer to 6.5%.
According to the World Bank, China had a 7.04% capital to assets ratio. (The US is at 11.8% by comparison, though China is still above the world average.) Therefore, in the event that the problem loan ratio approximates 7.06% better than 4.38%, the Chinese financial sector could already be at the point at which its lending becomes financially problematic.
In terms of other related metrics, the IMF defined China's loans that are "potentially at risk" to measure $1.3 trillion -- or roughly the GDP of one of Russia, Australia, or South Korea. This comes to 15.5% of all Chinese commercial lending capital. The IMF defines "potentially at risk" to mean that borrowers can sell assets to meet debt payments and banks are afforded the right to asset seizure and collateral recovery to avoid losses. A loss ratio of 70% would come to $900 billion or around 53% of China's Tier 1 capital holdings, or the equivalent of around 1.6 years' worth of pre-tax income. Chinese regulators also allow domestic banks to securitize 50 billion yuan ($7.4 billion) worth of poorly performing loans to offload bad credit from their balance sheets.
Overall, credit growth in the Chinese economy has decelerated from 35% year-over-year in 2009 (to finance the nation's fiscal stimulus) to 12%-13% in 2015. Yet considering that China's economy is now growing at a rate of just 6.7% year-over-year, the ascension of debt accumulation over GDP growth continues. By 2020, the country's economic growth, based on my own GARCH model, should slow to somewhere in the 4.7%-5.5% range. Cutting credit growth by two-thirds in four years to a point under expected GDP growth will be a tall task, but is doable assuming industrial investment slows as China increasingly orients itself toward a traditional developed world consumption-based economy.
If credit growth continues in the low-double digit percentages due to a slower than expected economic transition or to finance additional fiscal stimulus, a worrisome level of financial sector stress would be likely within the next few years. If credit aggregation were to continue on its current pace linearly, the amount of problematic corporate loans would be projected to increase by 140-220 bps per year using negative FFO as the core determinant of what qualifies as such.
If household and local government debt were to remain stable, problematic loans ratios are assumed to be at the lower bound of the above stated range for each type (6% for corporations, 2.75% for households, and 0.8% for local governments), and problematic corporate loans were to increase year by year by the aforementioned lower bound of 140 bps, the Chinese problematic loan ratio would match the banking sector's capital to assets ratio in 3.1 years. To sum up the significance, China's growing debt problem, if not reined in soon, could turn out to be a danger to the country's financial sector starting anywhere from right about now to, at the latest, Q3 or Q4 2019.
Recap and Investing Significance
As is intuitively plain, a nation's debt cannot perpetually rise faster than its GDP over time. Being that human nature is inherently undisciplined, debt accumulation normally surpasses the rate of GDP growth until an internal and/or exogenous shock disrupts the ability for governments, corporations, and/or households to pay off the debt accumulated, causing recessions.
China is currently in one of these expansionary periods where debt is already at precarious levels relative to its GDP. If Chinese policymakers mishandle the situation regarding the country's rising corporate debt, it could lead to global repercussions if any subsequent credit freezes fail to remain isolated. Policymakers and regulators must preempt the issue with measures that could range from cracking down on unproductive credit expansion, tightening standards on capitalization requirements, authorizing higher amounts of off-balance sheet risk offloading, facilitation of pro-business practices such as easier market entry, proactive identification of struggling enterprises, governance reform, and/or privatization of government-owned corporations.
The good news is that China is still growing. But with globalization seemingly slowing and financials in a bit of a quandary, I am personally staying on the safe side and avoiding any investments in China, but particularly industrials (NYSEARCA:CHII), infrastructure (NYSEARCA:KFYP), and financials (NYSEARCA:CHIX).
Disclosure: I/we have no positions in any stocks mentioned, and no plans to initiate any positions within the next 72 hours.
I wrote this article myself, and it expresses my own opinions. I am not receiving compensation for it (other than from Seeking Alpha). I have no business relationship with any company whose stock is mentioned in this article.