Canadian telecom powerhouse Rogers Communications Inc. (NYSE:RCI) has not only just released its third quarter report but also its CEO. Facing continued losses in TV subscribers, continued pressure to increase its wireless market share and the issues surrounding the Media division many investors are wondering if Rogers will remain a good dividend paying option for their portfolios.
Shomi the money
Right off the top we need to look at Rogers' third quarter results to see what kind of shape the company is in right now. Rogers managed to increase its revenues in Q3 to C$3.49 billion from C$3.38 billion during the same period last year. Despite some difficulties which we will get into later Rogers managed to boost revenues across most of its divisions in the quarter, and is also still in positive territory year-to-date.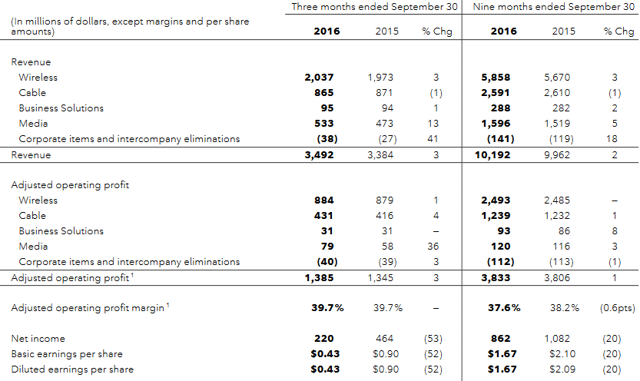 Despite the increases to revenues the issue being faced by Rogers becomes evident when we look at its net income in the quarter which fell to C$220 million (C$0.43 per share) from C$464 million (C$0.90 per share). Much of this lost ground comes from the shutdown of Shomi, Rogers' streaming service which it ran as a joint venture with Shaw Communications (NYSE:SJR). When Shaw sold its Media division to Corus Entertainment (OTCPK:CJREF) it pulled out of the joint venture in order to redistribute its capital into Wind Mobile. For Rogers, Shaw essentially took its ball and went home, leaving Rogers to pay for the field. The shutdown of Shomi (coming November 30) resulted in a C$140 million write-down for Rogers this quarter. That $140 million is above and beyond the money Rogers has already spent on the development of the service and the millions it has spent on securing digital streaming rights.
Shomi the growth
It's not all doom and gloom for Rogers' financials as in the past quarter the company generated the most new wireless subscriptions in a quarter since 2010, and increased service revenues by 6%. In all Rogers added 114,000 net new subscribers in Q3 2016, up from the 77,000 net new subscribers it added in Q3 2015 along with the bump from the Mobilicity acquisition. These additions bring Rogers' total subscription base to 8.46 million post paid subscribers and 1.67 pre paid subscribers, up from 8.24 million and 1.57 million respectively during the same period last year.
Cable services saw its best quarter since 2011 with the launch of the Ignite internet package which helped bring in 39,000 net new subscribers, compared to the 24,000 net new subscribers added during the same period last year. This brought Rogers' total internet subscription base to 2.11 million compared to 2.03 million last year and helped to offset the losses in the TV division which saw its total subscription base fall to 1.83 million from 1.92 million.
Shomi the door
Along with the release of the Q3 2016 report Rogers also announced that it had released its CEO Guy Lawrence after only three years in the position. Apparent friction between Lawrence and the ruling family combined with the lack of returns from the NHL agreement (signed by Lawrence's predecessor) has finally culminated with the change in leadership direction. Investors have had a love/hate relationship with the now former CEO. While investors supported the removal of excess Rogers family members and a focus on customers service the issues such as the failure to increase the dividend, a convoluted internal restructure (Rogers 3.0) and the debacle which was Hockey Night In Canada last year left many wary of making a long term investment in Rogers Communications.
Going forward it appears that Rogers is attempting to bring in former Telus Corp (NYSE:TU) CEO Joe Natale to be their new CEO. The belief is that Natale was selected due to his strong focus on customer satisfaction, which while it has improved has always been a red flag over at Rogers. Natale was believed to be in the running during the last CEO search at Rogers but non-compete clauses may have closed that door, and those same non-compete clauses could pose some issues this time around also. Given the leadership structure of Rogers whatever time is necessary to appoint a permanent CEO shouldn't cause any ill effects on the stock, and the role of CEO is currently being filled by Chairman Alan Horn.
Shomi the stock
The story behind Roger's stock has always been one of steady growth with a solid dividend, and that story is poised to continue. It just may happen at a slower pace than it used to in previous years however, just because of the growth of Rogers' three national competitors recently. Currently the stock is trading not far from its 52 week highs and its average price target is sitting at C$57.66 with a range of C$54.00 to C$60.00.
| | | | | | | |
| --- | --- | --- | --- | --- | --- | --- |
| | Price | 52 Week Low | 52 Week High | Dividend | Yield | Fwd P/E |
| TSX | C$54.58 | C$46.15 | C$58.99 | C$1.92 | 3.52% | 18.73 |
| NYSE | $41.61 | $32.50 | $45.50 | C$1.92 | 3.61% | 14.24 |
For investors looking to shore up or even begin a position in the Canadian telecom sector Rogers is perhaps your best B choice. By that I mean that given its size and modest growth it has a high degree of stability given its stock price. While currently the other three telecoms BCE (NYSE:BCE), Telus and Shaw are in the midst of extensive M&A and infrastructure spending. These other telecoms will perhaps see better year over year share price growth than Rogers, which is why I continue to believe that Rogers paired up with one of these other telecoms makes for a better strategy for your portfolio.
Author's note: If you enjoyed this article and found it helpful, please "Follow" me on Seeking Alpha to receive notification whenever I publish a new article.
You may also be interested in other recent articles I have written for Seeking Alpha with my Canadian point of view that focus on stocks and stories that I have found compelling. You can also find my previous articles here for further study.
Disclosure: I/we have no positions in any stocks mentioned, and no plans to initiate any positions within the next 72 hours.
I wrote this article myself, and it expresses my own opinions. I am not receiving compensation for it (other than from Seeking Alpha). I have no business relationship with any company whose stock is mentioned in this article.