Summary
Nutanix Inc. (NASDAQ: NTNX) - Buy Recommendation
The 25-day quiet period on underwriter analyses that began with the September 30, 2016 IPO of Nutanix will come to an end on October 25, allowing the firm's IPO underwriters to publish reports and recommendations on the company for the first time on October 26.
Current and historical research supports a significant potential for above-market returns in the five days prior to and two days after the conclusion of a company's quiet period.
We are particularly optimistic on the Nutanix IPO quiet period expiration opportunity as the stock had an impressive market debut, Nutanix is backed by a powerful team of underwriters, and the IPO market has been strong overall this fall.
Business Overview: Provider of Enterprise Cloud Platform Solutions
Nutanix offers enterprise-level, cloud-based services that integrate the traditional IT silos of server, storage and visualization into a single solution. The company's software products portfolio includes Acropolis, which delivers application mobility and performance distributed storage solutions. We describe in our IPO preview that, in addition, the portfolio offers Prism, which delivers integrated virtualization and infrastructure management, operational analytics, and one-click administration solutions.
Nutanix's product portfolio addresses a range of applications, including enterprise applications, databases, virtual desktop infrastructure, unified communications, and big data analytics. A wide range of industries uses Nutanix products, including automotive, consumer goods, education, energy, financial services, healthcare, manufacturing, media, public sector, retail, technology, and telecommunications.
Nutanix has a broad, diverse client base of over 3,768 end users as of July 31, 2016, such as Yahoo (NASDAQ:YHOO), the U.S. Department of Defense Office of the Secretary of Defense, Toyota Motor of North America, Total S.A. (NYSE:TOT), NTT SmartConnect Corporation, Nordstrom (NYSE:JWN), Nintendo (OTCPK:NTDOY), Nasdaq (NASDAQ:NDAQ), Kellogg (NYSE:K), Jabil Circuit (NYSE:JBL), Covance (NYSE:CVD), Best Buy (NYSE:BBY), and Activision Blizzard (NASDAQ:ATVI).
Management Team Highlights
As noted in company filings, CEO, Chairman and Co-founder Dheeraj Pandey has served the company since 2009. His previous experience comes from positions at Aster Data Systems, Oracle Corp., and Zambeel. Mr. Pandey received a B.Tech in computer science from the University of Texas.
President Sudheesh Nair has served in his position since February 2016. He joined the company in 2013. His previous experience comes from senior positions at IBM-XIV, DDN, ONStar, and Zambeel.
Competitors: VMware (NYSE:VMW), Red Hat (NYSE:RHT), Cisco (NASDAQ:CSCO) and Others
Nutanix faces competition from a variety of companies that offer virtualization, infrastructure and management products including NetApp (NASDAQ:NTAP), IBM (NYSE:IBM), Hitachi Data Systems, Dell Technologies (NYSE:DVMT), Lenovo Group (OTCPK:LNVGY), Cisco Systems, and Hewlett Packard (NYSE:HPE).
We have provided an updated relative valuation chart below (as of 10.19.2016 pre-mkt).
| | | | |
| --- | --- | --- | --- |
| | Market Cap (Mil) | Net Income (Mil) | Price/Sales |
| VMware | $31.06 | $1,055 | 4.55 |
| IBM | $144.3 | $11,931 | 1.8 |
| Red Hat | $13.85 | $212 | 6.2 |
| Nutanix | $4.42 | ($168.5) | 6.4 |
NTNX continues to be priced close to its peer group.
Financial Highlights & Recent Developments
Nutanix's total revenue was $241.4 million and $444.9 million for fiscal 2015 and fiscal 2016, respectively, net losses were $126.1 million and $168.5 million for fiscal 2015 and fiscal 2016, respectively. Net cash generated from operations was $3.6 million for fiscal 2016.
NTNX raised $238 million in its IPO; the company stated it would be using these impressive proceeds for capital expenditures and general corporate purposes.
The company also noted it completed the acquisition of PernixData Inc., on September 6, for 1.7 million shares of Class B common stock and contingent consideration, of up to $7.5 million. PernixData specializes in scale-out data acceleration and analytics. The acquisition is not yet included in Nutanix's consolidated financial statements.
Conclusion: Buy Prior To Expiration Date
NTNX went public on Sept. 29, 2016, popping 131% on its first day of trading, with just a slight 10.4% pullback in the after-market. The company priced at $16, offering 14.9 million shares. NTNX closed at $30.75 on October 18th.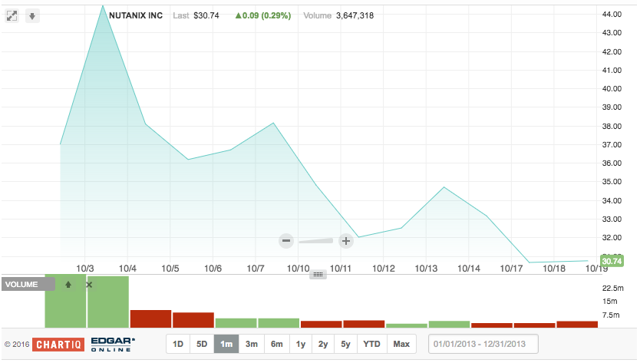 Click to enlarge
Given this impressive start, we believe NTNX's underwriters will be ready to issue positive (Buy, Outperform) recommendations after Oct. 25. This powerful group includes: Goldman Sachs, J.P. Morgan, Morgan Stanley, Credit Suisse Securities, Needham & Co., Oppenheimer, Pacific Crest Securities, Piper Jaffray, Raymond James, RBC Capital Markets, Robert W. Baird & Co., Stifel Nicolaus, and William Blair & Co.
We suggest buying NTNX prior to this event to take advantage of a likely incline in price in anticipation of the quiet period expiration.
Disclosure: I am/we are long NTNX.
I wrote this article myself, and it expresses my own opinions. I am not receiving compensation for it. I have no business relationship with any company whose stock is mentioned in this article.