As mentioned in "REITs Are Getting Crushed by BDCs", this has been a good year for high-yield investments but business development companies ("BDCs") have been easily outperforming high-yield corporate bond funds as shown in the chart below comparing UBS ETRACS Wells Fargo Business Development Company ETN (NYSEARCA:BDCS) to iShares iBoxx $ High Yield Corporate Bond ETF (NYSEARCA:HYG), SPDR Barclays High Yield Bond ETF (NYSEARCA:JNK) and the S&P 500.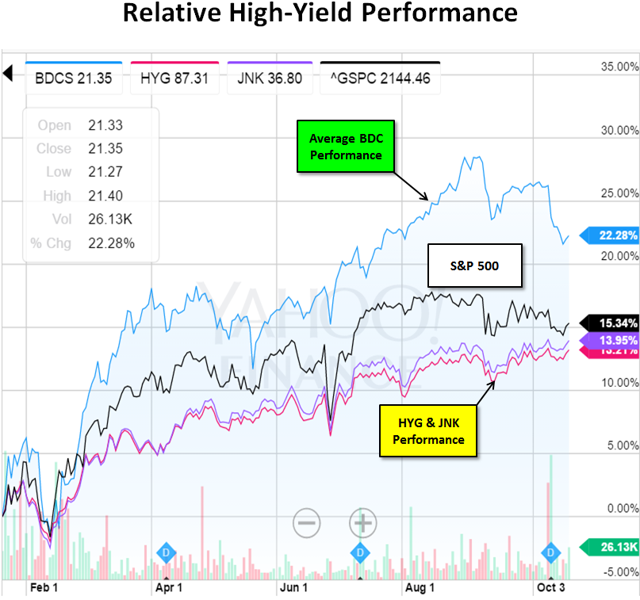 Click to enlarge
Why are BDCs Outperforming HYG and JNK?
HYG and JNK have declining and relatively volatile distributions. The following charts show the changes in distributions for HYG, JNK and BDCS over the last five years.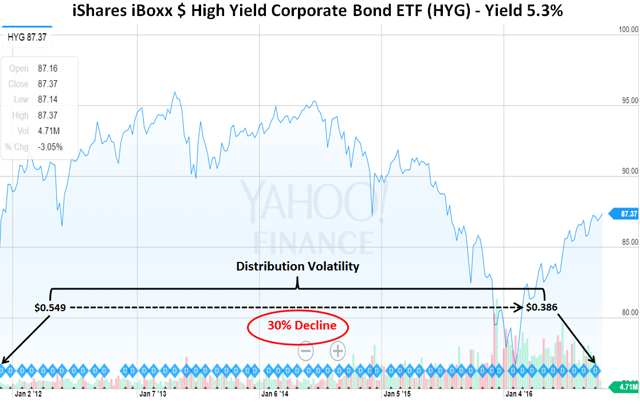 Click to enlarge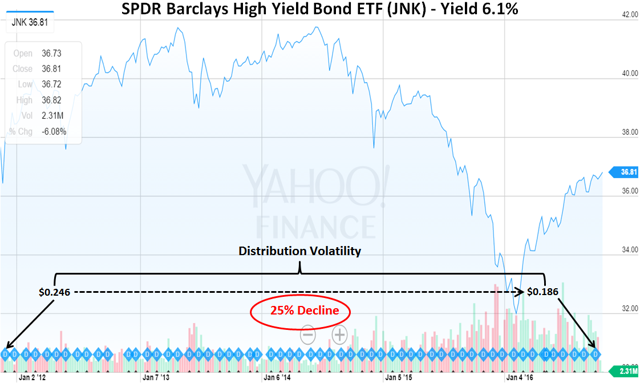 Click to enlarge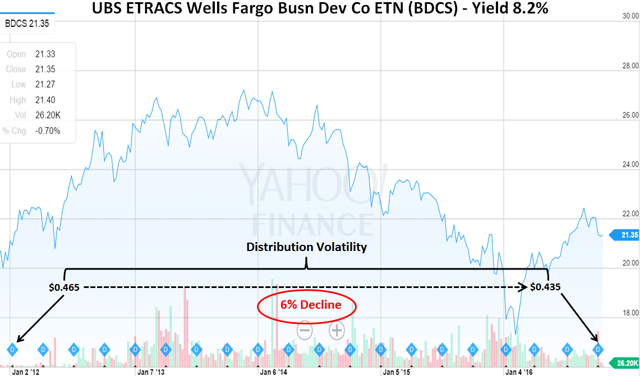 Click to enlarge
BDCs are still offering higher yields:
Even though BDC stock prices have recently appreciated more than most higher yield investments, they still offer much higher dividend yields. The average BDC dividend yield is currently around 11.0%, which is above the five-year average of 10.4% as pricing is still recovering from two years (2014 and 2015) of testing new lows. Also, the average BDC has a higher yield than the ETN BDCS (with 8.2%) due to fees and allocations.

However, as discussed in "Pricing For The High-Yield BDC Sector", it is important for BDC investors to assess the sustainability of dividends, which includes:
Growth capital and leverage availability
Potential portfolio credit issues
Portfolio yield compression and prepayment potential
Recurring vs. onetime income
Fee structures and operation cost efficiency
PIK vs. cash income
For previous articles on each of these dividend coverage drivers as well as BDC pricing and rankings, suggested BDC portfolios, dividend coverage tiers, pricing charts, interest rate discussion, my upcoming/historical purchases and current positions, please see "Index to Free BDC Research".
Typically, the higher yield BDCs such as TICC Capital (NASDAQ:TICC), CM Finance (NASDAQ:CMFN), PennantPark Investment (NASDAQ:PNNT), THL Credit (NASDAQ:TCRD), Garrison Capital (NASDAQ:GARS), KCAP Financial (NASDAQ:KCAP), WhiteHorse Finance (NASDAQ:WHF), TriplePoint Venture Growth (NYSE:TPVG), Fifth Street Finance (NYSE:FSC), Prospect Capital(NASDAQ:PSEC), Stellus Capital Investment (NYSE:SCM) and Newtek Business Services (NASDAQ:NEWT), in the table above are likely "perceived" to have potential issues related to capital preservation (risk) and/or dividend coverage from stable sources. I am currently anticipating 2 to 3 of these BDCs cutting dividends in the coming quarters. Capitala Finance (NASDAQ:CPTA), Medley Capital (NYSE:MCC), Apollo Investment (NASDAQ:AINV), Triangle Capital (NYSE:TCAP), and Full Circle Capital (NASDAQ:FULL) were previously included in the higher-than-average yield group before cutting their dividends this year. Please see previous "Dividend Analysis" articles for more.
BDCs with portfolios that include higher credit quality and bank-like loans usually have lower dividend yields. Golub Capital BDC (NASDAQ:GBDC), Solar Capital (NASDAQ:SLRC), Main Street Capital (NYSE:MAIN), Goldman Sachs BDC(NYSE:GSBD), Gladstone Investment (NASDAQ:GAIN), PennantPark Floating Rate Capital (NASDAQ:PFLT), TCP Capital (NASDAQ:TCPC), TPG Specialty Lending (NYSE:TSLX), Solar Senior Capital (NASDAQ:SUNS), Hercules Capital (NASDAQ:HTGC) and Monroe Capital (NASDAQ:MRCC) are likely perceived to have stable to growing dividends with portfolios that would probably outperform during an economic slowdown/decline.
Why are BDCs outperforming other high-yield investments?
Still recovering from two years of testing new lows
Higher yields than average and other investments
Default rates could be lower than expected for 2017
As mentioned earlier, BDCs were testing new lows, providing increased dividend yields to investors, since 2014. The following chart shows that BDCs are approaching the five-year average dividend yield. However, I am expecting volatility (lower prices) this year before heading into another potential rally for 2017. As BDCs approach an average yield of 12%, I generally consider them to be oversold which is when I make larger purchases as discussed in "BDC Buzz Begins 2016 Purchases" and "Are BDCs at Another Buying Point" and shown in the chart below.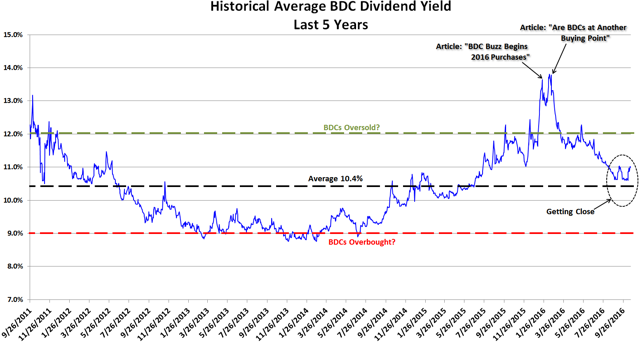 Click to enlarge
To be a successful BDC investor:
Identify BDCs that fit your risk profile (there are over 50 publicly traded BDCs, please be selective)
Diversify your BDC portfolio with at least five companies
Establish appropriate price targets based on relative risk and returns (mostly from dividends)
Be ready to make purchases during market volatility and look for opportunistic buying points
Closely monitor your BDCs, including dividend coverage potential and portfolio credit quality
It is important to realize that BDCs can be opaque and do not report consistently so investors need to look beyond changes to net asset value ("NAV") per share and dividend coverage from net investment income ("NII"). This includes assessing the "quality" of management.
Personal note: I have updated my positions to reflect changes in my holdings, but please keep in mind that some of the positions are very small and mostly for research purposes. There are over 50 publicly traded BDCs and I try to cover as many as possible but I do not have the bandwidth to include each company for each article.
Disclosure: I am/we are long ABDC, AINV, ARCC, BKCC, FDUS, FSC, FSFR, FSIC, GAIN, GARS, GBDC, GLAD, GSBD, HCAP, HTGC, MAIN, MCC, MRCC, NMFC, PFLT, PNNT, PSEC, SLRC, SUNS, TCAP, TCPC, TPVG, TSLX.
I wrote this article myself, and it expresses my own opinions. I am not receiving compensation for it (other than from Seeking Alpha). I have no business relationship with any company whose stock is mentioned in this article.