Click to enlarge
Core Labs employees
Core Laboratories (NYSE:CLB) reports Q3 earnings after-hours on Wednesday. Analysts expect revenue of $146.23 million and EPS of $0.39. The revenue estimate assumes a decline of 1% sequentially. Investors should focus on the following key items during the quarter.
North America Should Roll
Core Labs' revenue and earnings have been punished by the rapid decline in oil industry capex. Its Q2 revenue and EBITDA fell Y/Y by 27% and 52%, respectively. Despite its small size ($148 million in quarterly revenue), it was able to maintain 18% EBITDA margins. As a comparison, Halliburton's (NYSE:HAL) margins were 12% on $3.8 billion in quarterly revenue in Q2.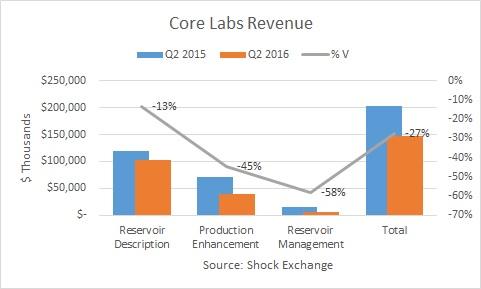 Core Labs experienced declines in each segment last quarter. The operations of Reservoir Description (70% of revenues) works on long-term crude oil and natural gas projects with an emphasis on deepwater. I expect this segment to struggle for the foreseeable future given the dearth in new deepwater contracts. Production Enhancement (26% of revenues) provides products associated with completion of oil wells in the U.S. The segment has the most promise after the U.S. rig count increased and Halliburton announced animal spirits had returned to the oil patch; Halliburton backed up that claim after its North American operations grew 9% sequentially in Q3. HAL was up over 5% in afternoon trading. CLB could receive a similar bump if its completion operations show an outsized rebound.
Ample Liquidity
Energy-related names can be defined by those with liquidity and those who lack it. A $197 million equity raise in the first half of 2016 helped the company shore up its balance sheet and pare debt. The company now has $15 million in cash and total working capital of $99 million. Core Labs is also a cash generating machine; it generated $74 million in cash from operations in the first half of the year. Its low debt levels ($208 million in debt) and solid cash flows should allow the company to survive a protracted downturn, yet benefit in case oil markets continue to rebound. That appears to be what bulls are betting on.
Conclusion
I anticipate a slight decline in top line growth this quarter. If completion operations can offset the diminution in deepwater, then Core Labs could demonstrate earnings momentum going forward. However, with a $5.3 billion enterprise value, CLB currently trades at nearly 49x its run-rate EBITDA which, in my opinion, makes it a stock to avoid.
Disclosure: I am/we are short HAL.
I wrote this article myself, and it expresses my own opinions. I am not receiving compensation for it. I have no business relationship with any company whose stock is mentioned in this article.