Plaintiffs in the second largest accounting fraud lawsuit have voluntarily withdrawn against PricewaterhouseCoopers with respect to potential misrepresentations in their audits for Freddie Mac (OTCQB:FMCC). The largest accounting fraud lawsuit is against Deloitte for audits regarding Fannie Mae (OTCQB:FNMA). Both Fannie Mae and Freddie Mac are Government Sponsored Enterprises (GSEs) under conservatorship. Since the government took control of the enterprises on a net basis it has transferred from the GSEs to itself over $100B of cash in the span of 8 years rending them nearly insolvent.
With the government taking all of the money you may wonder if there is even an investment opportunity here at all because the discounted cash flows of nothing are technically $0. You're right. Owning the publicly traded shares is a bet that the government will be forced to follow the spirit of conservatorship law as plaintiffs in multiple lawsuits interpret it. The governing law in most prior conservatorships is the FDIA whereas in this case it is HERA, which was modeled after the FDIA. While the FDIA governs the FDIC, HERA governs the FHFA.
Investment Thesis: Where there's smoke there's fire. The government opposed the settlement suggesting that plaintiffs shouldn't be allowed to settle because it's not their right to pursue litigation against the auditors. The auditor's move to settle seems to suggest that they believe that the government is wrong or at the very least would lose their motion to substitute. This thought is in line with the court's remark that jurisdictional issues come before merits issues. Nevertheless, after settlement as announced the government tried to step in and stop it, but now the case has been dismissed permanently (with prejudice means permanently). In the event that judges in Perry Capital and other lawsuits come to the same conclusion PwC came to, it's reasonable to expect legal rulings that prevent the government from nationalizing Fannie Mae and Freddie Mac after taking $100B of cash out of them under the veil of conservatorship. In this scenario, preferred shares have a fixed upside and common shares have more upside but also are exposed to the discretionary decision making risk inherent to a conservator that has claimed in court no fiduciary duty to shareholders. William Ackman and Richard Bove suggest that $20 per common share is reasonable because combined the companies make $15B/annum. Yes, these are Fortune 50 companies with $5T of assets that trade like deserted penny stocks. The preferred shares are worth upwards of par and perhaps more if the class plaintiff claims in the DC District Court of Appeals have merit and shareholders are paid back dividends.
Out Of Court Settlement? Sounds Like The Case With PwC
The parties settled, notified court of settlement and dismissed the case. That's par for this course.
In this particular settlement, it would seem that because the government as a non-party is trying to limit the named parties ability to settle, the route that has been taken appears to be the one that does not require an order from the court:
The settlement of the lawsuit defines legal requirements of the parties, and is often put in force by an order of the court after a joint stipulation by the parties. In other situations (as where the claims have been satisfied by the payment of a certain sum of money) the plaintiff and defendant can simply file a notice that the case has been dismissed.
Plaintiffs filed a voluntary dismissal of their action: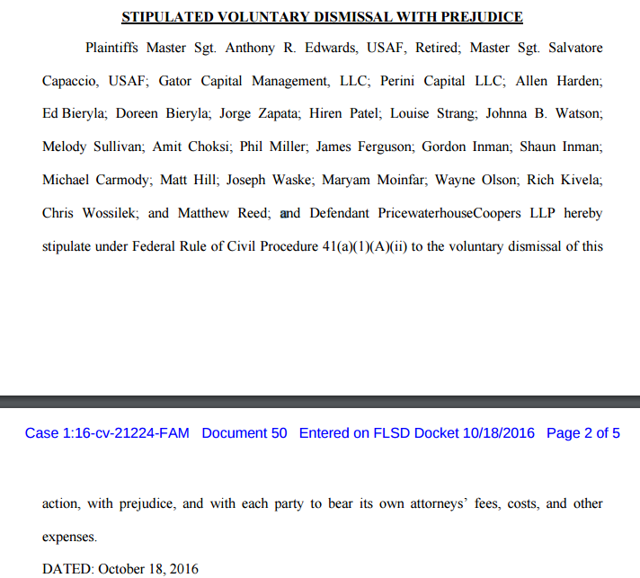 Click to enlarge
To the untrained eye, who hasn't studied the accounting fraud report one would wonder why plaintiffs would settle this case. One may wonder if accounting fraud actually happened or if it did, if there would be enough of a case to prove it. With the lawsuit against PwC, we'll never really know, but the case against Deloitte on behalf of Fannie Mae's financials has yet to be settled if it is even going to be settled. Given that we haven't heard anything yet, I'm starting to doubt that Deloitte is getting the same treatment and with each day that passes where no respective settlement is announced that confidence grows.
Why Settle Out Of Court? The Government Is Trying To Stop Them
Normally, settlements come with a court order. In this case, FHFA tried to interject as a non-party to prevent settlement. The way things are stacking up now reminds me of roughly two years ago when Ackman dropped his case. The government fought that dismissal as well. In the end, investors in GSE securities won:

The significance of this win is that Judge Lamberth ruled this one. This is the same Judge that is up for appeals in Perry Capital, so it just goes to show that investors haven't lost everything that he's ruled on.
Summary and Conclusion
As investors, we have no idea what the terms were of the settlement, but it appears to have been resolved out of court. Further, PwC seemed to resolve this case without FHFA's approval and FHFA seems to think that PwC had no case to settle.
Consider the fact that the PwC plaintiffs are more or less the same as the Deloitte plaintiffs. If they weren't settling and instead were getting rid of the case because they discovered that their lawsuit didn't have as much merit as they originally thought, wouldn't it make sense to also dismiss the Deloitte lawsuit? The fact that the Deloitte complaint is still active speaks volumes and with each day that passes where that complaint remains active my confidence grows that it isn't going to be dismissed or settled.
As such, I continue to hold my preferred shares. I have borrowed over $200,000 to buy my position and literally cannot afford anymore shares or I would be buying more on this news. As always, the next big shoe to drop is the Perry Capital Court of Appeals ruling and it is fully briefed and is expected any Tuesday or Friday from here on out. The preferred shares have a par value and I expect mine to eventually be worth near that value. The common shares have more upside but are also subject to adverse scenarios that only a government conservator with a history of not acting with fiduciary duties can drum up.
Disclosure: I am/we are long FMCCH,FMCCP,FMCCT,FNMFO,FMCKP,FMCKI,FMCKO,FNMFN.
I wrote this article myself, and it expresses my own opinions. I am not receiving compensation for it (other than from Seeking Alpha). I have no business relationship with any company whose stock is mentioned in this article.
Editor's Note: This article discusses one or more securities that do not trade on a major U.S. exchange. Please be aware of the risks associated with these stocks.