At the Oil & Energy conference in London today, Exxon Mobil (NYSE:XOM) CEO Rex Tillerson said what many in the oil patch have been thinking for quite some time: that North America has become the world's new swing producer. That takes the role away OPEC and specifically from Saudi Arabia.
There are two primary reasons the US will be a much better swing producer than Saudi Arabia:
Short-cycle and economically viable shale oil wells can respond rapidly to any change in global oil supply.
Instead of a single source (i.e. the Kingdom of Saudi Arabia) deciding on what the global oil supply/demand balance should be, there are many dozens of publicly traded large, mid- and small-size oil producers working independently to turn-a-profit and get their stock price to rise.
Consider that only 100 new oil shale wells, with IP rates of 1,500-2,000 bpd (for example), can bring on a extra 150-200,000 bpd online. Of course, shale wells have high depletion rates (as much as 50%/year), but they can easily be drilled and completed in less than a month these days. Combined with the ability to hedge production and protect cash flow (see: Here Come The Hedgers), and there is likely only one outcome: oil prices will be "lower-for-longer."
Consumer Windfall
For consumers, this is great news because it means that the historically wide swings in gasoline prices (around a generally rising trend line) will be much more muted because there will be smaller swings in the underlying price of oil. It also means America will be able to respond much quicker to geopolitical events such as the Iran embargo of the early 1980s and more recently when war and social unrest took Iraqi and Libyan oil production offline while China's oil consumption was rising rapidly. As most of us can remember, those events led to $145/bbl oil and of course gasoline (and diesel) spiked up too: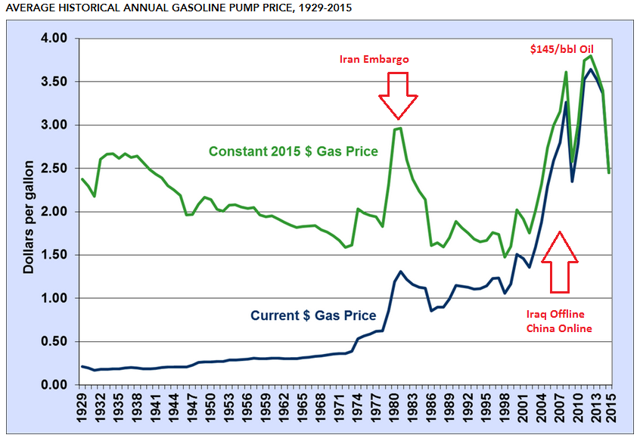 Click to enlarge
Source: Energy.gov
Another benefit associated with increased domestic oil production comes increased production of natural gas liquids ("NGLs"). This will also be (and already is) a boon for consumers. For example, prices for propane - a secondary NGL - have already been much lower the last couple of years: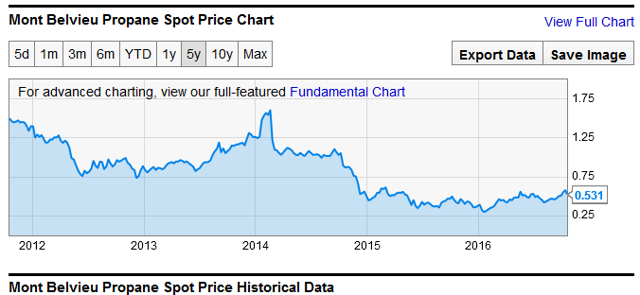 Click to enlarge
Source: YCharts.com
But the effect of lower NGL prices percolates through the entire chemicals sector. And NGLs are produced not just by oil producers but by shale gas producers in plays like the Marcellus and Utica.
The primary NGL component that comes from gas processing is Ethane. In its pure form, ethane is the feedstock for ethylene - the key building block of polyethylene. That is the plastic used in thousands of products that are abundant throughout the global economy: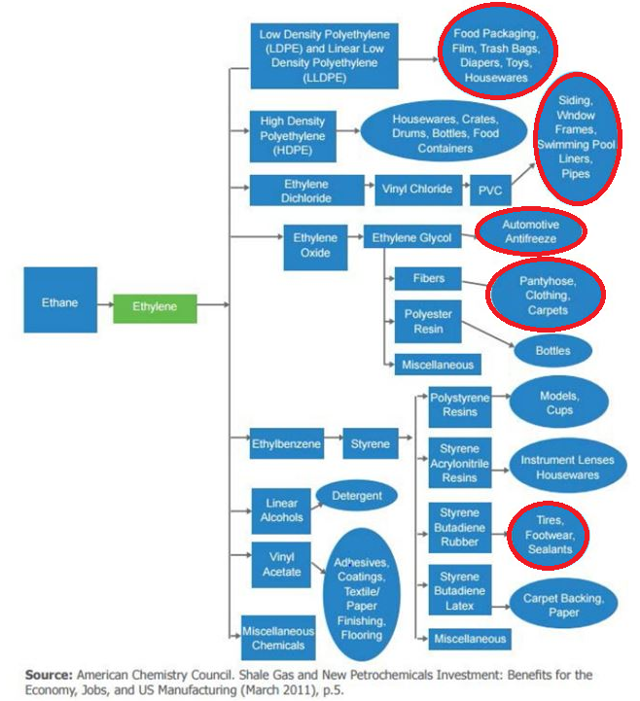 Click to enlarge
Source: Oil & Gas 360
As a result of rising NGL production, there are an assortment of new and expansion chemical projects along the Gulf Coast. Companies like Chevron Phillips (a 50/50 JV between Chevron (NYSE:CVX) and Philips 66 (NYSE:PSX)) and Dow Chemical (NYSE:DOW) have multi-billion-dollar expansion projects underway across the Gulf Coast. Many of these plants will be completed in the next year or so. In addition, Phillips 66's big Freeport LPG export terminal (4.4 million bbls/month) will be coming online in Q4 soon (see PSX's Big Deal To Supply LPG To Sinopec).
The bottom line is that the US is now going to compete more directly with chemicals production from the Middle East. And that means consumers should expect more stable and generally lower prices for everything from trash bags, pantyhose and PVC to tires, carpeting and soft drink containers.
Implications
While this is all well and good for the general consumer, it means oil and gas companies need to be much more efficient to outperform and prosper. That means not only drilling the most efficient wells but also paying close attention to G&A, debt payments, executive compensation, and stock option grants - any expense that affects bottom line profits. That is, margins across the O&G sector are likely to be under pressure for years to come.
As a result, I would suggest long-term oriented investors go long the broad SPDR S&P 500 ETF (NYSEARCA:SPY) as opposed to a broad energy fund like Vanguard Energy (MUTF:VGENX).
I also think gold prices are likely to be range-bound until the next financial crisis comes around. That is because the primary traditional inflation indicator - the price of a barrel of oil - will not only become more stable but will likely be sustained at prices somewhere in the $50-$60/bbl range. So I would question being overly long something like the SPDR Gold Trust ETF (NYSEARCA:GLD). That said, my followers know I believe all investors should hold some percentage of their net wealth in gold. That percentage depends on the individual investor and is beyond the scope of this article.
Summary And Conclusion
Rex Tillerson's statement today was what many folks in the oil patch have been thinking for some time: America has taken over the role as the world's swing producer of oil. And America will be better at it than Saudi Arabia. That is because there are many dozens of publicly traded large, mid- and small-sized oil and gas producers that will be working independently to turn a profit and boost their share price. That's a substantially different business model than the Kingdom of Saudi Arabia has been running these many years.
Bottom line: This is great news for the general consumer who will be paying lower prices for everything from trash bags, pantyhose and PVC to tires, carpeting and soft drink containers. But it means that margins will be under pressure in the energy sector for years to come. And as a result of a lower oil price, gold will likely stay range-bound until the next financial crisis.
Disclosure: I am/we are long XOM, CVX, PSX.
I wrote this article myself, and it expresses my own opinions. I am not receiving compensation for it (other than from Seeking Alpha). I have no business relationship with any company whose stock is mentioned in this article.
Additional disclosure: I am an engineer, not a CFA. The information and data presented in this article was obtained from company documents and/or sources believed to be reliable, but has not been independently verified. Therefore, the author cannot guarantee its accuracy. Please do your own research and contact a qualified investment advisor. I am not responsible for investment decisions you make. Thanks for reading and good luck!