Salesforce's (NYSE:CRM) board member Colin Powell had his email hacked and one of the documents released was a presentation for the board on potential M&A targets.
The list included Demandware, which Salesforce ultimately acquired, along with LinkedIn (NYSE:LNKD), which the company did try to buy, but lost in a bidding war to Microsoft (NASDAQ:MSFT). The fact that these names were on the list gives validity to the documents, as the company has acted on some of them since May.
Many names on the list were smaller, fast-growing tech companies, but some stood out while others were notably absent. For instance, Adobe Systems (NASDAQ:ADBE) was on the list. I thought that was an interesting name, given its near-$50 billion market cap at the time. That would seem like a tough buy given that Salesforce had a ~$55 billion market cap in May.
Now, the tables have turned even more dramatically, with Adobe sporting a $53.5 billion market cap and Salesforce being a sub-$50 billion name.
How would the company pull off such a move? One would think a merger could technically happen if both parties were very interested, but it seems pretty unlikely.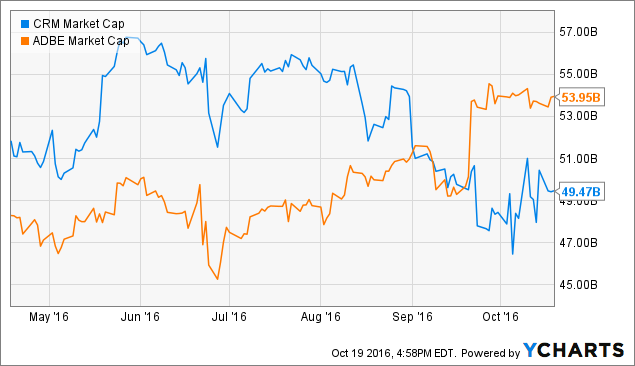 Another name notably not on the list was Twitter (NYSE:TWTR). Oddly enough, some may assume that Twitter's market cap was too high at the time, but it's quite the opposite actually. Twitter's stock bottomed in late-May below $14 per share.
At the time, its market cap was around $10 billion. By August, it was back to $13 billion (when the rumors started flying), higher than Twitter's market cap for most of the 3 to 4 months prior to its lows in May. So it seems surprising to me that Salesforce wasn't more interested in Twitter from the beginning, although the lost bid for LinkedIn could have sparked the idea.
It also brings me back to the notion that, if so many people turned down Twitter after hiring people specifically to scope out whether it's a worthy purchase, why did they all say no? Why should we invest in Twitter if none of them would?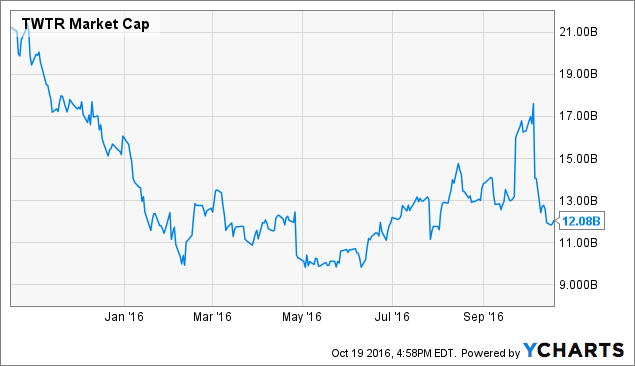 Facebook Broadens Platform
Facebook (NASDAQ:FB) has faced a lot of scrutiny over time. First, it was just a social media network that would likely go the way of Myspace. Then it was a question of monetizing mobile. Then CEO Mark Zuckerberg was acquiring companies with shares of Facebook, meaning for some it meant the stock was overvalued.
And here we are today. The company has billions of active users across a number of platforms, has become arguably the premiere form of advertising, and aside from the momentum Snap (Private:CHAT) is gaining with teens, has a moat that continues to widen.
The company is working on A.I.-powered bots in its Messenger app to help users connect with businesses and just today announced it is adding "food ordering, appointment request, event ticketing and quote functions to Pages." Below's a look at what the changes mean for users:
"Food ordering - available on restaurant pages integrated with Delivery.com or Slice… Appointment request - book via a business page, confirmation communicated through Messenger… Event ticketing - purchase of movie tickets powered by Fandango enabled directly on Pages; Ticketmaster and Eventbrite collaborations for other events further noted."
My first thought was, what does this do for companies like Yelp (NYSE:YELP) or GrubHub (NYSE:GRUB)? Surely, this can't be good news, even if Facebook's features don't gain traction.
The problem with fighting Facebook is that the social media juggernaut has so many users. With more than a billion users out there, Facebook can scale so fast that the users of its new features could easily top that of another service, like Yelp for instance.
What will stop Facebook from taking on a company like Trip Advisor (NASDAQ:TRIP)? I suspect nothing, if Zuck wanted to do it. Travel, reviews, booking. You name it and Facebook could likely succeed at it over time.
The second thought I had after the competitive impacts, is Facebook's "stickiness" factor. Think about it like Amazon (NASDAQ:AMZN). The e-commerce giant's goal is to provide such amazing service and features that consumers feel they can't live without Amazon Prime.
That's exactly what Facebook is trying to do too. If users leave Facebook like customers would leave Amazon, both companies would crumble, theoretically. Facebook needs to keep users engaged at all costs possible. That's why it buys its competition and rolls out services that keep you thinking, "go to Facebook" whether it's to book a movie ticket, chat up a friend or relative, or hold a meeting in Workplace.
Investors can mull this one over:
Facebook Is Worth $150, Not $67
Should Apple Push Out Microsoft With the NFL?
Unless there's a connection between National Football League Commissioner Roger Goodell and Microsoft, there's no reason that Apple (NASDAQ:AAPL) couldn't theoretically win the next contract for the "official tablet of the NFL," when the current one with Microsoft ends in 2018.
But is it realistic that it will?
Ever since New England Patriots head coach Bill Belichick said he's done with Surface tablets - "I've given them as much time as I can give them. They're just too undependable for me" - there's been rumblings about Apple being the next sponsor.
For starters, the contract that Microsoft has with the NFL runs from 2013 to 2018, a five-year deal costing $400 million. Apple paid nothing and watched in-game commentators refer to the Surface tablets as iPads and now Belichick has laid out his feelings on the device.
Why should Apple pay up though? It's getting all sorts of exposure without paying a dime! Microsoft paid $400 million to be mistaken for its competitor and have one of the most noteworthy coaches in the sport decry its product.
I guess Apple's got so much money that it doesn't really matter. But $400 million is a lot of money and the return, at least from the outside, doesn't look all that great. It helps (for Apple anyway) that tablets are often times referred to as iPads, much like Band-Aids for bandages.
I don't think taking up partnership with the NFL will hurt Apple. I just don't know if they really need to do it.
Apple's New Macs
Apple is in the news for other reasons too, one being that it's expected to launch new Macs. According to Recode, Apple will introduce the new devices on October 27th.
Previously, we talked about the company's new Macbook Pro, which is getting its largest overhaul in some four years. It's expected that Apple will introduce a 13-inch and 15-inch model, both featuring Retina Displays, touch ID sensors and a mini OLED touch bar above the keyboard. Reportedly, this touch bar will replace the function keys on the top row of the keyboard.
From an investors' standpoint, it's a tad disappointing that Apple didn't introduce the new lineup in the summer, ahead of the back-to-school season. But looking at the situation as a glass half-full, at least Apple will introduce the Macs ahead of the holidays.
New iPhones, which appear to be selling well, and a new Mac lineup should help bolster the company's first-quarter results.
Oh yeah, and NBD, but the company also reports earnings that week too.
If Only It Wasn't 5 p.m. Eastern!
Tesla (NASDAQ:TSLA) CEO Elon Musk said the company plans to reveal the company's new product - which was supposed to happen Monday - on Wednesday at 5 p.m. Pacific Time.
Disclosure: I/we have no positions in any stocks mentioned, and no plans to initiate any positions within the next 72 hours.
I wrote this article myself, and it expresses my own opinions. I am not receiving compensation for it (other than from Seeking Alpha). I have no business relationship with any company whose stock is mentioned in this article.