V.F. Corp. (NYSE:VFC) is an apparel manufacturer with multiple brands, which include popular names like Vans, Harley-Davidson, and 7 For All Mankind. With revenues of $12.4 billion in fiscal 2015, the company holds a leading position in the market with giants like Gap (NYSE:GPS), Ralph Lauren (NYSE:RL), Michael Kors (NYSE:KORS), Levi Strauss (OTC:LVISF), and Columbia Sportswear (NASDAQ:COLM) (they have sales figures of $15.8 billion, $7.4 billion, $4.7 billion, $4.8 billion, and $2.3 billion, respectively).
The industry in which V.F. Corp. operates is currently facing certain risks. These risks include slowing revenue growth, narrowing margins, worsening operating working capital efficiency, and uncertainties around cash flow generation. Let me go over each of these issues.
Revenue Growth
Fiscal year results for 2015 show that V.F. Corp. has problems. During the year, the company grew only by only, while revenue growth a year before was around 8%. The recent quarterly results are also disappointing: the three-month and the six-month revenue have increased by less than 1% each. The main reason for these unsatisfactory results is the decline in the "Sportswear" and "Other" business segments. During the last three months, "Sportswear" segment sales have fallen by ~20% year over year. The "Others" top line figures have fallen by around 16%. On the other hand, the key business unit, "Outdoor & Action Sports", has grown by only 1.7% over the same time period.
Because competition in this market is rather tough, I do not expect the company's sales to grow by more than 1% over the next year. At the moment, inflation seems to be the key driver of the top line in this industry. Hence, I expect revenue to keep growing by about 1% CAGR in fiscal years 2016-2022.
Margins
In Diagram 1, you can see how V.F. Corp.'s margins have performed over the last decade.
First, pay attention to the declining gross profit margin. This is the main result of the increasing rivalry in the apparel market.
Then, look at the net profit margin. During the last two years, it has been increasing and reached 9.9% in FY2015. However, over the last twelve months, it has fallen. This is an example of a reduction in the economy of scale (I discussed this issue in one of my previous articles on Nike (NYSE:NKE)).
Finally, despite the fact that the return on equity figure has been increasing during the last two years, the main driver behind this positive development is the expansion of financial leverage. Dividends and buybacks are the cause of the increase in debt levels. Although I consider debt expansion to be a bad driver of ROE growth, I do not think debt levels have reached critical levels, because coverage ratios are within the normal range.
In the future, I expect all margins to decrease. The net profit margin is expected to decrease from the current level of 9.6% to 8.7% in 2022. The free cash flow yield is projected to stay at the 9% level through 2022.
Diagram 1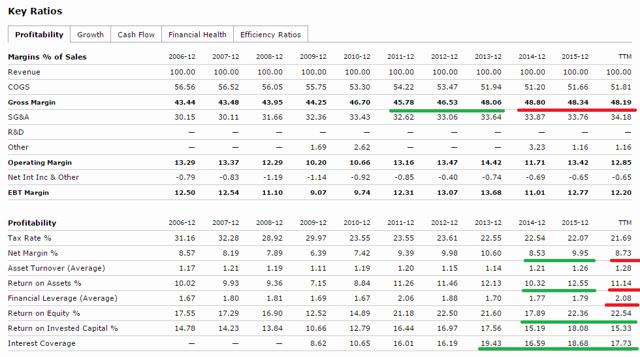 Click to enlarge
(Source: Morningstar.com)
Working Capital Management
As you can see in Diagram 2, working capital management leaves much to be desired. During the last eight quarters, the cash conversion cycle has increased from 101 days to 120 days. The main reason for this rather bad trend is the rising level of inventory. Almost 75% of the expansion is the result of the increase in the days of inventory on hand. Another factor influencing the situation is the days of payables (essentially, this is credit provided by suppliers): they have fallen from 20 days in fiscal 2015 to less than 15 days in the last twelve months (a form of credit squeeze). At the moment, they account for less than 15% of the days of inventory on hand. This means the company has to borrow money to finance its daily operations, which negatively affects margins and financial stability.
Diagram 2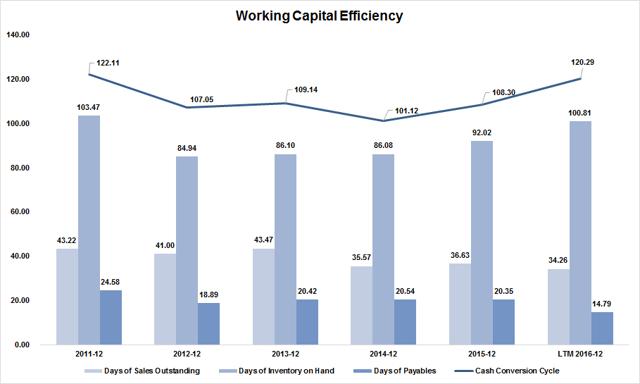 Click to enlarge
Click to enlarge
(Source: VFC's 10-K and 10-Q, author's calculations)
Other Issues
Diagram 3 shows the history of operating cash flows. You can clearly see that it has sharply fallen in fiscal 2015. Future cash flow generation is questionable because of the issues highlighted above. Moreover, if the company spends more than 100% of its free cash flows on dividends and buybacks instead of expanding its business, what can we really say about its future growth? (see Diagram 4).
Diagram 3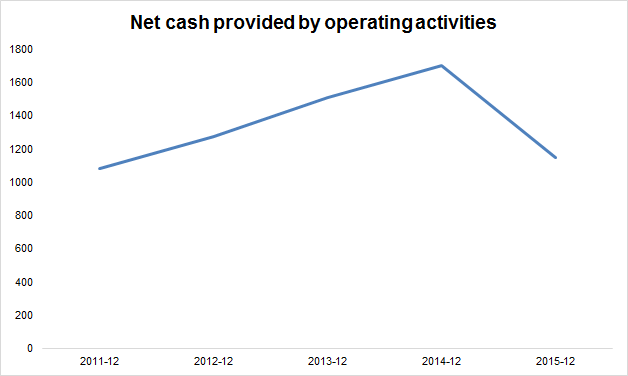 (Source: Morningstar.com)
Diagram 4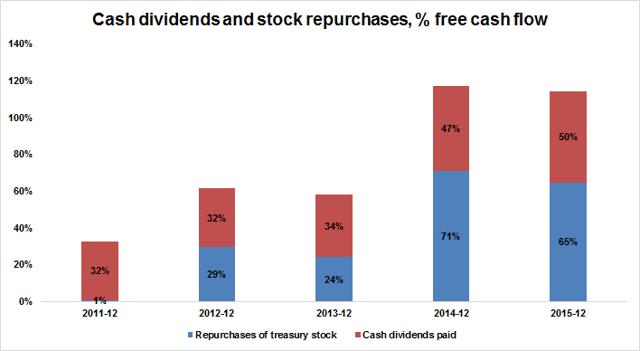 Click to enlarge
(Source: Morningstar.com)
Because of these issues, I do not think growth investors should consider V.F. Corp. for investment. Now I want to see whether buying the stock makes sense for value investors.
DCF Analysis
My DCF model is presented in Diagram 5. In Diagram 6, you can see how different metrics of the Company are expected to change during this period. I have made and revised several assumptions, which can be seen in the "Assumptions" tab of my Excel file.
My model shows that after subtracting the market value of debt, minority interest, adding back cash and investments, and other issues, the market value of equity is around $22.1 billion in the Base-case scenario. Consequently, the stock's fair value is around $51.50 per share, which is 6% lower than the current share price ($54.60 per share at the time of writing).
Diagram 5

Click to enlarge
(Source: Data - Morningstar.com, DCF model by author)
Diagram 6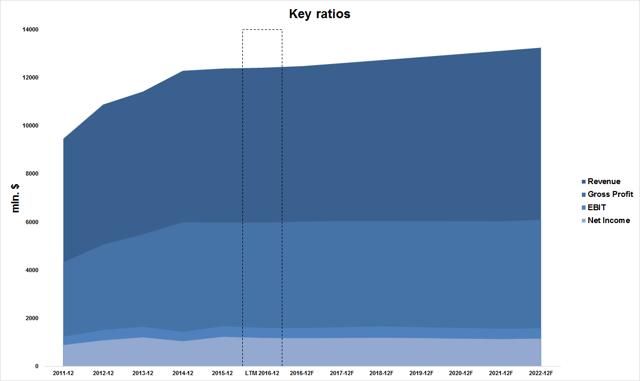 Click to enlarge
(Source: Data - Morningstar.com, model by author)
Sensitivity Analysis
My DCF analysis is based on a number of assumptions, which create a certain expectation of the share price. However, we need to see the entire picture and derive a range of possible prices. A few assumptions about WACC and the Terminal EV/EBITDA multiple give a plausible price range of $47-57 per share. It means the stock has an upside opportunity of (-14%)-4%.
Diagram 7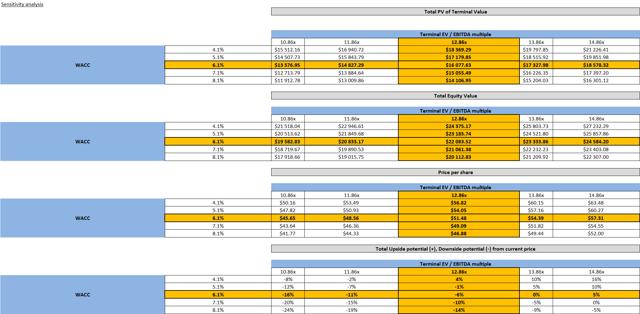 Click to enlarge
(Source: Data - Morningstar.com, model by author)
Comparative Analysis
My comparative analysis is based on four key ratios: P/E, P/S, P/BV, and EV/EBITDA (see Diagram 8). The P/S and P/BV ratios indicate that the stock is undervalued. The P/E ratio shows that the stock is undervalued by ~15%.
The current EV/EBITDA multiple is 13.6x, which is much higher than the industry average of 10.8x (according to Damodaran). Hence, the stock looks overvalued.
Diagram 10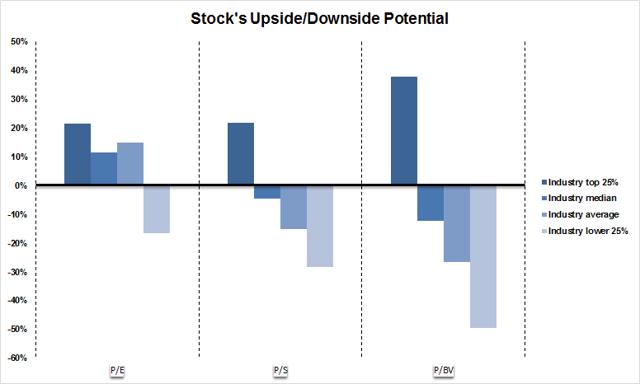 Click to enlarge
(Source: Data - Morningstar.com, infographics by author)
Zero-growth Analysis
The Zero-growth analysis has been described in one of my latest articles. You can read more about it here.
According to this analysis, VFC stock does not show a margin of safety at the current valuation. The valuation gives a fair market value of equity of $24.2 billion, which translates into a fair price per share of $56. This price level is three times higher than the current market value of the company's shares. If we only use net income in the numerator, the result will be $46 per share, which is 17% lower than the current market price.
Recommendation
V.F. Corp. looks like a stable growth company with a set of problems. My valuation analysis shows that the stock's fair value is slightly below the shares' current market price.
I issue a HOLD recommendation on this stock with a target price range of $47-57 per share.
Disclosure: I/we have no positions in any stocks mentioned, and no plans to initiate any positions within the next 72 hours.
I wrote this article myself, and it expresses my own opinions. I am not receiving compensation for it (other than from Seeking Alpha). I have no business relationship with any company whose stock is mentioned in this article.