Yahoo (NASDAQ:YHOO) reported its Q3 2016 earnings results in an event that was clearly either useless or worthless for the company, shareholders, and the prospected acquirers from Verizon (NYSE:VZ). As I previously wrote, Yahoo's stock has been traded for a long time solely based on its NAV valuation without any connection to the performance of the operating business. Moreover, most of the benefit in selling Yahoo's operational business is that it brings shareholders one step closer to monetize on the Alibaba (NYSE:BABA) and Yahoo Japan (OTCPK:YAHOY) investments. So, the question of whether Yahoo met the market expectations for Q3 earnings is meaningless, and its impact on Yahoo's stock price should be minuscule.
Having said that, there are a few points that I take with me from this earnings report. The first takeaway is that Yahoo has some unanswered questions that it prefers not to disclose at this stage about the full magnitude of the data breach and whether that will reduce the deal price. These issues are the two most important questions that the market has for Yahoo, and the fact that the Mayer/Goldman show did not take place only ignited additional speculation instead of answering them.
Yahoo did provide evidence that user engagement trends were not significantly impacted by the hack, as reflected by page views on Yahoo properties and core verticals, searches, and mail message actions. However, even though it is nice to see that users' behavior did not change much due to the data breach, the main queries remain unsolved: What was the security fault that allowed the breach? When did Yahoo notice it? What information was stolen, besides users' details? Was Yahoo's internal email also hacked? What is the expected fallout from the hack?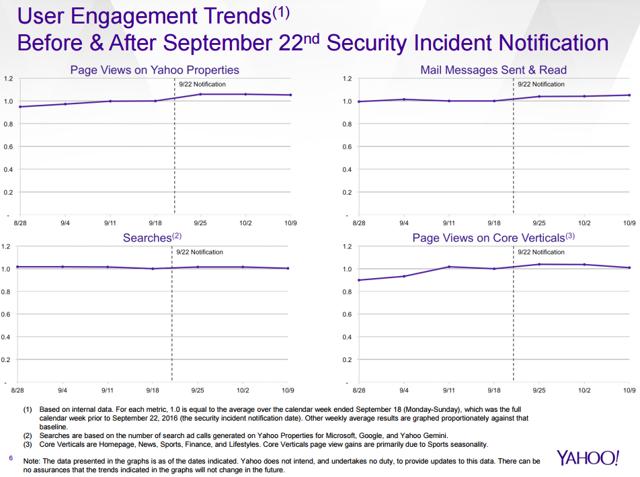 Click to enlarge
Source: Yahoo Q3 2016 Earnings Slides
This unusual ER strengthens my theory that there is a broader impact on Yahoo than was previously announced. In an earlier article, I estimated the impact at $500M in federal fines and lawsuit fees, based on a comparison to the JP Morgan (NYSE:JPM) breach that is much worse, in my opinion. I keep that estimation unchanged for now, and I believe it will be reduced from the deal price.
The second takeaway is Yahoo's core business under Mayer's management continues to perform poorly when revenues continue to slide, and the rapid pace of cost cuts improves profitability as shown in the chart below.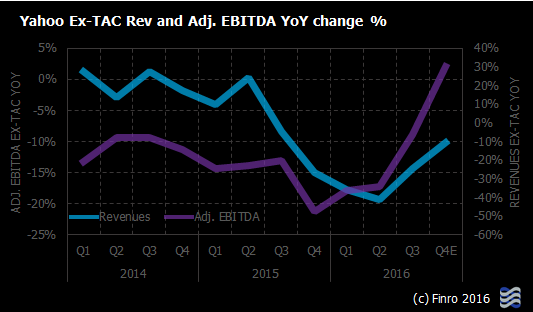 The chart illustrates two points that strengthen the sale rationale: First, the company doesn't know how to successfully and efficiently generate revenues from its business. It's been that way for a long time, and it's nothing new - but it highlights the magnitude of potential revenues that Verizon could unlock from the powerful brands and ad network of Yahoo. Second, the significant cost cuts driven by a 20% cut in headcount YoY and other operational costs across the company suggest that Verizon is about to get a lean and efficient version of Yahoo that will require slightly fewer cuts to be made in Verizon.
The third takeaway as I see it is the ball is in Verizon's hands. Yahoo tries to keep a 'business as usual' image, but it is very clear that with a ridiculously small termination fee of $145M (3% of the deal) and Yahoo's desperation to sell that, Verizon has some leverage on Yahoo. Of course, Verizon still wants to buy Yahoo, and I think that the data breach is an opportunity for Verizon to lower the deal price. However, Verizon doesn't want to push the sale price too low as at some point, Yahoo could contact the other bidders to take Verizon's place. The way I see it is that both companies don't want to break up the deal. However, while Yahoo keeps silent, Verizon doesn't have that privilege, and it will have to answer the hard questions sooner or later. The focus now moves to Verizon.
Disclosure: I am/we are long YHOO.
I wrote this article myself, and it expresses my own opinions. I am not receiving compensation for it (other than from Seeking Alpha). I have no business relationship with any company whose stock is mentioned in this article.
Additional disclosure: The information provided in this article is for informational purposes only and should not be regarded as investment advice or a recommendation regarding any particular security or course of action. This information is the writer's opinion about the companies mentioned in the article. Investors should conduct their due diligence and consult with a registered financial adviser before making any investment decision. Lior Ronen and Finro are not registered financial advisers and shall not have any liability for any damages of any kind whatsoever relating to this material. By accepting this material, you acknowledge, understand and accept the foregoing.
Editor's Note: This article discusses one or more securities that do not trade on a major U.S. exchange. Please be aware of the risks associated with these stocks.