In our insatiable quest for yield we are always looking to add high-quality REITs to our Monthly Dividend Portfolio. The average performance for the Monthly Dividend Portfolio year-to-date is 32.1%, up from 24% last month, and at some point we will add a few more REITs to the portfolio, but at this time we do not see any REITs that are attractive enough to purchase.
Currently our basket of monthly-paying REITs is limited to just 6 REITs: STAG Industrial (NYSE:STAG), EPR Properties (NYSE:EPR) and Realty Income (NYSE:O), Chatham Lodging (NYSE:CLDT), Apple Hospitality (NYSE:APLE) and LTC Properties (NYSE:LTC). That is clearly not adequate diversification and we are concerned that over 30% is exposed to the Lodging sector.
As you can scan the list of monthly-paying REITs (below) it's plain to see that there are few attractive opportunities (we own the REITs in yellow and the gray-shaded REITs are mortgage REITs).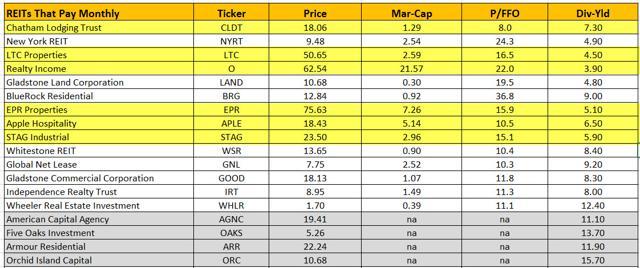 Click to enlarge
Source: S&P Global Market Intelligence
The primary reason that we have steered away from NYRT, LAND, BRG, GNL, GOOD, IRT and WHLR is because of volatility. We have scored dividend safety poorly for many of these REITs and while we want to own REITs that pay monthly dividends, we recognize that we must also look to preserve principal. In other words, we don't want to invest in a portfolio of monthly paying stocks and wake up in five years with less principal than we started out with.
In addition, we aren't thrill seekers at all, so we are skeptical of the high-paying mortgage REITs. The double-digit returns look awfully tempting, but we know that most of them are timing stocks and we prefer to invest in companies that have more predictable earnings and dividend growth.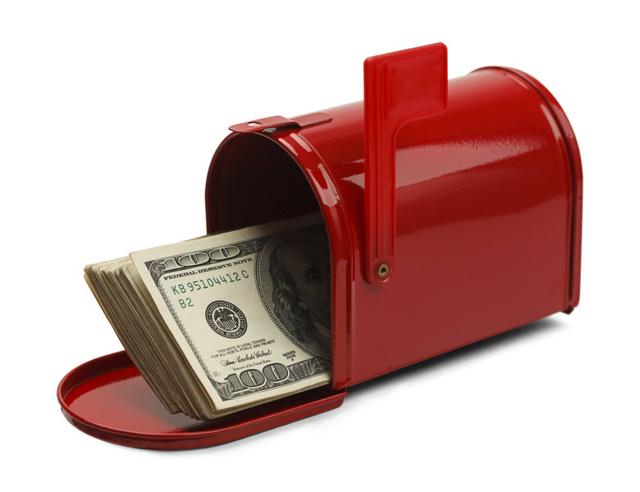 Click to enlarge
North of the Border
Most all Canadian REITs pay monthly and we have been studying this market for quite some time. One of the problems that we have is that we already cover over 100 REITs in the U.S. and we don't have the time to research opportunities north of the border.
However, we do have the time to investigate Canadian REITs that invest in U.S. markets. We already have good intel related to most all sectors and markets located within the U.S., so adding a few more REITs is much simpler for us.
Furthermore, adding a few Canadian REITs to our Monthly Dividend Portfolio provides us with enhanced diversification, while also mitigating the risks we have now within the Lodging sector.
Just over a month ago Mainstreet Health Investments (OTC:MHIVF) listed roughly US$152 million worth of portfolio acquisition deals and launched a US$65 million bought-deal offering of subscription receipts to help fund the transactions. At the same time, the company reached a deal to terminate its existing asset management contract at no cost to Mainstreet and internalize its management.
Mainstreet agreed to sell 6,440,000 subscription receipts in the bought-deal offering at US$10.10 apiece for gross proceeds of US$65 million. Under a deal with Mainstreet Property Group, or MPG, the company will acquire four post-acute transitional care facilities under construction in Texas and Kansas for US$92.8 million. The transaction will be funded with net proceeds from the offering, the assumption of US$56.2 million of property-level debt financing and the purchase of US$9.5 million of mezzanine loans that are currently outstanding on the assets.
The properties, which are expected to be completed from November 2016 to March 2017, will comprise 280 transitional care beds and 96 assisted living suites. The properties will be leased to The Ensign Group Inc. under long-term, triple-net leases.
Mainstreet also agreed to acquire a post-acute transitional care and memory care facility containing 158 licensed beds in Evanston, Illinois, from its existing operating partner Symphony Post-Acute Network for US$22.9 million. It will fund the transaction with a draw of US$12.6 million under its existing credit facility and a portion of the offering's net proceeds.
Moreover, the company agreed to acquire for US$19.8 million a 50% stake in two assisted living properties, comprising 165 assisted living and 40 independent living suites in Sudbury and North Bay, Ontario, from Autumnwood Lifestyles Inc. and certain minority vendors. The facilities will be operated by Autumnwood Mature Lifestyle Communities Inc.
Further, Mainstreet agreed to invest US$16.6 million in five mezzanine loans, which will provide it with options to acquire development projects that will offer 430 transitional care beds and 24 assisted living suites in Arizona, Colorado and Nebraska.
The transaction comprises four existing mezzanine loans made by Welltower (NYSE:HCN) to MPG that will be acquired by Mainstreet for US$13.1 million, and a new US$3.5 million mezzanine loan under a commitment letter reached with MPG.
The mezzanine investments have a weighted average annual interest rate of 14.9% and the development projects are expected to be completed from March 2017 to December 2017.
The company expects the acquisitions to close in November, subject to approvals from its shareholders and the Toronto Stock Exchange. As of September 15th Mainstreet owned 24 properties (3,332 beds) with 5 mezz loans: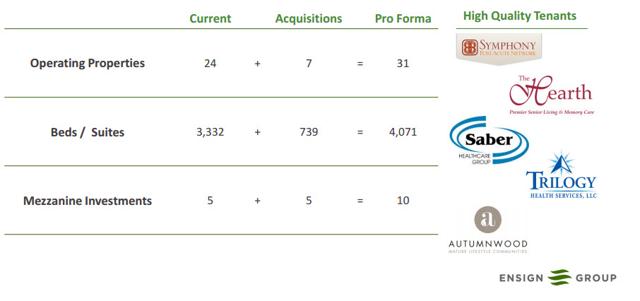 Click to enlarge
Once the company closes on the above-referenced deals, the portfolio will include 31 properties valued at around US$600 million (2 properties are in Ontario):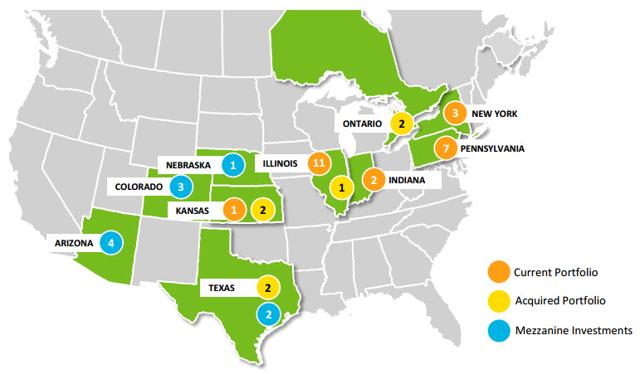 Click to enlarge
As you can see below, Mainstreet hopes to build a diverse portfolio of senior housing and healthcare properties: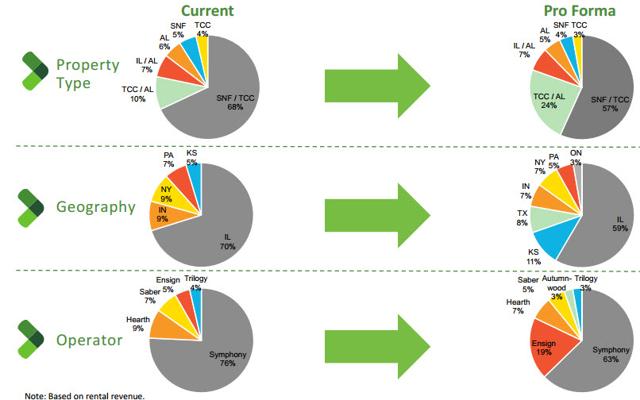 Click to enlarge
We don't plan to jump in yet, but Mainstreet looks like an attractive REIT that we could possibly include in our Monthly Dividend Portfolio. We will be adding this one to our research lab, along with MedEquities Realty Trust, Inc. (OTC:MRT) - see our recent article. Mainstreet has an attractive dividend yield of 7.3%.
Another monthly paying REIT that we are adding to our research lab is Milestone Apartments (TSX:MST.UN). Two weeks ago the company concluded the internalization of its asset management function by acquiring its asset manager, TMG Partners LP, via its operating partnership in conjunction with the renewal of its base shelf prospectus.
Yesterday Milestone agreed to buy a portfolio of six garden-style multifamily properties in U.S. Sunbelt markets for about US$242.2 million and launched a roughly C$175 million bought-deal offering to help fund the transaction.
The company's board of trustees also boosted the monthly cash distributions by 10% to 5.041 U.S. cents per unit, up from a current monthly distribution of 4.583 cents apiece. The increase is effective for the January 2017 distribution.
Milestone Apartments agreed to issue 9,490,000 trust units in the bought-deal offering at C$18.45 apiece and has granted the underwriters a 30-day option to buy up to 949,000 additional units. The offering is slated to close on or about Oct. 28. The company is acquiring the multifamily portfolio at an average cap rate of about 5.8% for the first year, and it expects to close on the transaction no later than Dec. 1.
The properties in the portfolio contain 1,460 units and are spread across Charlotte, N.C.; Colorado Springs, Colorado; Denver; Orlando, Florida; San Antonio; and Oklahoma City, Okla. They had average occupancy of 95.5% and roughly US$1,175 in average monthly per-unit rents as of Sept. 30.
Milestone Apartments projects its pro-forma mortgage notes obligations to be about US$1.34 billion after the transaction, including all related financing, and its pro-forma debt to gross book value ratio to be about 50.8%. Following the monthly distribution increase and the completion of the portfolio acquisition and Park 9 purchase, the REIT expects its adjusted funds from operations payout ratio to remain below 60.0%.
Here's a snapshot or Milestone's portfolio as of September 15th: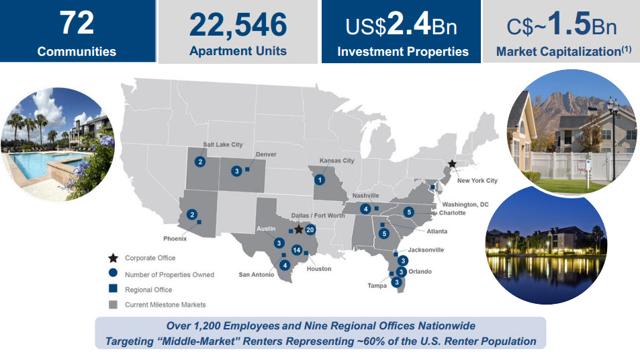 Click to enlarge
Milestone has maintained steady rent growth and stable occupancy:

Click to enlarge
Milestone has increased FFO by over 20% in 2016 and AFFO by almost 28% in 2016:

Click to enlarge
Milestone pays well below the US REIT peers and within Fair Value for the Canadian peers:

Click to enlarge
Milestone's current dividend yield is 3.8%.
The final new addition to the Monthly Dividend Portfolio is WPT Industrial (OTCQX:WPTIF) (TSX:WIR.U). We have written on this REIT in the past (here) but it has been over a year since we followed back up.
Keep in mind that WPT is listed on the Toronto Stock Exchange but income distributions from WPT to a U.S. unitholder will not be subject to Canadian withholding, provided the unitholder is a qualifying resident of the U.S. for purposes of the Canada-U.S. Tax Treaty.
Similarly, return of capital distributions to a U.S. unitholder will not be subject to Canadian withholding tax. For U.S. federal income tax purposes, distributions paid by the REIT to a U.S. unitholder generally will be taxed in a manner similar to distributions from any other U.S. REIT.
Such distributions generally will be taxable as ordinary income to the extent paid out of the REIT's current or accumulated earnings and profits. Distributions in excess of the REIT's current or accumulated earnings and profits will first be treated as a tax-free return of capital reducing tax basis, and thereafter taxable as gain realized from the sale of units. WPT has a pink sheet listing on NASDAQ.
Since my last article on WPT the company has picked up a substantial investor - her Majesty the Queen. Alberta Investment Management Corp. now holds a nearly 30% stake in WPT as the investor group exercised an option that allowed it to purchase additional units in the REIT from Welsh Property Trust LLC.
It bought 4,468,085 WPT Industrial units at C$11.75 apiece. Following the acquisition, the investor has an effective 29.2% interest in the REIT. Welsh Property maintains an interest of nearly 19.9% in WPT.
WPT owns 48 industrial properties, over 15.1 million square feet: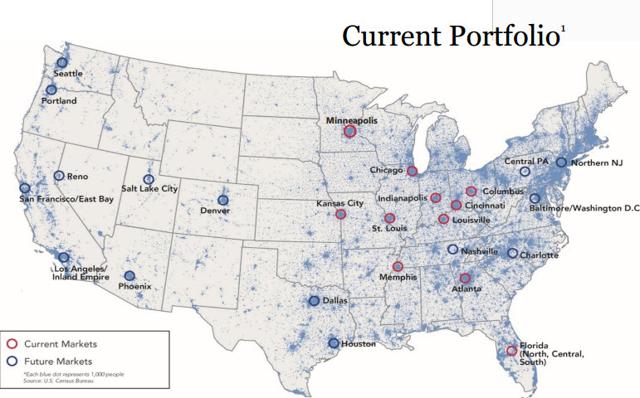 Click to enlarge
Here is a list of the company's top 10 tenants: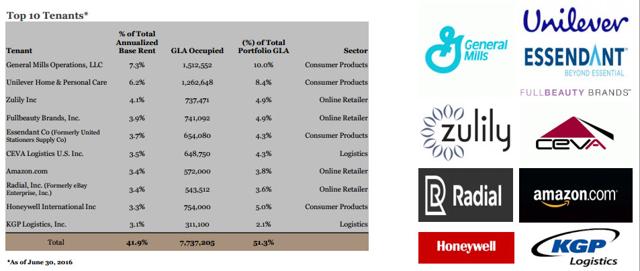 Click to enlarge
Here's a snapshot of the balance sheet metrics, including the payout ratio of 85%: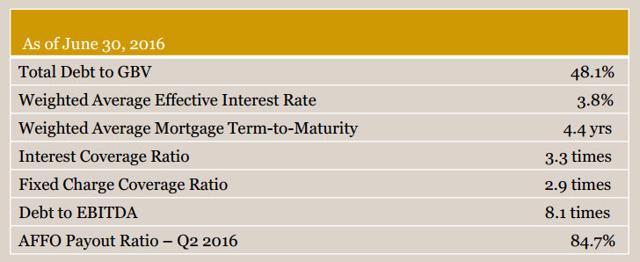 Click to enlarge
WPT also has an attractive dividend yield of 6.6% and we also plan to include this monthly-paying REIT in our Monthly Dividend Portfolio.
A Few Charts
Here is a snapshot of all of the Equity REITs in the REIT Lab. We circled the REITs in the portfolio and the new Canadian REITs we reference in the article:

Click to enlarge
Source: S&P Global Market Intelligence
Here are the REITs based on their P/FFO:

Click to enlarge
Source: S&P Global Market Intelligence
Here is a list of all Monthly Paying REITs based on their dividend yield:

Click to enlarge
Source: S&P Global Market Intelligence
Here's the list of REITs based on their year-to-date Total Return:

Click to enlarge
Source: S&P Global Market Intelligence
In the upcoming edition of the Forbes Real Estate Investor we will take a closer look at these 3 Canadian REITs. It appears that they could provide us with attractive dividend income while also providing us with enhanced sector-based diversification.
Source: S&P Global Market Intelligence, Filings for HLP.U, WIR.U, and MST.UN.
Author Note: Brad Thomas is a Wall Street writer and that means that he is not always right with his predictions or recommendations. That also applies to his grammar. Please excuse any typos and be assured that he will do his best to correct any errors if they are overlooked.
Finally, this article is free, and the sole purpose for writing it is to assist with research while also providing a forum for second-level thinking. If you have not followed him, please take five seconds and click his name above (top of the page).
Source: S&P Global Market Intelligence
Disclaimer: This article is intended to provide information to interested parties. As I have no knowledge of individual investor circumstances, goals, and/or portfolio concentration or diversification, readers are expected to complete their own due diligence before purchasing any stocks mentioned or recommended.
Disclosure: I am/we are long O, DLR, VTR, HTA , STAG, GPT, ROIC, HCN, OHI, LXP, KIM, WPC, DOC, EXR, MYCC, TCO, SKT, UBA, STWD, CONE, BRX, CLDT, HST, APTS, FPI, CORR, NHI, CCP, CTRE, WPG, KRG, SNR, LADR, PEB, BXMT, IRM, CIO, LTC, DEA, NSA, HASI.
I wrote this article myself, and it expresses my own opinions. I am not receiving compensation for it (other than from Seeking Alpha). I have no business relationship with any company whose stock is mentioned in this article.