GDP: Where We've Been and Where We're Going
Outside of Decembers Fed rate hike decision the biggest question on investors minds these days is, 'is the economy growing or contracting?' It's been increasingly difficult to tell. While technically still growing, the rate of growth has been in decline since peaking at 5% in Q3 2014. Growth in annualized real GDP in the first quarter was .8% and growth in the second quarter improved to 1.4%.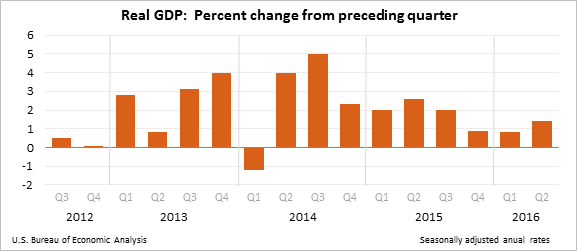 For the third quarter, the Atlanta Fed's GDPNow is forecasting real GDP growth of 1.9% down from a peak estimate of 3.8% from August that has been in consistent decline. The New York Fed has a similar model called "Nowcast" that is forecasting 2.3% GDP growth for Q3 and a slowdown to 1.6% in Q4. CNBC's Rapid Update tracks Wall St. economists forecasts of GDP and it is currently expecting 2.6% for Q3 with a slight slowdown to 2.3% in Q4. In all cases the outlook for growth is an improvement over the first half of 2016, but still pretty anemic economic growth. With the Fed set to raise rates in December it's an interesting time to be a market watcher. Could the Fed and a strong dollar finally push us into recession?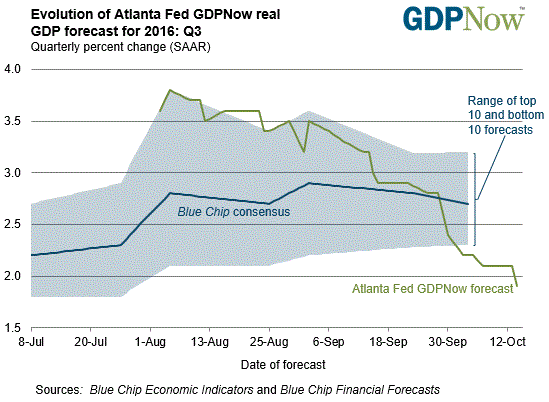 Freight Volumes Slowly Approaching Recession Levels:
We wanted to dig a little deeper and see if we can parse the tea leaves to get an insight on what might be in the economy's future. Historically freight data has been a good indicator of economic conditions. When freight slows it's usually safe to assume the economy is slowing in most cases. Below is the Cass Freight Index for shipment volumes. The index goes back to 1999. We have included the best year in the index (2006, green) and the worst year in the index (2009, red) to give a sense of the boundaries for best and worst case scenarios. Additionally the chart includes the three most recent years to date (purple, orange, blue). 2001 was included as a "normal" year of recession (black). As you can clearly see, like GDP freight shipments have been declining since 2014. Shipment volumes appear smack in the middle of the boundary years and hovering above the 2001 recession. So the question is, will the recovery cross back above the 2015 (orange) line or will it continue lower to meet the 2001 recession? It is our opinion that if it meets the 2001 line we will likely have entered a recession. This is a very dangerous time for the Fed to raise rates, even a quarter point.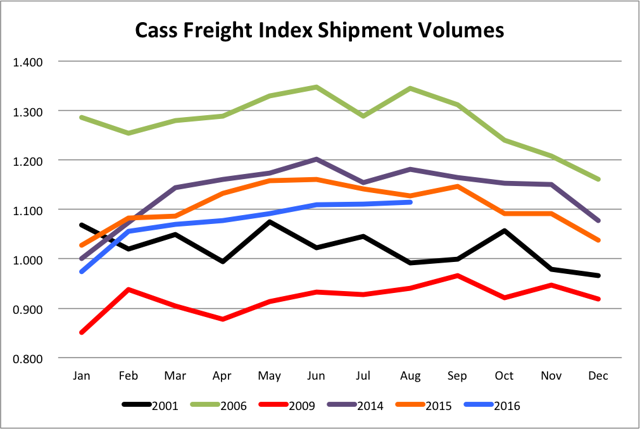 Click to enlargeSource: Cass Information Systems, Inc.
The Key To Freight Is Trucking:
Trucking is the most important segment of the freight market because it moves 70% of all freight. In terms of economic importance, we have seen particular weakness in the most critical segment of trucking, heavy-duty or "class 8" trucking, for most of 2016. Medium-duty sales have held up better than class 8 but there has been weakness across the board. The chart below is the year/year change in heavy weight truck sales from the St. Louis Fed. The data is through September 2016. The recent slide in heavy truck sales began in the middle of 2015 and has been in a steep slide with the exception of the most recent months sharp bounce back. Interestingly, every time sales were down 20% going back to 1968 has been around a recession. Sales touched the down 20% mark in August and then sharply snapped back in September. If the Fed raises rates will future sales move closer to or further from recessionary levels?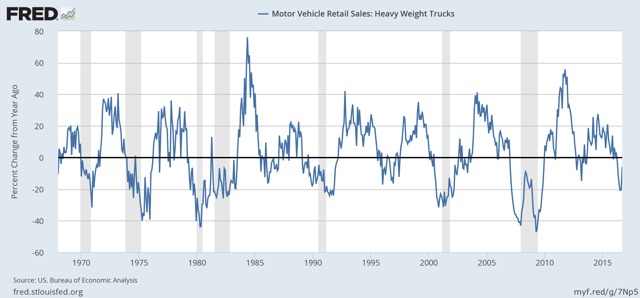 Click to enlarge
The weakness in demand for new trucks has been driven by the weakness in retail sales. Retail sales rose .6% in September, in-line with expectations and an improvement from Augusts .2% decline. However, it's clear to see in the chart below that the year/year change in retail sales has been in consistent decline since peaking in 2011.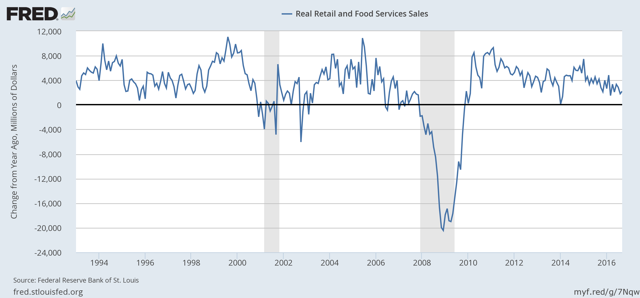 Click to enlarge
Slowing retail sales have led to increasing inventories. Inventories is the real crux of the issue for the trucking industry. The business inventory to sales ratio has been increasing since bottoming in 2011. After a long trend of reduced business inventories from the early 90's the trend has now turned to consistently high levels of inventory. It appears that the sharp head fake uptick in retail sales in 2014 may have led to loading up on inventory in 2015 that still hasn't been worked off. Inventories were also increased by a surge in freight following the West Coast longshoreman strike in 2015. Since that time, businesses have found it difficult to work down inventories.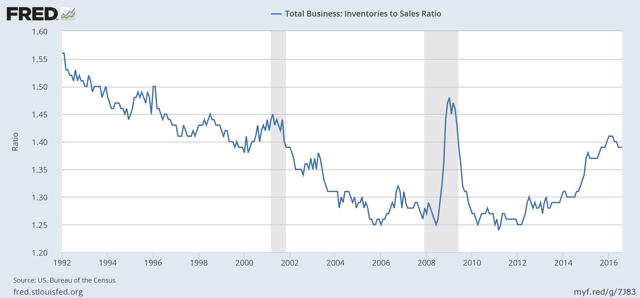 Click to enlarge
As inventories have remained elevated, demand for truck shipping has slowed. This came at a time when heavy-duty Class 8 trucking sales had been quite robust in 2014 and the first half of 2015. In 2014 Class 8 truck orders were 376,000 but that dropped to 284,000 in 2015 and is expected to be lower in 2016.
As truck shipping demand waned the trucking industry was suddenly left in a position of overcapacity. There were too many trucks and not enough freight to move. This has led to a classic supply/demand situation were truckers have had to give up on pricing to chase volume in what has become a "rate battle" in 2016. Ironically, lower oil prices only exacerbated the situation as fuel surcharges declined with lower oil. With excess capacity and lower pricing power, trucking companies have held off on buying new equipment. The 6-month drop in truckload rates through August is the longest streak since a 16-month streak in 2009-2010 during the recession.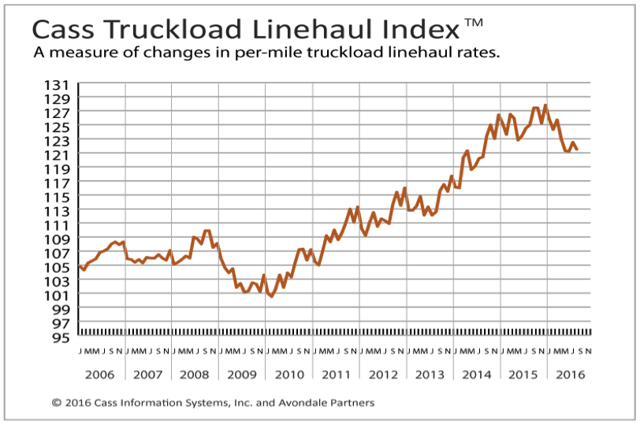 Click to enlarge
Intermodal rates have held up better in 2016 but been even weaker for the past few years overall. The Cass Intermodal Price Index has been in year/year decline for 20 months!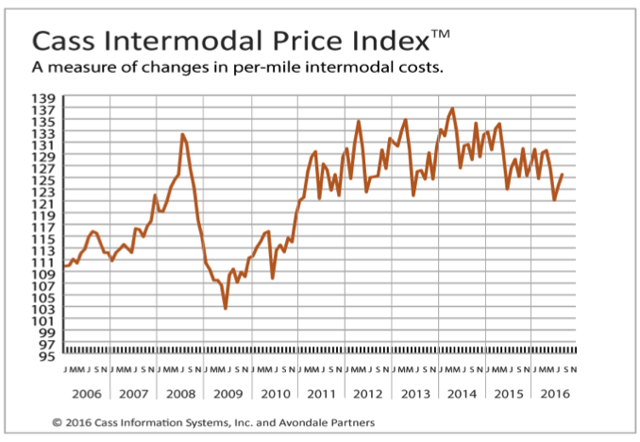 Click to enlarge
It is largely assumed that we will continue to see truck rate weakness but there are signs of capacity equilibrium. Just recently trucking spot rates have provided a glimmer of hope as they appear to be finding a bottom, at least temporarily. Spot market truck rates were up 5.6% in the most recent weekly data ending October 15th according to DAT. However, Hurricane Matthew likely helped bump up rates as shipping schedules in affected areas were accelerated. The recent rebound in oil prices and associated fuel surcharges will likely start to become a tailwind for increased truck rates as we move into the beginning of 2017. If rates in 2017 can't move up even with easier diesel price comps driving fuel surcharges, that would likely signal further economic weakness.
Conclusion:
The key for 2017 will be a continued work down of business inventories. As you can see in the business inventory to sales ratio chart above, inventories have recently come off the high but are still historically elevated. To see meaningful increases in freight shipment volumes we will likely need to see inventories continue to work lower. Without lower inventories it's hard to see strong demand for trucking. We feel this is a key metric to watch as we go forward into 2017.
The three strongest components to the economy currently are housing, autos and although feeble, the consumer in general. Manufacturing has seen continued weakness on slow machinery sales and dollar strength. There are signs that autos have peaked with analysts anticipating a slowdown for the back half of 2016.
Recently Ford has reduced production of several models including the ever-popular F-150 as showroom floors are bloated with inventory. The decent retail sales from September were in part driven by strong auto sales which were up 1.1% and added .1% to the .6% overall retail sale gain. It increasingly looks like we won't be able to rely on autos to continue driving retail sales.
Housing will likely remain strong due to a lack of supply. Although housing starts in September fell 9%, the slowdown was driven by a 39% drop in apartments. Single-family housing starts were up 8.1% to the highest level in seven months and single-family starts are considered a better indicator of economic activity. Realtors continue to report a red-hot market with tight inventory. We find it ironic that after the housing bubble caused the market crash in 2008, it now remains one of the last vestiges of strength in the economy.
We believe the current economic data is mostly mixed. There are reasons for optimism and reasons for concern. Despite the improving employment situation, consumers have been inclined to save and pay down debt rather than spend. In the long-term that will be a good thing, but for now it's not helping economic growth. It was assumed that lower oil would have spurred incremental spend but that hasn't happened either to the degree that was expected.
It seems everyone from Main St. to Wall St. is being very cautious ahead of 2017 and rightfully so. We'll continue to watch business inventories, trucking rates and freight shipment volumes to see what may be revealed for economic conditions. For now it's a steady-as-she-goes economy.
There's a general assumption that a quarter point hike won't mean much for the economy and before we started our research we agreed with that opinion. That changed once we dug in and began to see how tepid the current economic environment really is. We just hope a Fed rate hike doesn't throw us off course because it really could.
Disclosure: I/we have no positions in any stocks mentioned, and no plans to initiate any positions within the next 72 hours.
I wrote this article myself, and it expresses my own opinions. I am not receiving compensation for it (other than from Seeking Alpha). I have no business relationship with any company whose stock is mentioned in this article.