Canada was in free-fall in the beginning of the year. The collapse in the commodities market, specifically oil, sent bank shares and the Canadian dollar crashing (NYSEARCA:FXC).
But the collapse was eventually reversed by a 180-degree reversal in Fed policy, combined with enormous credit injections from the Chinese. This effectively placed a floor under the commodity market, resulting in a classic V-bottom stick save for Canadian stocks (NYSEARCA:EWC).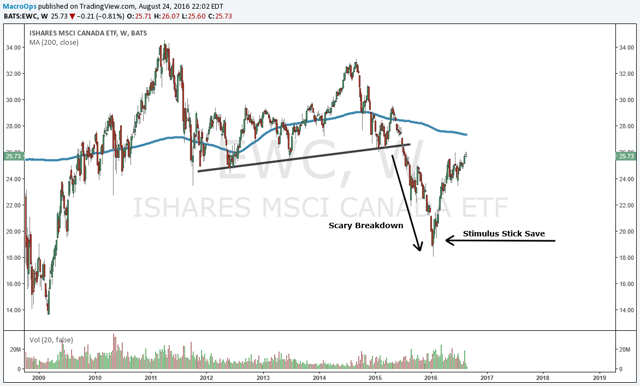 Click to enlarge
(Source: TradingView)
Canada's biggest problem is that its real estate market is in a bubble. A bubble that, in many respects, is worse than the one experienced in the US just eight years ago.
The bubble is being driven by domestic buyers spurred on by low interest rates and a fear of missing out, as well as hot foreign demand.
Chinese money is flooding into hard assets around the world over fear of further devaluation of the yuan and a general distrust for the country's government. This has resulted in many high-priced luxury properties being purchased site unseen and with little price sensitivity.
Home prices in major Canadian cities have vastly outpaced incomes over the last decade. As a result, many Canadians have been priced out of the market and can no longer afford to live where they work.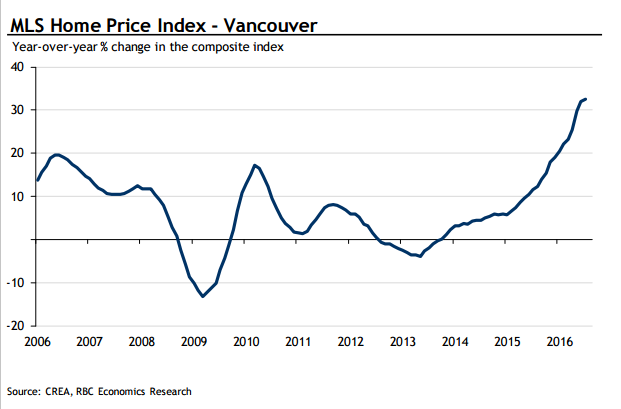 (Source: CREA, RBC Economics Research)
In response to this dilemma, the government imposed a 15% tax on purchases by foreign nationals in the metro Vancouver area, where the housing bubble is at its worst. The tax looks to be working. Average home prices in Vancouver have plummeted since it was enacted.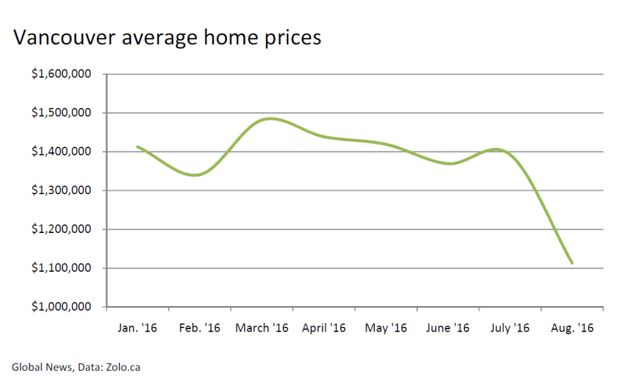 Click to enlarge
But with China still juicing its financial system, it's hard to get confident on the short side of Vancouver real estate just yet. The jury is still out on whether this tax is creating a short-term correction or full-fledged trend change.
The housing market is the key to watch in Canada. Where it goes, the market will follow. That is why our strategy is keeping a close eye on housing prices. If we see a multi-month reversal in Vancouver average home prices and they start to rise again, it will be a big signal that the real estate bubble has not been managed. That will set up a bigger bust in the future.
But these prices also have a lot do with oil (NYSEARCA:USO) prices. If oil prices are stable, so is the Canadian economy. And in that case, we can't expect any downturn in the market.
But if the US dollar (NYSEARCA:UUP) does strengthen from here, oil will likely reverse its recovery and collapse back to its lows. This could be the trigger that ignites the collapse in the Canadian economy and its housing market.
Another way to play this is through the USDCAD pair. We should see a significant breakout to the upside if the dollar strengthens further. We're keeping an eye out for an entry above the 1.329 level. A break of that level will clear a path to recent highs.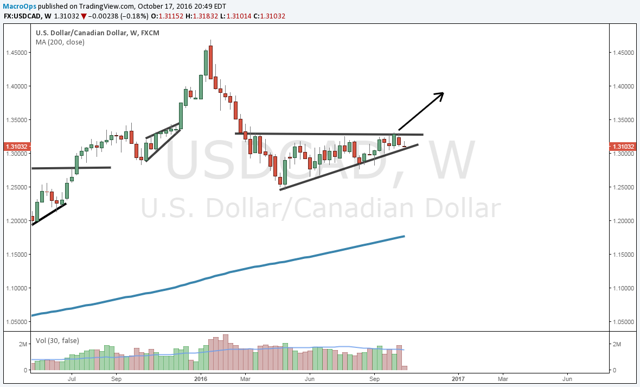 Click to enlarge
(Source: TradingView)
Disclosure: I/we have no positions in any stocks mentioned, and no plans to initiate any positions within the next 72 hours.
I wrote this article myself, and it expresses my own opinions. I am not receiving compensation for it (other than from Seeking Alpha). I have no business relationship with any company whose stock is mentioned in this article.