So where are we with Ford (NYSE:F) stock at present ? The company announces its third-quarter earnings in a matter of days, and investors and shareholders alike will be hoping that we don't get a repeat of how the share price performed when second-quarter earnings were announced last July. With the company trading around $12 a share, I see both "for" and "against" arguments at present. Obviously, the big calling card for investors to go long at the moment is the 5%-plus dividend yield, which is even more when you incorporate the special dividend that was paid out in January of this year.
Furthermore, I believe a lot of the commentary surrounding the whole area of a cyclical top in automobile sales in the US has probably been priced into the stock already. This is important because if the third quarter disappoints investors once again either from an earnings point of view or from a guidance standpoint, then we shouldn't see as much downside movement in the stock as we saw in Q2.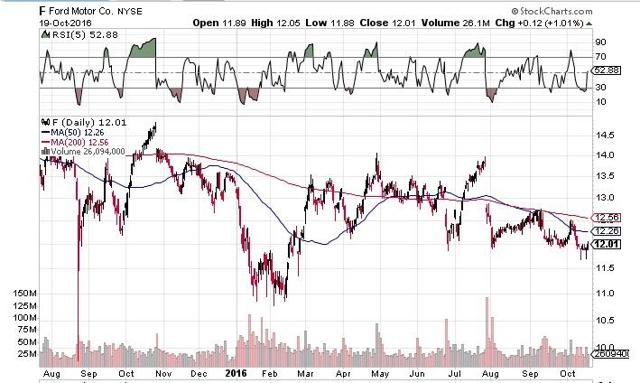 Click to enlarge
Already this year, we have seen 2016 pre-tax profit guidance dropping from $10.8 billion to $10.2 billion. Initially, this was due to elevated investment on new models plus a recall of over two million vehicles due to manufacturing errors. From an investment standpoint, temporary headwinds such as recalls and elevated investment are fine because they usually do not last over time. However, the elephant in the room is the cyclicality of this industry, and it appears that auto sales have definitely printed a cyclical top.
September SARS (Seasonal Adjusted Annual Selling Rate) results illustrated that if we do indeed have a top in auto sales in the US, the pace of the decline is not that fast at present. The SARS figure for September came in as 17.74 million, which is still pretty elevated compared to what we got in September and the summer months. Nevertheless, Ford has seen demand for its F-series trucks declining, so it has suspended production at various plants for the time being. Remember, this product line is where the company generates most of its operating margin, so future lower sales is definitely worrying from a margin standpoint.
Now in saying this, automobile manufacturers are all too used to trading in down markets. As long as Ford can stay ahead of the curve by being super-productive, there is no reason why it can't gain market share in the truck divisions it competes in. Its Super Duty pickup model seems to be off to a good start. The model is just staying on dealers' lots for an average of 13 days, and profit margins are above average. More of this ingenuity and productivity will need to be at the fore in the months and years to come.
Furthermore, from a valuation point of view, the stock looks cheap. Its earnings multiple of 5.7 and sales multiple of 0.3 are lower than the company's 5-year averages. However, we have to remember the cyclicality this sector and how evaluation metrics can sometimes be deceiving. We are seeing a lower valuation because the market is pricing in lower net earnings over the next few years
Irrespective of earnings, Ford has always struggled to pay its stated dividend in full when U.S automobile sales have declined. Most recently, we saw this in the Great Recession, when the company's dividend was cut completely when the SARS number went under 10 million. Going further back, we also saw a sizable dividend cut in the early part of this century when auto sales also suffered a meaningful decline. This, really, is the crux of the issue. If Ford is going to sustain production cuts across its F-series range of pickups, then cuts in other areas will have to come into play in order to balance the books. Dividend investors shouldn't be fooled by the perceived healthy payout ratio that was reported in the second quarter (under 30%). This can change on a whim due to the dividend expected to be increased over time and earnings per share expected to decrease.
Furthermore, because Ford is not a Dividend Aristocrat despite paying a 5%-plus yield, investors and shareholders alike could become very twitchy if the share price started to move south at a rate of knots. I talk about this a lot in my analyses of stocks. Human nature always ensures that investors sell their perceived weakest positions. Moreover, we all know where Ford's share price dropped to in the Great Recession, and no matter how big or enticing the dividend yield may be, nothing can protect you against downward movement with a share price like that.
Therefore, protecting the downside is key in this stock. Investors need to gauge how much negativity has already been priced in and whether the dividend can be sustained. Ignore the attractive yield until you can answer these questions.
Disclosure: I/we have no positions in any stocks mentioned, and no plans to initiate any positions within the next 72 hours.
I wrote this article myself, and it expresses my own opinions. I am not receiving compensation for it (other than from Seeking Alpha). I have no business relationship with any company whose stock is mentioned in this article.