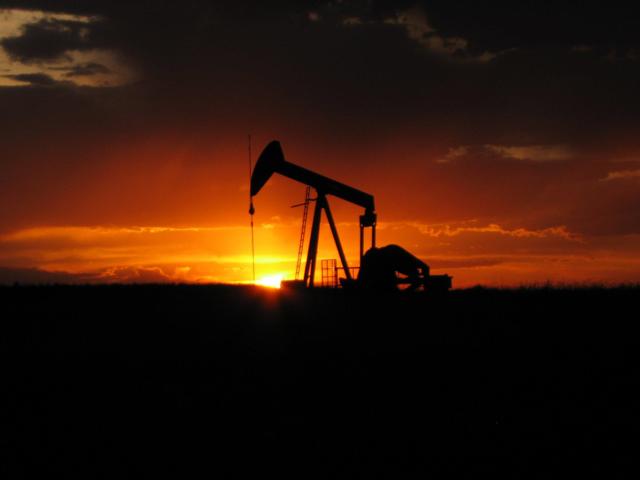 Click to enlarge
source: Pulsamerica
There's a lot to like about the outlook for Encana (NYSE:ECA), as it's able to generate about 35 percent with oil at $50 per barrel, and its outlook is very strong, assuming oil over the next 5 years is able to average about $55 per barrel.
Even though Encana has had a negative net income for five quarters in a row, each quarter it has been able to shrink the amount. If the price of oil is able to find support at around $50 per barrel, it is probably going to move into the positive territory in the not too distant future. That will depend upon how long it takes to move the majority of its production to its premium wells, which at this time account for a little less than 50 percent of its total well inventory of about 21,000.
Guidance for 2016 has also been recently revised in regard to costs, with "further reduction in production, mineral and other taxes, operating expense and transportation and processing costs." Savings from the cost improvements have come in at about $50 million.
It has been able to generate a positive gross profit by cutting costs, managing its debt load, and strategic hedging. It also has a robust $5 billion in liquidity to mitigate any significant challenges, or to employ for growth.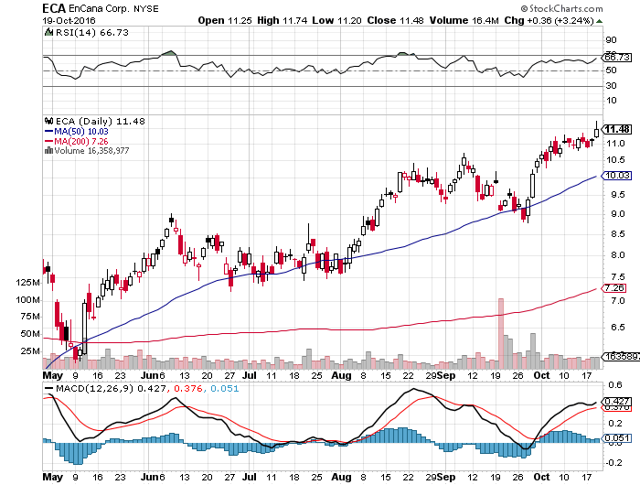 Click to enlarge
source: StockCharts.com
Growth and improvement outlook
Earlier in the month Encana gave guidance on growth, future projects and cost cuts. On the production side, including the new streamlined operations, will result in a solid performance during the next 4 to 5 years, assuming the price of oil continues in the range of $50 to $55, and the upcoming recession doesn't cut into global demand so much it drives down the price of oil into the low $40s, or possibly even into the $30s.
According to its five-year growth plan, Encana believes on the top end it can increase cash flow by as much as 300 percent, while doubling its margins. It also believes it can increase overall production by about 60 percent during that time.
It also has the goal of balancing its product mix - including oil, liquids and natural gas.
Based upon current market conditions and expectations, Encana is looking to increase production levels by 60 percent by 2021 with oil at $55 per barrel. Liquids are expected to increase on a compound annual basis in a range of 15 percent to 20 percent.
For 2016 it sees an overall production range of 340,000 to 360,000 boe/day. As for capital expenditure, it has upwardly revised that from C$1.1B-C$1.2B to C$1.4B-C$1.8B. In regard to upstream operating costs, that has been downwardly revised from $4.15-$4.35/boe to $3.96-$4.10/boe of production.
Concerning hedging, it has hedged about 32,960 barrels per day at a price at an average price of $50.58 per barrel. For natural gas it has hedged 806 million cubic feet per day of projected natural gas production at an average price of $2.91 per thousand cubic feet.
There is no doubt Encana's growth guidance is ambitious. My major problem with it is its reliance on the price of oil remaining on average at about $55 per barrel. That may be too optimistic when the recession hits. There will no doubt be some periods of time when $55 is probable, but it's far from certain it can maintain that on average over the next 4 to 5 years.
Encana has a lot of potential, I just don't think it has that much potential.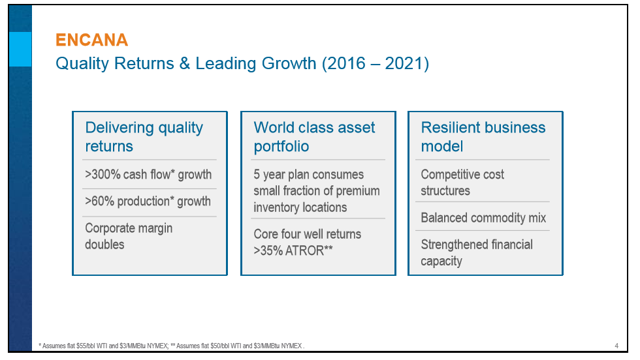 Click to enlarge
source: Investor presentation
Growth engine for Encana
While Encana has taken a lot of costs out of operations, the main growth drive is still its approximate 10,000 premium wells it has in its inventory. A premium well for Encana is identified as a well that can generate over 35 percent after-tax rate with oil at $50 per barrel and gas at $3.
I have no problem with Encana's numbers, but I do have concerns with the over 10,000 other wells in the company's inventory that aren't premium. They will drag down the performance of the company depending on what the mix of the lower producing wells are against the premium wells.
Even so, under those conditions the company can still boost cash flow by about 300 percent over the next 5 years, assuming oil averages about $55 per barrel over that time. If the number of premium wells increase in the inventory that percentage could even be higher.
For a comparison, major competitor EOG Resources (NYSE:EOG) is able to generate higher returns from its wells, with a 30 percent profit at $40 per barrel, and 60 percent at $50 per barrel. Premium wells will account for about 98 percent of its completed well inventory by the end of 2018.
If Citi is correct, it sees Encana's production growing at an annual compound rate of 12 percent through 2021. Oil production on its own is projected to grow at 20 percent during that period of time. Those estimates are based upon oil being at $55. This is better than EOG Resources, which has projected a 10 percent growth rate through 2020 with oil at $50 per barrel. If oil manages to climb to $60 per barrel, the growth rate would jump to 20 percent annually.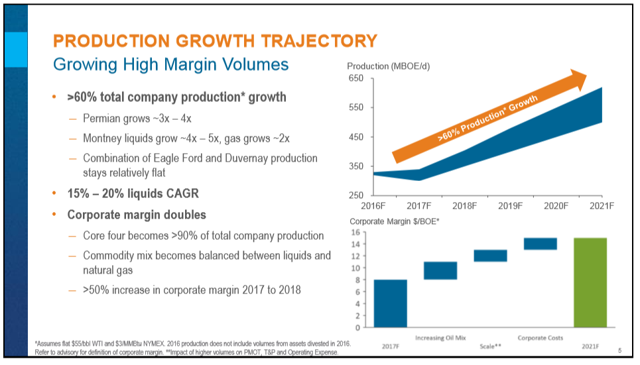 Click to enlarge
source: Investor presentation
Larger pads in Permian and new well designs in Eagle Ford
A couple of things to take note of in 2016 and 2017 is the well completions in Eagle Ford and the increase in the size of well pads in the Permian basin.
In Eagle Ford, which is where the company will spend the second-largest amount of capital on in 2017, it has been working on a new design which appears to have a lot of potential to improve efficiencies and productivity.
In 2016 the company has spent close to $200 million on Eagle Ford, and in 2017 it will bump that up to somewhere in the range of $300 to $450 million. That will be primarily targeted to the Duvernay program.
What Encana is doing with a new well design is to frac in tighter clusters and include more proppant per foot. Clusters under the new design will be less than 20 feet and volumes of proppant over 2,000 pounds per lateral foot.
In the Permian Basin it has a budget of $650 million in 2016, and for 2017 is looking to spend an additional $850 million to $1 billion there.
Plans are in place to drill another 75 to 85 new wells, which will include longer laterals and an increase in wells per pad in order to increase efficiencies. The company will incrementally increase the average number of wells per pad from 2 to 3, and in some cases more.
This will help the company save as much as 25,000 barrels of water per day from a three well pad. In a larger 14-well pad, Encana recently averaged about 17.5 million gallons of water per well and 6,000 tons of proppant. The company saved $1.2 million per well.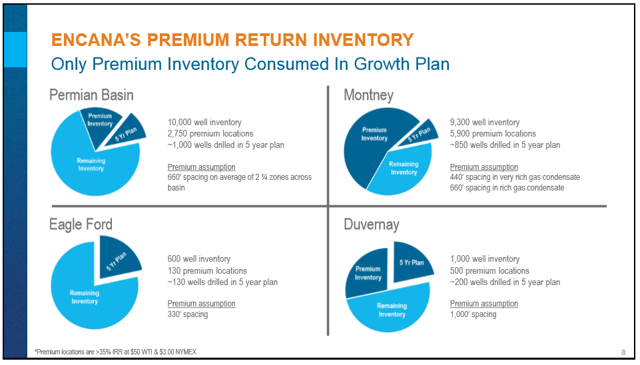 Click to enlarge
source: Investor Presentation
Conclusion
Even though Encana isn't the shale leader concerning profits at a certain price level for oil, it may be able to make up for some of that with more production than most competitors, including EOG Resources. But even if it doesn't, if the price of oil finds support at about $55 per barrel, Encana should be able to generate some good returns for shareholders, making it a compelling option for energy investors.
After divesting of non-core assets over the last couple of years and lowering drilling and completion costs by about 40 percent over the last 18 months, and raising about $1.1 billion in equity in September, Encana is definitely ready to rumble if the price of oil manages to remain in the favorable range already mentioned.
I expect to see Encana continue to cut costs, but it still has over 10,000 wells that aren't considered premium wells which I'm concerned about. How quickly they're transitioned to premium wells, or if they are at all, will determine a lot of the performance of the company in the years ahead; although that's a little further out.
As it is, the approximate 10,000 wells that are identified as premium should generate a predictable revenue stream over the next several years, with the key caveat being the health of the global economy and what will happen to oil demand when the next recession comes. That will have an impact on the entire oil complex, but it still is relevant to Encana and how it will perform in relationship to its guidance.
While guidance is optimistic, it could come about if the price of oil maintains its support. If not, the company should still do okay, but it will struggle if oil drops back into the mid-$40 range or even lower.
Encana definitely has the liquidity to weather difficult market conditions, but to thrive it, as well as most of its competitors, are still reliant upon the price of oil remaining at $50 or higher.
The good news is it will not only be able to pay down some of its debt, but also fund expansion with the capital raised from the public offering. About half of the $1 billion will be allocated to debt, and the other half to growth.
Disclosure: I/we have no positions in any stocks mentioned, and no plans to initiate any positions within the next 72 hours.
I wrote this article myself, and it expresses my own opinions. I am not receiving compensation for it (other than from Seeking Alpha). I have no business relationship with any company whose stock is mentioned in this article.