The S&P 500 has been trading in a relatively tight range over the last few months. Is this a sign of a new subdued market environment where the monetary forces have conquered cyclical drivers of volatility? We don't think so - in this article we review some key volatility metrics and discuss our views on VIX positioning into the fall and year-end.
We think it is fair to characterize the current market environment in the following two statements:
1. Volatility is Low
The chart below shows TYVIX and VIX indices which show implied volatility pricing on Treasuries and S&P 500. Both indicators are close to the lows of the last 15 years.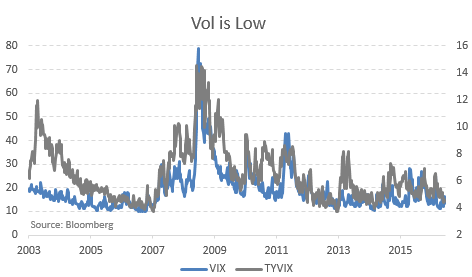 Why is volatility as priced into the markets low? There are many possible explanations:
Stage of the Cycle: During periods of decreasing output gaps and rates of unemployment, volatility tends to be subdued.
Lower Economic Vol: Marker volatility tends to match economic volatility - the current environment is one of subdued volatility in activity and inflation.
Central Bank Transparency: Arguably, we are in a period of a Great(er) Moderation with a Fed that is very market-friendly and transparent in its communication.
2. But Vol of Vol is Up
The volatility market of today is one of more frequent volatility blow-ups than in the past. In the chart below which plots the VIX along with the VVIX CBOE Indices we can see that Volatility of Volatility, which can also be described as 'spikiness' of 'explosiveness' of market volatility has crept higher.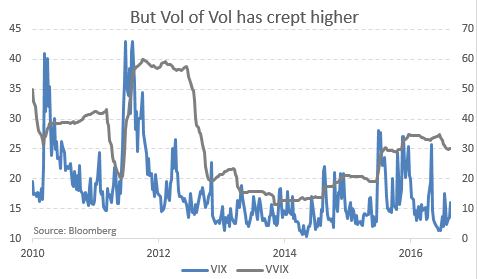 Why is this the case? We can see a number of drivers both fundamental as well as those having to do with the microstructure of the market:
Expectations of the Fed kicking off a sequence of hikes.
More algorithmic trading which can add and withdraw liquidity instantaneously.
Decrease in dealer balance sheet and risk limits.
What do we expect over the near and medium-term? In the near-term we are biased towards higher volatility primarily because of seasonal factors. Volatility tends to rise in the fall and rally for the first six months of the year. While not a fast-and-hard rule, we would wait for better entry levels for those looking to short Vol.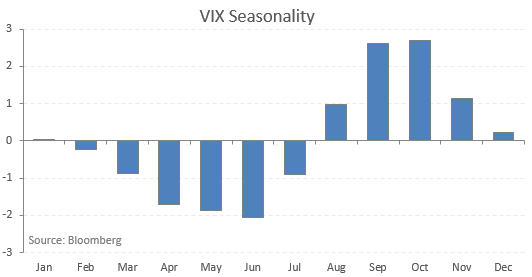 Longer-term, we are cautious primarily because of the stage of the cycle. Volatility tends to pick up as the cycle ends, corporates and households releverage and the economy begins to run hot. The key indicator we are watching is the unemployment rate which tends to have a good relationship with the VIX.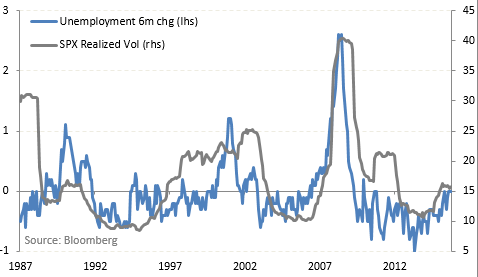 Improvements in the unemployment rate have slowed which is helping to put a floor under the VIX. The spread between the unemployment rate and the NAIRU (Non-Accelerating Inflation Rate of Unemployment) has collapsed, suggesting that future decreases in unemployment will be matched by rises in inflation which tends to translate into higher market volatility.
Finally, we are cautious because of a number of Risk events over the coming months:
The U.S. Election in November
Fed meetings in November and particularly December
ECB QE taper announcements over the coming weeks
The Italy referendum in December
So what do we recommend? As far as VIX ETFs, we recommend remaining on the sidelines this earnings season and taking advantage either of the seasonality factors or earnings disappointments before initiating short positions. We do not, however, recommend going long now because of the difficulty in monetizing long positions and the steep skew in the VIX Futures.
For now, Good Luck!
Disclosure: I/we have no positions in any stocks mentioned, and no plans to initiate any positions within the next 72 hours.
I wrote this article myself, and it expresses my own opinions. I am not receiving compensation for it (other than from Seeking Alpha). I have no business relationship with any company whose stock is mentioned in this article.