It is hard to believe this is my 300th article on Seeking Alpha. To commemorate this mini-milestone, I wanted to take a look at back at my ten favorite pieces over the last four-plus year of authorship. Since markets are forward-looking and not rearview facing, I will seek to tie the topics of these articles to current investment decision-making. Hopefully, this provides a decent overview of my past work for new followers, and is a fruitful review of my style for potential readers.
Why We Will See QE3 (February 16th, 2012)
Given the expansion of global monetary accommodation in the years hence, it might seem in retrospect that QE3 was a market certainty. At the time of this piece, the market was not appropriately pricing QE3 into asset prices. The article discussed monetary policy from the vantage of the Federal Reserve's dual mandate of maximum employment and stable inflation. Labor markets were healing slowly and the economy remained in a disinflationary environment, suggesting that the Fed would continue to push policies that would further employment levels. Suggesting an expansion of Fed purchases of Agency mortgage-backed securities, I indicated that this move would be positive for domestic rate, credit, and equity markets.
Fast forwarding to the present, the Fed has fully tapered its purchases of new securities, and has begun the process of normalizing the Federal Funds Rate. While the unemployment rate is approaching the natural rate of unemployment, labor force participation remains near generational lows. There is a demographic interplay at work here that markets did not fully comprehend. While the Fed need not tilt so strongly towards its desire to improve labor market dynamics as it did in 2012, inflation remains relatively subdued, allowing the Fed to continue its halting pace of policy normalization.
Will we see QE4? QE Infinity? Global markets have probably passed peak monetary accommodation, but the return to normalcy is still years away and the Federal Reserve's balance sheet will retain the crisis-era bloat.
Ten Companies Cheap By My Favorite Valuation Metric (March 29, 2012)
Many of my articles revolve around smart beta factor tilts that can improve the risk-adjusted returns of well-diversified portfolios. I believe these low cost strategies are a better source of consistent performance for retail investors on Seeking Alpha than idiosyncratic stock picks. If I recommend a stock to an investor, it may warrant a much different weighting in their portfolio given their existing asset allocation, time horizon, and risk tolerance than another investor. This article offers a tool to security selection and valuation that has historically generated above market returns, and I illustrate the ten components of the S&P 500 (NYSEARCA:SPY) favorably valued by that metric.
The ten companies referenced in the article were the ten constituents of the S&P 500 that had produced the highest level of trailing twelve month free cash flow relative to their enterprise value. Since the article was published in March 2012, these companies have produced strong returns as seen below.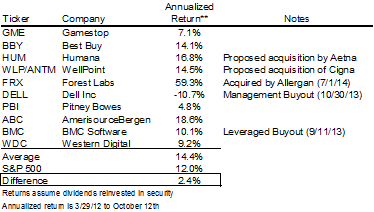 Maybe more importantly, this screen was an effective tool at screening for leveraging transactions given the heightened M&A involved in this small subset. The ratio of enterprise value to free cash flow has proved to be an effective value screen with market beating returns. As long-time readers know, I have written frequently about the long-term advantages of value-focused strategies. Investors wishing to explore companies today that generate high levels of free cash relative to enterprise value should examine the life insurance space.
The article ends with a post-script about a recent visit to Thailand, and the nature of idiosyncratic risk in security selection that references the performance of one of these companies around the date of the article.
The Dividend Sweet Spot (June 8th, 2012)
One of the most engaged reader bases on Seeking Alpha is the Investing for Income community. This article described a piece from Morgan Stanley that indicated that dividend yields between 3-6% generated the highest absolute (left graph) and risk-adjusted returns (right graph) over long-time intervals.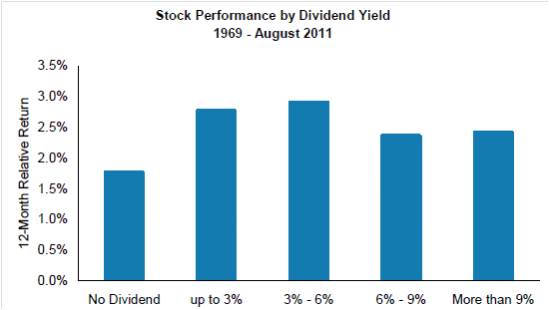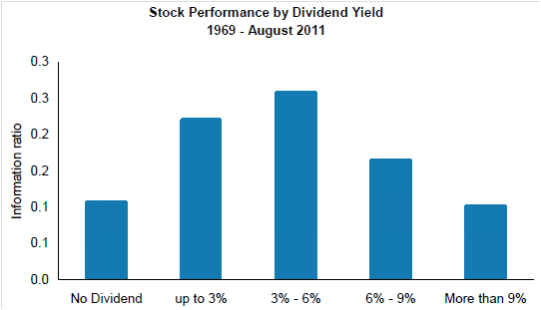 Source: Morgan Stanley
In this prolonged low rate environment, there has been a tendency for some investors to "reach for yield", stretching for higher dividend yields that end up producing worst total returns (a combination of yield and capital appreciation).
50 Fearless Predictions for 2013 (January 2nd, 2013)
This is the only annual prediction article I have written, and it ended up being quite a fun piece to write and discuss. There were prescient picks (Safeway, Hewlett Packard, financials, the Dell buyout, Alcoa as the Dow laggard) and some bad misses (EM, the Detroit bankruptcy, the outperformance of CCC bonds, gold miners). I found that this was a good way to frame my thoughts about many different asset classes, and the comments and discussion from readers were insightful. This was not an easy article to write, but I will consider putting one together for what should be an eventful 2017.
5 Simple Ways to Beat the Market (December 2014)
This series described smart beta tilts that have generated long-run outperformance versus the broader market. The five strategies - size (NYSEARCA:IJR), value (NYSEARCA:RPV), low volatility (NYSEARCA:SPLV), dividend growth (NYSEARCA:NOBL), and equal weighting (NYSEARCA:RSP) - are all available through low cost exchange-traded funds. The combination of these funds have beat the market benchmark on average by 2% per year over the past twenty years with lower volatility.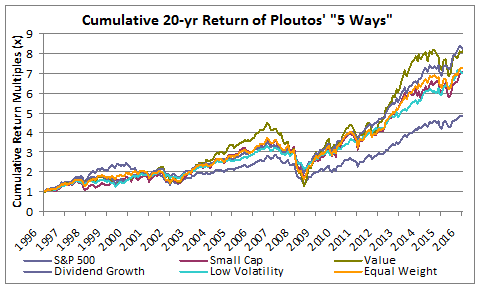 Click to enlarge
In the articles underpinning this series, I describe academic research that support these factor tilts. In July 2016, I updated the performance of these five strategies through the first half of the year when all five strategies outperformed the market.
A Lecture on Yield (February 4, 2015)
In the fall of 2014, I had the opportunity to go back to my undergraduate alma mater and give a lecture to a fixed income class. I posted the text of my lecture for Seeking Alpha readers. In the lecture and article, I describe the slope of the yield curve and its signaling for the length of the business cycle, the momentum of corporate credit spreads and bond returns, and a fun examination of how to frame variability.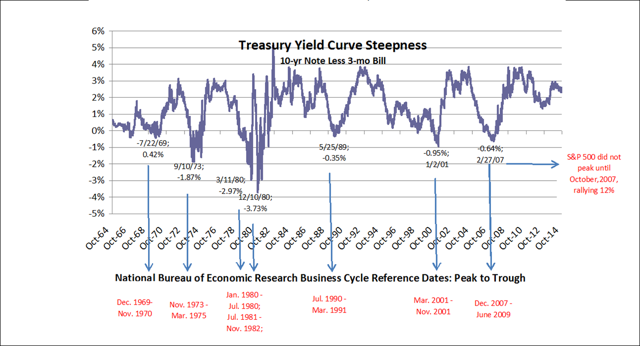 Click to enlarge
Former Seeking Alpha CEO David Jackson posted that it was the "best explanation of the yield curve I have ever read." While that compliment was rewarding, the fact that these relatively esoteric topics were so widely discussed by readers was exciting. A big part of why I write for Seeking Alpha is to further financial literacy, and also to receive instant feedback on my own research and market views. I believe this article was one of my best efforts at furthering those initiatives. As the yield curve flattens and credit spreads continue to march tighter, this article might be timely for fixed income investors to frame their market views given some of the historic evidence in the piece.
A Portfolio Manager's Report from Greece (June 25, 2015)
Of my volume of work on Seeking Alpha, this was one of the least read pieces that I have written. Sometimes an article captures the community's imagination and leads to a lot of thoughtful feedback, and sometimes an article falls short. I am not sure why I missed here, and thought my observations from a trip to Greece during its 2015 negotiations with the troika could provide some insight to readers while Greek-induced volatility was rattling global financial markets.
This renegotiation in 2015 followed previous Greek debt write-downs in 2010 and 2012 that had also added stress to markets. In this piece, I try to frame the size of the Greek debt morass in terms of the U.S. market. While Greek-fueled stress has cooled in recent quarters, ultimately the debt remains unsustainable. Given the high level of (contentious) involvement the German government had in the negotiation of bailout terms, the fact that a recapitalization of beleaguered German lender Deutsche Bank (NYSE:DB) is currently a political non-starter in the wake of a German-financed recapitalization of the entire Greek banking system remains a curious parallel. As we have seen with the Brexit decision in 2016, the ultimate shape of the European Union is still being actively redesigned, and will remain a theme in financial markets for the foreseeable future.
The Low Volatility Series (July and August 2015)
In a series of twelve articles in mid-2015, I took a deep dive into the Low Volatility Anomaly for readers, or why lower risk assets have tended to outperform higher risk assets over long-time intervals. I believe there are some structural reasons why low volatility stocks have outperformed historically. Leverage aversion, inability for some investors to obtain low cost leverage, and behavioral biases like overconfidence and lottery preferences potentially contribute to the Low Volatility Anomaly. Researchers have demonstrated that combining low cost leverage and low volatility/high quality stocks has been the principal driver of Warren Buffett's extraordinary run at Berkshire Hathaway (BRK.A, BRK.B). In this series, I illustrated that the low volatility anomaly has been present in high yield bonds and small and mid-cap stocks. Low volatility strategies have been among the most popular smart beta factor tilts for investors in 2016, and I believe this series was a good source of the academic research behind this market phenomenon.
Trump's Billions (May 3rd, 2016)
Whether you punch a ballot for Trump next month or not, it is undeniable that he has dominated the news cycle in 2016, for better or worse. While the amount of Trump's initial stake from his father and the size of his current wealth is debated, this article seeks to illustrate for investors how successful Trump has been relative to simple passive investing in the stock market on both an absolute and risk-adjusted basis. Disciplined investing with a long-term horizon is an effective way to create lasting wealth for the majority of us who failed to inherit it.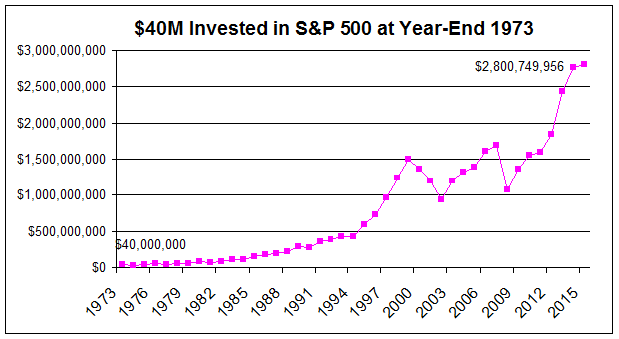 The Graph All Dividend Investors Should See (June 16th, 2016)
Building on the previous work from the Dividend Sweet Spot, this article takes data from Dartmouth French professor Kenneth French that dates all the way to the pre-Depression era and describes the return profile of the domestic stocks market bucketed by dividend yield. Dividend stocks outperform non-dividend payers on both an absolute and risk-adjusted basis. The highest yield cohort also underperforms the broad market. Using the longest dataset that I know of for U.S. stocks, this article illustrates for readers the performance of stocks with varying yield levels.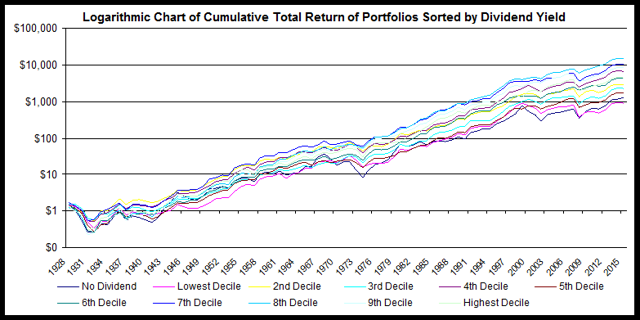 Click to enlarge

From this tremendous academic dataset, I have also authored articles on a wide variety of topics: momentum, value, equal-weighting, and low volatility. The overlap with my "5 Ways" is intentional. I have used this expansive research to look at additional time samples to see if these strategies have produced structural alpha in different market environments.
I hope the Seeking Alpha audience enjoyed reading these articles as much as I enjoyed writing them. Not everyone is going to concur with my takeaways, but disagreement is what makes markets. I view the instant feedback from Seeking Alpha readers about my articles as a valuable investment input. I hope my research-based strategic pieces are valuable to my readers, and I look forward to authoring more content for this reader base in the future.
Disclaimer: My articles may contain statements and projections that are forward-looking in nature, and therefore inherently subject to numerous risks, uncertainties and assumptions. While my articles focus on generating long-term risk-adjusted returns, investment decisions necessarily involve the risk of loss of principal. Individual investor circumstances vary significantly, and information gleaned from my articles should be applied to your own unique investment situation, objectives, risk tolerance, and investment horizon.
Disclosure: I am/we are long SPY, SPLV, IJR, RPV, NOBL, RSP.
I wrote this article myself, and it expresses my own opinions. I am not receiving compensation for it (other than from Seeking Alpha). I have no business relationship with any company whose stock is mentioned in this article.