This review updates my initial look at Safe Bulkers (NYSE:SB) from my July 25, 2016, article, "Safe Bulkers: A View From The Perspective Of A Preferred Investor."
Though I hope you will read the original linked article in full, my bottom-line assessment and buy recommendation at the time were as follows:
Ultimately, I must decide whether or not I believe in the long-term survivability of SB, which I view as questionable as long as the present drybulk market remains as depressed as it has been. The good news is that its long and short-term debt appears manageable and its common and preferred share prices have rebounded a bit during this past half year. However, I believe its survivability is still questionable and I'd be loathe to gamble on an investment in this company at this time.
Let's see how SB's commons have performed over the past quarter since I wrote the previous article. Because of the greater volume of common shares traded as opposed to the limited liquidity of most preferreds, I find the commons to be a better indicator of a company's overall performance.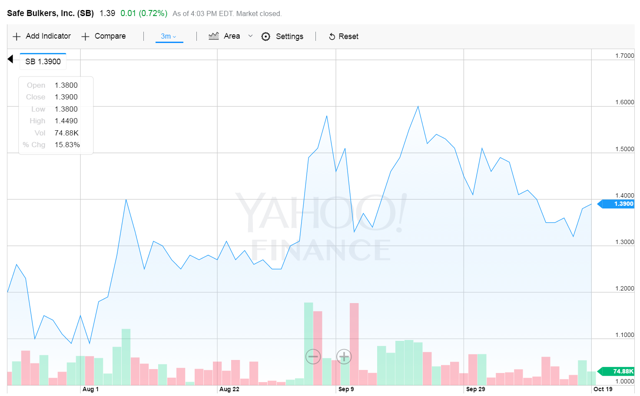 Click to enlarge
It appears that over the past three months, SB's share price movement has trended higher. On July 20, 2016, it traded at $1.20, and now it's priced at $1.39. That's a $0.19 increase over the past three months.
Now let's compare SB's share price performance over the past three months in relation to a number of its peers. Chart provided by Yahoo Finance: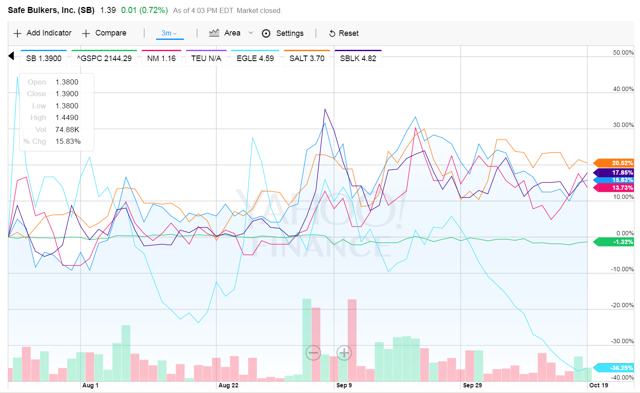 Click to enlarge
According to the Yahoo chart above, SB placed in the middle of its peer group, which actually outperformed the S&P except for EGLE, which sank dramatically at the end of September. I suspect this positive performance is a result of the BDI rate recovery that began rising from its all-time February low of 290 to its present rate of 890. Although the drybulk rates have a long way to go before drybulk shipping becomes profitable again, its been a promising start in the right direction. The peer comparisons charted above are: Navios Maritime Holdings (NYSE:NM), Box Ships (NYSE:TEU), Eagle Bulk Shipping (NASDAQ:EGLE), Scorpio Bulkers (NYSE:SALT), and Star Bulk Carriers (NASDAQ:SBLK).
Before we discuss SB's future prospects, let's see how its preferreds have fared during the past three months. The following charts are provided by MarketWatch: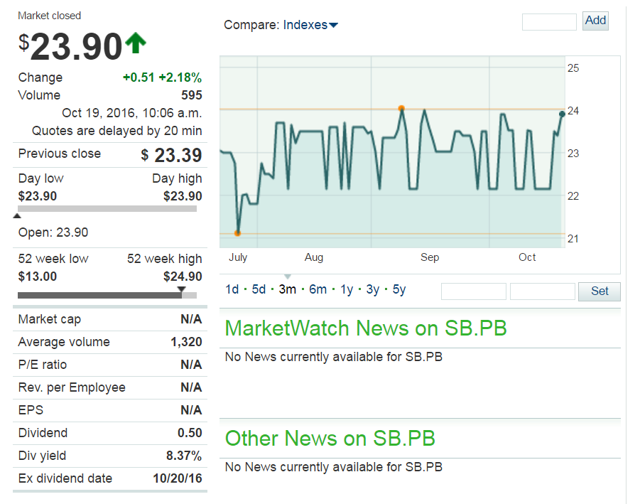 Click to enlarge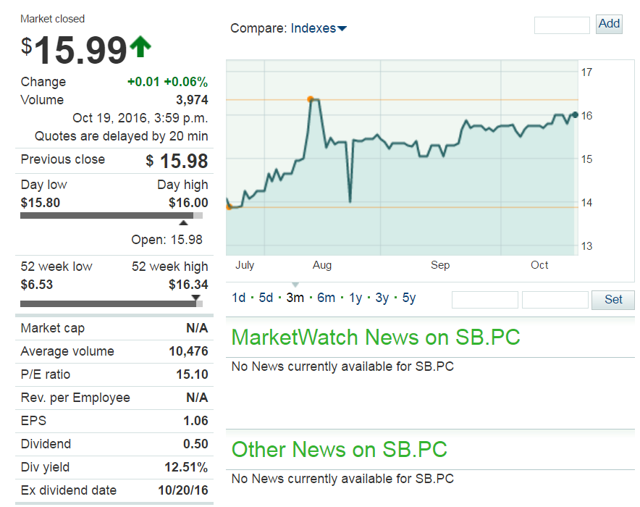 Click to enlarge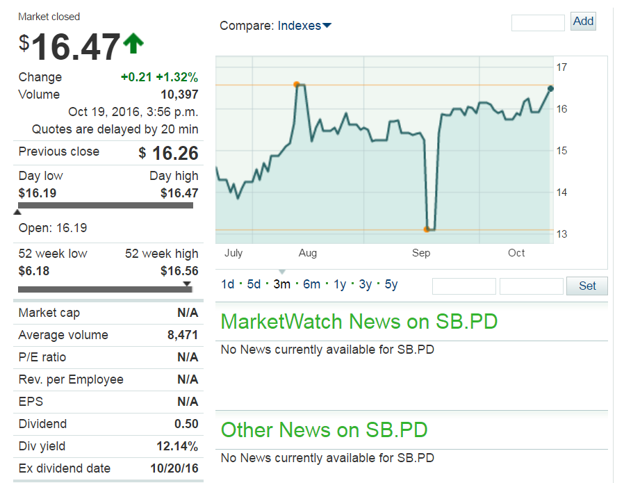 Click to enlarge
Since my initial report dated 7/25/16, all of its preferreds have performed well and modestly increased in value. I largely attribute this to the dramatic increase of the BDI rates since early February.
| | | | | | |
| --- | --- | --- | --- | --- | --- |
| Symbol | Yearly Dividend | Price | Dividend/Price | Yield | Best |
| SB-B | 2.00 | 23.90 | 2/23.90 | 8.37% | |
| SB-C | 2.00 | 15.99 | 2/15.99 | 12.51% | Best |
| SB-D | 2.00 | 16.47 | 2.16.47 | 12.14% | |
My choice for best is obviously the C Series, which admittedly has been a point of contention between me and a small number of my followers, which apparently is shared by a preponderance of investors. The culprit is the Failure to Redeem clause present in the B Series, yet absent in both the C & D Series. Briefly, if SB fails to redeem the B Series, because of the negative consequences, it will signal, and rightly so, that SB is in serious trouble, which will dramatically affect all the preferred series shares. In fact, because the B Series is so much more costly it would suffer the greatest fall. Ironically, if SB does redeem in a timely fashion, the major beneficiaries will be the C & D's simply because of the perceived added strength of the company. The B will benefit somewhat because it has been called and the holder who bought it at 23.90 will reap a one-time profit of $1.10. On the downside, he will no longer continue to receive the 8.37% effective yield he had earned as the preferred holder of the B.
Let's further explore why I believe both the C and D are far better buys than the B at the above prices. Immediately on the redemption of the B's, both the C & D's will most assuredly experience a modest price hike of several dollars as I have explained above. At this time the holders of each, at their discretion, can either choose to stay and continue to reap those stratospheric dividends, much higher than the B, at a respective 12.51% and 12.14%, or they can choose to offer their shares for sale at most probably a better profit than the $1.10 earned by the B. Furthermore, both the C & D shareholders placed at risk respectively $7.91 & 7.43/share less than the $23.90 the B holder placed at risk.
Although I appear to have a contrarian position, I have yet to receive an argument that rationally explains why the Fail to Redeem clause would add so much value to the particular issue that contains it, as it has in SB and with TNP, another shipper I have reported on.
Now for a little forward guidance
After reviewing the literature, I'm forced to admit that Rich Lejeune has made a far better case than I could hope to with his August 10, report, The Top 10 Reasons To Speculate On This 13.3% Yielder, which I have provided the link for and encourage those interested to read.
The only other news of note was the shelf registration statement SB recently filed that would allow:
The shelf registration statement, when declared effective by the SEC, will give the Company the ability to offer and sell, within a 3 year period, up to $200,000,000 of its securities consisting of common stock, preferred stock, warrants, subscription rights and debt securities.
Personally, I find the statement of little consequence because beyond a request for the permission, nothing is mentioned about the terms of what would be sold, at what price, or at what interest rate would be promised.
Finally, as I have mentioned in many of my previous articles, SB's future will be closely tied the external event of the BDI rates, brighter if they continue to improve, less so if they fall back to their lows experienced at the beginning of the year.
Consequently, I believe this company's preferreds offer a high yield, high risk/reward scenario that each potential investor must determine whether or not the risk is worth the reward. I remain neutral; this investment is certainly NOT a no-brainer.
Disclosure: I am/we are long SB-D.
I wrote this article myself, and it expresses my own opinions. I am not receiving compensation for it (other than from Seeking Alpha). I have no business relationship with any company whose stock is mentioned in this article.