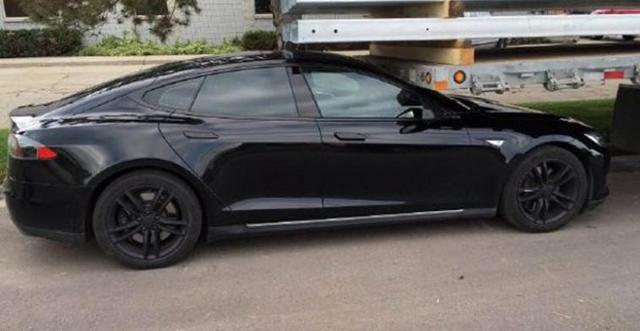 While not announced, Tesla's self-parking also ensures much more volumetrically efficient parking. It's the little things that set Tesla apart.
Tesla's announcement yesterday went broadly as expected. However, it also raised a powerful question. Did Tesla (NASDAQ:TSLA) just jump the shark? The question isn't just rhetorical. All it takes is for any reasonable person to think about what just happened, and the answer might well be yes.
What just happened? Here's the short version:
"Stick 8 cameras and an improved computer in it, and call it self-driving"
Here's a bullet-by-bullet longer version:
All the Tesla cars coming off the assembly will now have 8 cameras for 360 degree coverage. They will also feature improved ultrasound sensors and frontal radar.
The cars will also include a nVidia Titan-class CPU/GPU combination that's said to be 40 times more powerful than their previous Mobileye EyeQ3-based solution. Indeed, EyeQ3 is rated at ~100 GFLOPs and Titan is rated around ~4494 GFLOPs, so that would seem to be true. Originally (2013), Titan would draw as much as 250W. However, one surmises that the present generation being used will be more efficient (or else it would actually have a range impact, if it ran at all times like Tesla said it would).
The cars will not have the existing autopilot 1.0 features. This is so because these features relied heavily on Mobileye's software included with the EyeQ3 solution. It was this software which enabled Tesla's ADAS features including automatic emergency braking, collision warning, lane holding and active cruise control. Since Tesla done away with the EyeQ3, it also done away with its ability to provide said features. Now, Tesla has to develop equivalent features in its new hardware solution - something which it promised for December 2016, but which is not a certainty it will achieve.
Finally, Tesla promises that the included sensors and hardware will be enough to provide full autonomy down the road. This is not something which comes with the car, though. It's just a promise without a due date.
Why Does This Constitute Shark-Jumping?
This is easy to explain. As said above, the short version of what Tesla did can be summarized as "Stick 8 cameras and an improved computer in it, and call it self-driving".
But now consider:
Tesla does not have self-driving technology. Indeed, for the present hardware solution, it doesn't even have automatic emergency braking, collision warning, lane holding and active cruise control yet. This is a fact.
Tesla cannot know if it will have self-driving technology in a reasonable timeframe. Even the features it lost are not sure to be back by December. As for true self-driving, others have been developing cars for months - and for all we know, there are no existing Tesla self-driving prototypes roaming the streets even now. For sure, there were none up to December 2015 in California (which is where they'd be and where Tesla has a license to test them).
Tesla cannot know if the hardware it just mounted will be enough to provide self-driving if and when it arrives.
Tesla will now and for a few months be trying to sell a car without emergency braking and active cruise control.
In the segment Tesla sells into, customers change cars frequently. Why would these customers spring for self-driving abilities now, when there's no certainty of the feature being delivered within the timeframe they'll own the car? Check the purchase frequency typical of the highest automotive segments, presented below (including an example within BMW showing clearly that the higher the segment, the faster the purchase frequency).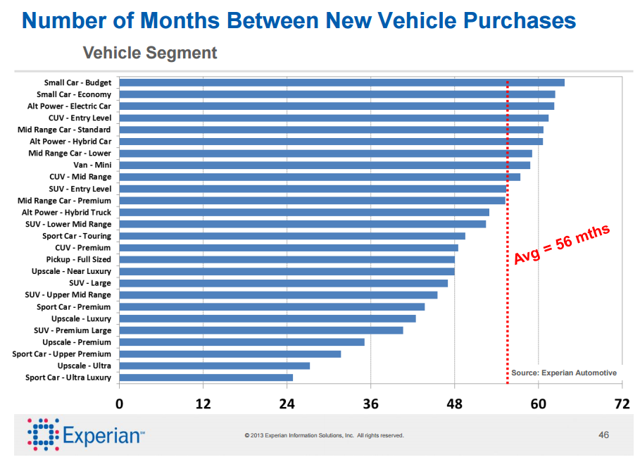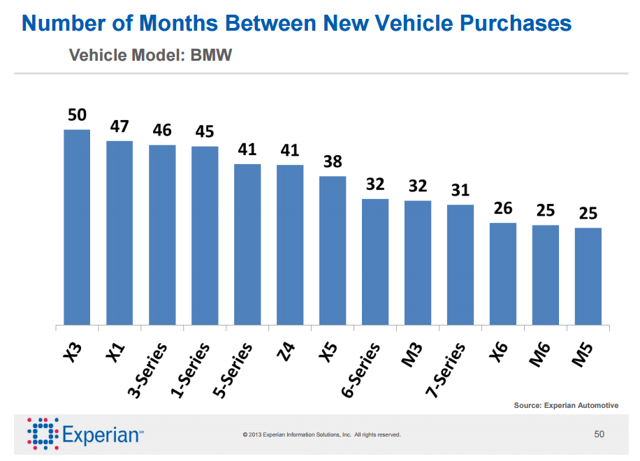 Source: Experian Automotive
A Few Interesting Asides
Bloomberg
Bloomberg published an article today titled "Tesla Slams Brake on Driverless Cars", where it defends the thesis that Tesla actually went backwards in self-driving capability of its own volition.
Did this happen as stated? No. Tesla lost the driver assistance features it already had simply because it changed the underlying hardware, and was so pressed to unveil the novelty that it didn't yet have the software to run it even to the previous feature specification. It's as simple as that. In a way, the same thing happened with the "D" versions - when those cars stated selling, their software wasn't ready yet and wouldn't be for an entire year. Nothing different here, as with everything Tesla, this was a rushed job.
So in short, Tesla did not (temporarily) lose driver assistance features because of its own option, other than because of its option to rush autopilot 2.0 hardware out.
GAAP Treatment
It cannot but be argued that the actual delivery of self-driving capabilities is a large component of the car's value. But this delivery won't happen now, it will happen only when Tesla actually delivers the software enabling it. This will imply future costs to develop the software.
How will Tesla account for all this? Arguably, a slice of the revenues now being taken from selling the cars would have to be deferred over time to be married with the costs of delivering the feature. This would reduce immediately reported "profits" and revenues, something which Tesla can ill-afford already.
It will be interesting to see how Tesla ultimately accounts for it.
Existing Inventory
Tesla now has thousands of cars in new inventory as well as showroom models and demo cars. This inventory expanded last quarter, as production again outpaced deliveries. The difference even outpaced the number of in-transit cars, guaranteeing expanding new-car, Tesla-held, inventory.
Well, as of now all those cars won't have autopilot 2.0 hardware. So, again, Tesla is sitting on thousands of cars which will require being sold at a discount (not that Tesla would shy away from it even if such weren't the case).
Reality Check
Here's a reality check that can be useful for those who might go crazy on the announcement:
Tesla does not have self-driving technology. Tesla is behind nearly all other automakers when it comes to actual self-driving technology.
Tesla does not have known prototypes roaming the streets testing self-driving technology, the way Google, BMW, Volvo, Audi, Delphi, Nissan and others have. Tesla did not do any such testing during 2015 in California, because such testing is reported by year end.
Tesla just showed it doesn't even have the ADAS features it included in its previous models, and is still developing those for the hardware it just fielded. Never mind self-driving technology. This also kills the previous market-held notion that those ADAS features showed Tesla's superiority. Well, guess again, the features were gone as soon as EyeQ3 was gone.
Self-driving technology will take years to reach the market, so it makes no sense to field a car with computing hardware for it right now. Other automakers will only include the computing hardware once they have the software. Computing hardware evolves very quickly in cost, performance and power efficiency making it unreasonable to field computing hardware you do not expect to be using right away.
Conclusion
Tesla's product announcement yesterday can have three consequences:
It can drive down demand in the short term, if customers balk at buying a car without emergency braking and active cruise control while those features aren't actually available. Most importantly, the changes look unable to stoke demand in the same way the "D" versions, the 70/70D or the recent 60/60D were able to. This means again Q4 2016 and 2016 deliveries look compromised, even though Tesla's delivery objective had already been taken down to 79,000 deliveries.
It can drive margins up or down depending on take rate for enhanced autopilot features which aren't yet available. Margins could be down if the take rate is low because the hardware being put into all cars is more expensive, but they could also be up if the take rate is high enough, because autopilot is now twice as expensive as it was before ($5,000 vs $2,500 previously).
Over the long term the present announcement will be a nightmare for Tesla. Why so? Because Tesla is unlikely to deliver on the self-driving promises in any reasonable timeframe with exactly the hardware and sensors it is fielding now. Tesla is more likely to get self-driving capabilities down the road from a supplier which will have his own hardware and sensor set. Yet, Tesla will be selling these cars today based on their supposed ability years down the road. Arguably, every buyer of these cars will have a claim on Tesla for the full price of the car if, years down the road, Tesla doesn't deliver.
Here are two predictions as well:
Tesla will delay the December 2016 software, or the software will be incomplete versus what's being promised.
Tesla won't be able to produce the entirely autonomous drive (including city driving) from LA to NYC during 2017. On highway driving alone, Delphi already did as much last year.
What does one call selling something which one is not sure it will be able to deliver? That's where the shark jumping is.
Disclosure: I/we have no positions in any stocks mentioned, but may initiate a short position in TSLA over the next 72 hours.
I wrote this article myself, and it expresses my own opinions. I am not receiving compensation for it (other than from Seeking Alpha). I have no business relationship with any company whose stock is mentioned in this article.