On October 21, 2016, General Electric (NYSE:GE) is scheduled to release Q3 2016 results and analysts are expecting for earnings of $0.30/share, which would be slightly higher than the $0.29/share that was reported at Q3 2015. I am not expecting for GE to report a blow-out quarter this Friday, but, in my opinion, improvements in several key ratios/metrics should ease a lot of the current investor concerns (to name a few concerns --slower macro environment, deteriorating oil & gas industry, weak order numbers, the company's current valuation based on anticipated earnings).
These concerns have contributed to GE's poor stock performance, as the conglomerate's stock price has greatly underperformed the market on a YTD basis.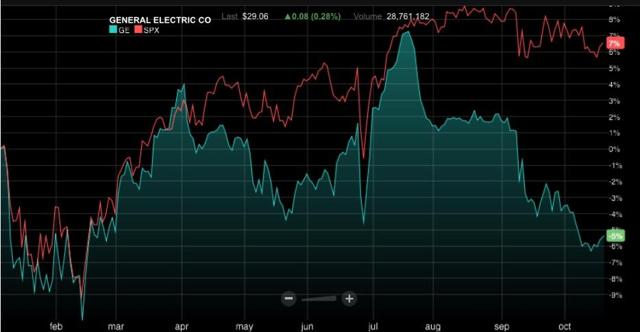 Click to enlarge (Source: Nasdaq)
While I agree that GE has been contending with several strong headwinds that will likely continue through 2017, I believe that these concerns are more short-term in nature.
The Q3 2016 results will likely not make or break the company's long-term growth story, but investors are still anxiously awaiting the earnings release (and management's commentary) in order to determine how well GE's transition to becoming a more-industrial focused company is progressing. The three things that investors should watch for when GE reports Q3 2016 results are: (1) an update on the Alstom acquisition, (2) the quarterly order numbers, and (3) how the company deployed capital.
1. Alstom Acquisition
In late-2015, GE acquired Alstom's (OTCPK:ALSMY) Power & Grid assets and many commentators/analysts have been downplaying the long-term benefits of the newly acquired assets since the acquisition first closed. In this article, I described how the acquisition was already positively impacting operations and I also highlighted the fact that management still expects for the acquired assets to be accretive to GE's 2016 EPS (by $0.05).
During the Q2 2016 conference call, the management team again re-affirmed the goal of the Alstom acquisition being accretive to 2016 EPS and the team also spent time giving investors an update on the acquisition:
"Next an update on our Alstom execution, as I mentioned earlier, we remain on track for $0.05 a share in 2016, and we're on track for $1.1 billion in synergies for the year. We're seeing significant benefits, including coordinated technical and cost performance on gas turbines, the system performance is exceeding our expectations, and Alstom equipment backlog in Power is up 22%. This improved market acceptance for GE in the Grid and steam turbine business. Our customers see these as good fits for GE, and we're winning incremental business. As expected, we're seeing strong cost execution in sourcing and plant restructuring. Services integration in Power is ahead of plan. We see significant opportunities for upgrades in coal to improve energy efficiency.

So we really expect to see favorability in Alstom revenue synergies that we didn't count on when we did the deal. We see Alstom favorably so far and expect this momentum to continue. So we have a lot going on with the integration of Alstom, but the team is doing well."
Based on everything that management has communicated thus far, the integration of the Alstom assets is progressing well and the integration team is actually discovering additional benefits on a quarterly basis. For Q3 2016, I expect for GE to report another quarter of solid results for the Alstom assets.
2. Orders
Over the first half of 2016, the financial community has been more focused on GE's declining orders than the fact that the company has reported better-than-expected results, with the main concern being expectations that the slowing macro environment is already negatively impacting operations and the company's earnings potential over the short-term. For example, the company's organic orders have fallen by more than 10% over the first six months of 2016.

Click to enlarge
(Source: Q2 2016 Earnings Presentation)
The Oil & Gas segment has been a major contributor to the poor order numbers, as the segment reported another quarter of double-digit declines in both equipment and services orders for Q2 2016.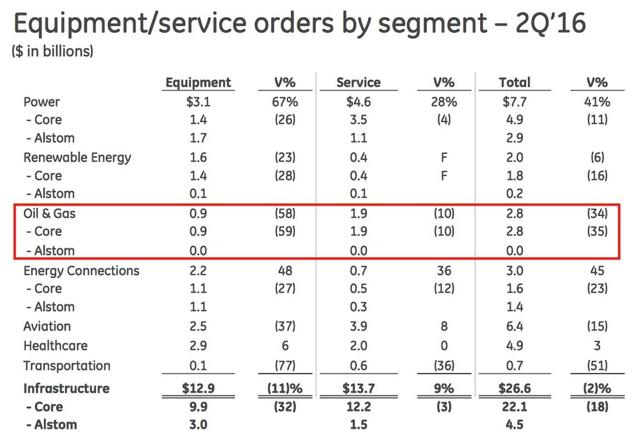 Click to enlarge
(Source: Q2 2016 Supplemental Information Report --edited by author)
For Q3 2016, I expect another quarter of declining orders but it is important to remember that this does not change the long-term story for GE. I will be closely monitoring the Oil & Gas segment's order numbers and listening to management's expectations for the segment for the next 6 to 12 months, because any type of improvement would go a long way toward impacting investor sentiment in a positive way. Another factor to consider is that the management team of Honeywell just told investors that they believe that their Oil & Gas business bottomed in Q3 2016 so the downstream read could be that investors should expect for more-positive results for GE's Oil & Gas segment going into 2017.
3. Capital Deployment
With GE selling a majority of its financing business, investors have been paying close attention to the company's capital deployment, especially since the company previously announced that the dividend would stay flat for 2016. In my opinion, the company has put the capital to good use by making a few small tuck-in acquisitions in addition to purchasing the Alstom assets for slightly below $10b.
As a long-term investor, I think that it would be a positive development if GE continued to be make impactful small acquisitions but for the upcoming quarterly results I anticipate for GE to report that the company made further progress in reducing the company's financial leverage in addition to buying back a significant amount of the outstanding shares. Since management first announced plans to sell GE Capital in mid-2015, GE has made great progress in reducing the company's financial leverage, which was shown by the fact that the June 30, 2016 total debt balance was ~22% lower than the same period in the prior year --see this article for a detailed debt analysis.
Taking a step back, the graph below shows the trending of GE's debt and equity since 2010.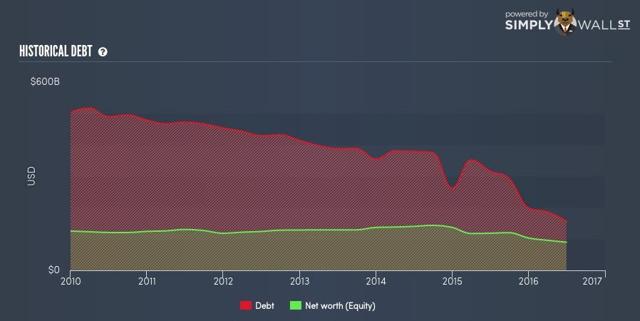 Click to enlarge
(Source: simplywall.st)
As shown, the debt balance is trending in the right direction and the total amount outstanding today is significantly lower than it was a few short years ago. There were rumors floating around a few months ago that GE may be willing to take out $20b in additional debt, but, in my opinion, adding this amount of debt would be a real concern.
GE has also used a significant amount of capital buying back shares since mid-2015.
| | | | | | |
| --- | --- | --- | --- | --- | --- |
| | Q2 2016 | Q1 2016 | Q4 2015 | Q3 2015 | Q2 2015 |
| Shares outstanding | 8,961,233,000 | 9,195,657,000 | 9,330,607,330 | 10,109,239,000 | 10,096,429,000 |
| | | | | | |
| % Chg | -3% | -1% | -8% | 0% | |
(Source: Q2'16 10-Q, Q1'16 10-Q, Q4'15 10-K, Q3'15 10-Q, and Q2'15 10-Q)
At Q2 2016, GE's share count was ~1.135b, or ~11%, lower than it was at the end of Q2 2015. In the first half of 2016, GE spent ~$14b to buy back shares at a price that was slightly below $30/share. I expect for GE to report that the company repurchased between 200m to 300m shares during Q3 2016, which is based on the average buyback for the past five quarters.
Bottom Line
The Q3 2016 results will not change the long-term story for GE but the results will show the progress that has been made since June 30, 2016. GE is in the midst of a game-changing transition, so investors must remember that the moving pieces makes it hard to value the company based on quarterly results. As such, the biggest takeaways for the next few quarters will be how well management is able to meet their short-term financial targets. Within this article, I identified three things to watch for when the conglomerate reports Q3 2016 results on October 21, 2016, but there are many other important ratios/metrics that should be evaluated --stay tuned because I plan to cover the Q3 2016 results once the information is released.
GE is a long-term buy at today's price, so long-term investors should enjoy being paid an above-average dividend (~3% yield) and treat any significant pullback as a buying opportunity, especially if it is based on "weak" Q3 2016 earnings results.
If you found this article to be informative and would like to hear more about this company or any other company that I analyze, please consider hitting the "Follow" button above.
Disclaimer: This article is not a recommendation to buy or sell any stock mentioned. These are only my personal opinions. Every investor must do his/her own due diligence before making any investment decision.
Disclosure: I am/we are long GE.
I wrote this article myself, and it expresses my own opinions. I am not receiving compensation for it (other than from Seeking Alpha). I have no business relationship with any company whose stock is mentioned in this article.