Platinum Group Metals, Ltd. (NYSEMKT:PLG)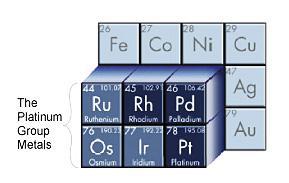 This article is an update of my previous article on Platinum Group Metal on April 19, 2016.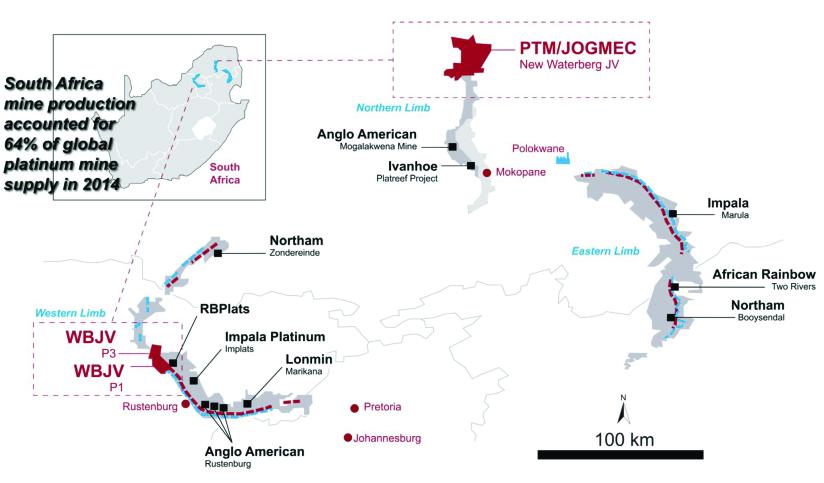 PLG owns partially now 2 distinct projects:
1 - 82.9% of the working interest of the Western Bushveld Joint Venture("WBJV"), Project 1. This is the company's flagship called the Maseve Mine, which has been the main focus of my recent articles on PLG.
2 - 58.62% of the working interest of the New Waterberg JV.
The Company is the operator of the New Waterberg JV Project with Japan Oil, Gas and Metals National Corporation and South African empowerment partner Mnombo Wethu Consultants Ltd. The Waterberg Project is consolidated to one ownership structure (May 26, 2015) and is currently the subject of a pre-feasibility study.
JOGMEC has committed to fund a total of $20 million of exploration and development expenditures for the combined projects over three years.
On October 19, 2016, Platinum Group Metals announced the following:
(P)ositive results from an Independent Pre-Feasibility Study ("PFS") on the Waterberg PGM Project completed by international and South African engineering firm WorleyParsons RSA (NYSE:PTY) Ltd. trading as Advisian. Platinum Group holds a 58.62% effective interest in the Waterberg Project with the Japan, Oil, Gas and Metals National Corporation ("JOGMEC") holding a 28.35% interest. Empowerment partner Mnombo Wethu Consultants Ltd. ("Mnombo") holds the balance of the joint venture. JOGMEC funding is in place to advance the project through completion of a Feasibility Study ("FS").

Platinum Group Metals plans to continue drilling the deposit and to advance the project to completion of a FS and a construction decision. The Company also plans to file a mining right application, with Joint Venture approval, based substantially on the results of the PFS.

Highlights of the PFS include:

Validation of the 2014 Waterberg Preliminary Economic Assessment ("PEA") results for a large scale, shallow, decline accessible, mechanized platinum, palladium, rhodium and gold ("4E") mine.
Annual steady state production rate of 744,000 4E ounces in concentrate.
A 3.5 year construction period.
On site life-of-mine average cash cost of US$248 per 4E ounce including by-product credits and exclusive of smelter discounts.
After-tax Net Present Value ("NPV") of US$320 million, at an 8% discount rate, using three-year trailing average metal prices.
After-tax NPV of US$507 million, at an 8% discount rate, using investment bank consensus average metal prices.
Estimated capital to full production of approximately US$1.06 billion including US$67 million in contingencies. Peak project funding estimated at US$914 million.
After-tax Internal Rate of Return ("IRR") of 13.5% using three-year trailing average price deck.
After-tax IRR of 16.3% at investment bank consensus average metal prices.
Probable reserves of 12.3 million 4E ounces.
Indicated resources updated to 24.9 million 4E ounces (2.5 g/t 4E cut-off) and deposit remains open on strike to the north and below a 1,250 meter arbitrary depth cut-off.
As a reminder, On April 19, 2016, PLG reported good news about the Waterberg project.
Increased grade and a significant increase in indicated ounces in an updated independent resource estimate for platinum, palladium, rhodium and gold ("4E") on the 58.65% owned Waterberg Joint Venture, located on the North Limb of the Bushveld Complex.

Mineral resources in the "T" and "F" zones at Waterberg (100% project basis) have increased to an estimated 23.894 million ounces 4E in the indicated category plus 11.710 million ounces 4E in the inferred category:

Indicated 209.559 million tonnes grading 3.55 g/t 4E (1.07 g/t Pt, 2.19 g/t Pd, 0.26 g/t Au, 0.03 g/t Rh, 2.5 g/t cut-off)
Inferred 105.918 million tonnes grading 3.44 g/t 4E (1.04 g/t Pt, 2.09 g/t Pd, 0.28 g/t Au, 0.03 g/t Rh, 2.5 g/t cut-off)
The project started on November 2011 when PLG announced the discovery of potentially rich platinum deposits in a previously unexplored part of the platinum-rich Bushveld Igneous Complex in the Waterberg region of South Africa's Limpopo province.
Commentary:
In fact, I firmly believe that the company great potential is the New Waterberg project from a long-term shareholder's perspective such as myself. When we look at the numbers it is clear that the future mine will be a class A platinum mine.
Why the New Waterberg project is so exciting?
In short, according to the Pre-feasibility the annual steady production is 744K 4E Oz with On site life-of-mine average cash cost of $248 per 4E Oz including by-product credits and exclusive of smelter discounts, with probable reserve of 12.3 M 4E Oz (LOM potential of 16 years). The completion will take 3.5 years and will cost about $1 billion.
This is a potential of 3 times the Maseve annual steady production. As we all know, Production for the Maseve mine is scheduled to be a ramp-up at 91.5K-185K 4E Oz through 2017-2018, and 250k 4E Oz after that on a steady basis.
R. Michael Jones, CEO and co-founder of Platinum Group said:
Waterberg is designed to be a low cost, multi-decline, fully mechanized, mining complex along an initial 13 km deposit strike length with two 300,000 tonne per month mills built in close sequence. At 744,000 ounces annual steady state production and a modelled 18 year mine life, Waterberg is very large and offers excellent exposure to the essential metals of platinum, palladium, rhodium and gold. Amazingly, the deposit is still open. The PFS covers only the first 218 million tonnes in Indicated resources to date.

With the full support of our joint venture partners JOGMEC and Mnombo, we look forward to advancing Waterberg during the remainder of 2016 and 2017 with more drilling, a FS on the initial complex, and the submission of a mining right application. From an original US$20 million commitment by JOGMEC in 2015, approximately US$8 million of further project funding remains to be spent. We are very appreciative of JOGMEC's continued commitment and support.
Recently, the company had a clear setback pertaining to the completion of the Maseve mine, and is facing some unfortunate delays due some technical problems that I commented here.
Production from April 2016 to April 2017, has been revised down from 110,000 ounces 4E to 91,500 ounces 4E.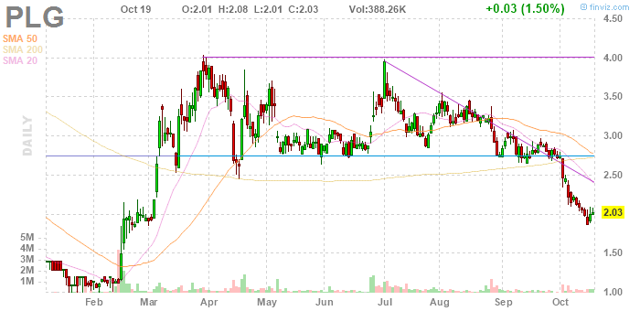 This situation, coupled with a recent weakening platinum price, back to the $950 had a negative effect on the stock price which lost 50% since July 2016, after learning that the company needed to put up another $20 million in equity financing to mitigate the delays at the Maseve mine.
It is clear, in my opinion, that the street has totally discounted the value of the New Waterberg potential in the actual stock price, and despite a financial outlook a bit difficult with further risks of an immediate dilution, I cannot ignore the fact that PLG is a rare opportunity for the ones who are patient.
Yes, you need patience and timing when you want to invest in a start-up mine such as PLG, which means waiting for opportunities to accumulate at discount and understand that patience is needed for a number of years not days or weeks.
I believe, we are experiencing this opportunity in the range $1.60-$2 because the stock is facing a negative traction due to an imminent equity financing and a weak Platinum price.
Important note: Do not forget to follow me on PLG and the precious metal sector. Thank you.
Disclosure: I am/we are long PLG.
I wrote this article myself, and it expresses my own opinions. I am not receiving compensation for it (other than from Seeking Alpha). I have no business relationship with any company whose stock is mentioned in this article.