Shares of Acadia Pharmaceuticals (NASDAQ:ACAD) have been under tremendous pressure of late. Shares have fallen all the way to approximately $24 from around $36 just a couple of weeks.
I will not speculate as to reason why the stock has come under pressure. However the Biotechnology sector has come under pressure as whole of late. This is mostly do to the fear of Democratic control of the Senate along with Hillary Clinton Election and the increased odds of changes to healthcare and drug pricing.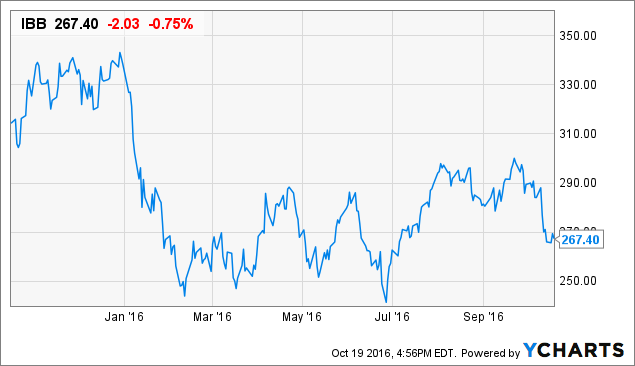 I have written on ACAD numerous times, so I will not bore you with details. However, one part of ACAD's plan was first to launch Nuplazid in the US and then in Europe. The plan for European approval got delayed when it was announced on 1Q call that the European Medicine's Agency (EMEA) did not grant Acadia a waiver on its Pediatric Investigation Plan (NYSEMKT:PIP).
However, upon reviewing the EMEA website and the latest Pediatric Committee's (NASDAQ:PDCO) agenda, Pimavansersin was on the agenda for discussion on applications at the PDCO latest meeting on October 12th. The last time Pimavanserin came up on discussion at a PDCO meeting was on March 30th, with opinion the following meeting on April 27th.
It would seem from reviewing this agenda on the EMEA website and the upcoming schedule of future meetings, the PDCO could have an opinion on Pimavanserin PIP waiver as soon as November 8th, based on the speed of the last opinion.
The PIP waiver would be an important step towards the approval process of Nuplazid in Europe. It is estimate there are 1.2 million people in Europe with Parkinson Disease. ACAD has often estimated that nearly 40% of the 1 million PD patients in the US could have Parkinson Disease Pyschosis (NASDAQ:PDP), which Nuplazid (pimavanserin) is approved for in the US. Using the same 40% across Europe, it would mean an additional 480k potential patients.
A path towards European approval is a big step for Acadia and Nuplazid. A possible PIP waiver maybe a tiny step, but at least it is in the right direction.
I am and the clients of Mott Capital Management, LLC are long shares of Acadia Pharmaceuticals.
Disclosure: I am/we are long ACAD.
I wrote this article myself, and it expresses my own opinions. I am not receiving compensation for it (other than from Seeking Alpha). I have no business relationship with any company whose stock is mentioned in this article.
Additional disclosure: Mott Capital Management, LLC is a registered investment adviser. Information presented is for educational purposes only and does not intend to make an offer or solicitation for the sale or purchase of any specific securities, investments, or investment strategies. Investments involve risk and unless otherwise stated, are not guaranteed. Be sure to first consult with a qualified financial adviser and/or tax professional before implementing any strategy discussed herein. Past performance is not indicative of future performance.