M&T Bank (NYSE:MTB) is one of the best banks in the U.S. and has a history of consistent profitability and strong capital returns to shareholders. It is often likened to U.S. Bancorp (NYSE:USB), which also reported yesterday, and the comparison stands up. It also reminds me of a very strong bank outside the U.S., namely Svenska Handelsbanken (OTCPK:SVNLY), a Swedish bank that practices "old fashioned" banking through a branch network where local managers are responsible for both growth and asset quality, working on a discretionary basis.
Banks like these are for serious long term investors because they manage risk strategically though the long cycle and for this reason fare better than peers since they do not fall into capital loss during stressed periods. The seminal Annual Report of M&T is like an "Art of War" for banks, with CEO Robert Wilmers often stressing the opportunities that arise for banks that have strong capital and low credit losses at cyclical economic lows. That MTB got through 2008/9 with merely reduced profits should be vastly reassuring to investors.
In operating terms, MTB is presently mainly focused on the integration of Hudson City, the acquisition of which closed last year. The project involves not just integrating Hudson into MTB on an operating basis, it also involves turning a thrift into a Bank, and many of Hudson's balance sheet products are being re-priced in line with MTB's bank market pricing. This is generating a little more noise quarter to quarter than is usual with MTB although core growth is steady at a low trajectory.
We'll look at organic growth further down the page; I think a good place to start with the third quarter is the level of capital return. MTB bought back $350m in value of its own stock in Q3, part of a $1.15b program being executed up to Q2'17, and lifted its dividend from $0.7 to $0.75 per quarter from next year. This level of return means that MTB is returning most or all of prospective mid-term annual earnings and given the changes to the CCAR for smaller banks flagged in Fed Governor Turullo's Yale Speech in September, such a level of return may well prove sustainable given common Equity Tier 1 at MTB in the quarter was 10.8% (transitional basis), a level that provides room for high levels of distribution going forward.
For 2017, the quarterly dividends will add up to $3 for the year, or a 2.6% yield over the current share price ($17.5). If MTB can commit $1.15bn to share buybacks next year, it could buy 6.2% of current outstanding shares at the current price. A $1bn buyback would amount to 5.4% of current outstanding shares. Assume MTB maintains its multiple then investors are looking at a 8-8.8% capital return before considering organic EPS growth.
Headline EPS growth will be fairly subdued over the immediate period as organic growth will be fairly subdued over Q4'16 to 2017. FDIC insurance is working out a little higher than expected, MTG (like US Bancorp incidentally) is investing in its brand so has raised its marketing expenditure while integration costs also look to me to prevent operating leverage getting better. There is also some incremental pressure on net interest margin, which reflects the remaining overhang of Hudson City savings accounts. This will even out and reverse over the next six months but for now is a modest drag. All this - broadly speaking - leaves us with the balance sheet as the main driver of overall bottom line growth. The chart below shows it over the last four quarters, and growth, as you can see, is steady.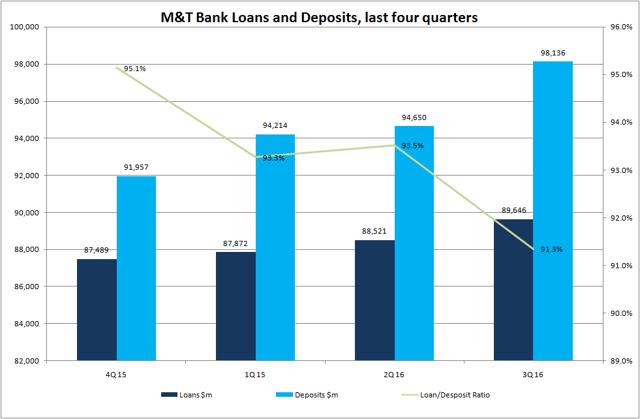 Click to enlarge
Source: Company data
A shorthand approach to calculating EPS growth for MTB is to assume it can maintain its present 1.1% return on average assets and then assume 5% annual deposit growth (current growth is in excess of this), which equates to ~4% total asset growth. Absent improved operating leverage, P&L forecasts will tend towards this asset growth figure for the bottom line - so between 4-4.5% growth.
A key component of this outlook of course is an expectation of ongoing low cost of credit. LLP charges average $42m per quarter in 2016, which is around 20bps of loans and accounts for just 3.2% of total operating revenues. This is typical for MTB - its credit allocation has always been very strong. During the huge sell off in banks in January-February 2016, MTB fell 20%. This was painful, but notably better than the 29% drop in the KRE regional banks index over the same period. The difference reflects th stability of MTB's asset quality.
In summary then, I think dividends and buy backs will account for about 2/3 of shareholder rewards with a further ~4% organic growth supplementing this. Integration of Hudson City may bring a slightly clearer and stronger outlook when done and of course rate hikes - such as they are - will augment growth further. The only thing giving me pause is the multiple. The current PE is just under 15x for 2016, and you can buy U.S. Bancorp for 13x 2016. Sure, M&T will return a little more capital than USB, but USB will grow a little faster and I personally would add to USB before M&T right here. But that's incremental nibbling. There's a good reason Berkshire Hathaway (NYSE:BRK.A) owns material stakes in both M&T Bank and U.S. Bancorp.
Disclosure: I/we have no positions in any stocks mentioned, and no plans to initiate any positions within the next 72 hours.
I wrote this article myself, and it expresses my own opinions. I am not receiving compensation for it (other than from Seeking Alpha). I have no business relationship with any company whose stock is mentioned in this article.