It is often said that history never repeats itself, but on many occasions it rhymes. Where is the financial market today relative to years past, and is there anything that investors can learn? It is safe to say that there are no comparisons when it comes to current Western World central bank policy, except possibly the 1940s. Currently the U.S., Japan and the EU are seemingly on a mission to corner the market in their own sovereign nation bonds. The EU and Japan have even crossed over into corporate bond buying. The purpose of this exercise is political, masked in the mathematical jargon of economics.
But regardless of your politics, the fact is that by withdrawing a large supply of seemingly safe assets from the financial system, the central banks have pushed riskier asset values up and interest rates down. The end result, at least in the U.S., has been a stock market resilient to downturns with the exception of the "profit recession" instigated by the oil market plunge and troubles in China that started a minor stock market correction in August of 2015 that bottomed in early 2016.
Is the Stock Market Now Poised to Move Higher?
Having only recently undergone a correction, which many would say was instigated by world markets becoming very risky in the face of oil prices becoming too low, the temptation is to say that the U.S. market (NYSEARCA:SPY) (NYSEARCA:DIA) (NASDAQ:QQQ) has taken its medicine for the time being. It would be a very rare occurrence for the stock market to bottom from a correction, resume an upward trend to a new all-time high, only to plunge into a correction again within such a short period of time.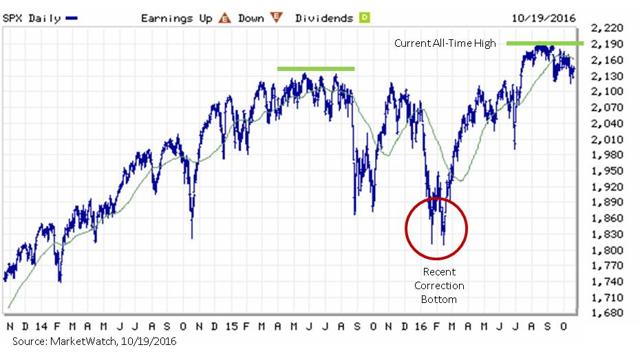 Click to enlarge
The market rebound from February 2016, which has held with relatively minor volatility at least through the writing of this article, continues to demonstrate to me that there is a bid in the market which naturally follows an "oil profit recession". The two most recent time periods that correspond most closely to the current market scenario are 1985-87 and 1998-2000. In both scenarios, the oil market broke down with price levels being cut to about 1/3 rd of their recent highs over a very short time span. The plummeting price level resulted in pressure on the U.S. financial market to correct or slow its upward movement as international financial flows into U.S. markets were interrupted and oil company profits suffered. But what is missed by many investors is what happened subsequent to the oil market breakdown as prices began to retrace and escalate once again.
Take a look closely at the history of oil price movements relative to the S&P 500 from 1985 through 1987.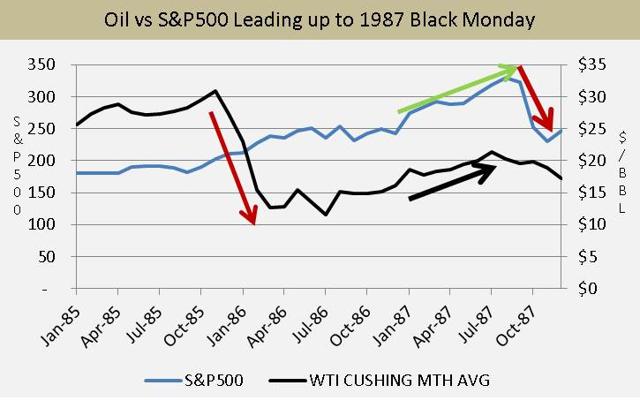 Click to enlarge
In the case of the 1985 collapse in oil prices, the stock market paused initially as oil prices bottomed, and then continued its torrid pace higher into 1987, only to hit the wall on Black Monday in October of 1987. The stock market broke down in 1987 after a spiking rebound in oil prices. In the 1985 to 1987 instance, oil prices doubled off the lows experienced at the bottom of the plunge in 1986.
The breakdown in the price of oil in 1985 bears a striking resemblance to the recent dramatic plunge in oil prices which began in late summer of 2014.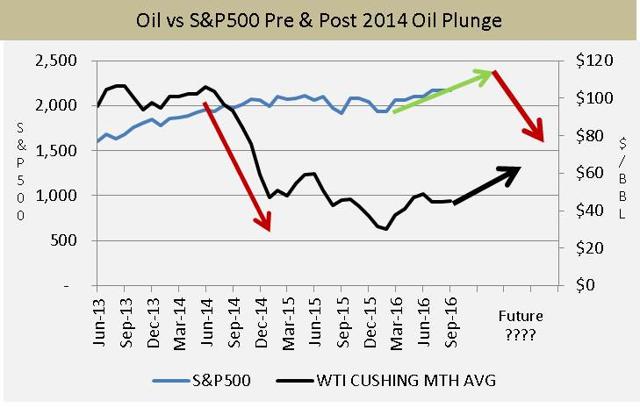 Click to enlarge
A doubling off the bottom of prices as happened in 1987 would mean price levels need to be sustained above the $50 per barrel with $60 per barrel being my estimated market break point depending on the value of the dollar. Currently, as I write this article, the price of crude has crossed the $50 threshold as it did back in June of 2016, only to drop back into the $40 range. If the move upward is now sustainable, the parallel to 1987 is becoming much more relevant to investment strategy.
In my opinion, the stock market valuation relative to the oil market is currently in a very similar predicament that was evident in 1987, even though the times are different. For one, there is no precedent for the amount of Central Bank interference in the financial markets world-wide. However, both then and now, the Fed was in the midst of attempting to raise interest rates, although rates were considerably higher in 1987 than 2016. If you begin to witness deterioration in the dollar index (DXY), the two time frames will become even more similar. The lack of real economic growth today versus 1987 is also disconcerting, and may cause the ultimate outcome to be worst for stocks in the current era.
Stock valuations likely to suffer in the intermediate term
A major economic force being driven by the oil economy looms within the financial markets today as it did in 1987. If it runs its natural course, the force will most likely have a similar impact on stock valuations, net of the government interference factor. I believe we are currently in a transition period, which historically has been marked by a run up in the stock market as the economy temporarily benefits from lower energy costs and investors discount the oil market as too over-supplied to be a factor. But the headwinds are now beginning to be felt from rising energy costs as the trailing 12-month average cost of a barrel of oil has moved into positive territory over the last six months, and market momentum is now higher.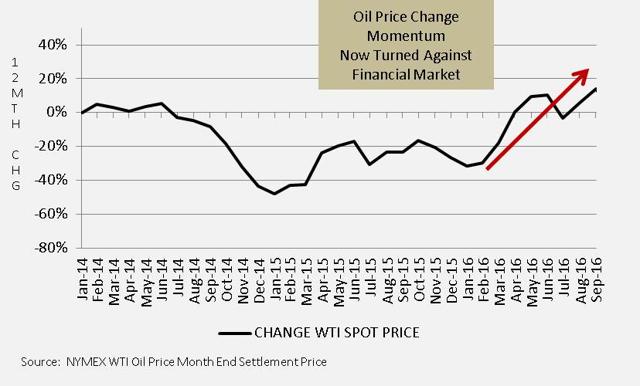 Click to enlarge
If the market does make a U-turn from its current February 2016 correction rebound, a 30% drop in stock values peak to trough, which was experienced in 1987, would be a very painful move for stock investors. Coincidentally, it would put stocks back at the pre-Fed QE3 level of 1500.
Buy assets that have already corrected, move more money to cash
A good strategy as a hedge against this scenario as it unfolds is to overweight the energy sector using either index funds like the (NYSEARCA:XLE), (NYSEARCA:AMLP) and (NYSEARCA:ENFR) or picking a portfolio of names within the sector with solid dividend prospects. Although these funds have all rebounded strongly off of their lows set in early 2016, they remain relative buys when compared to other market investments, and are much more likely to weather any market storm because they have already undergone a recent major correction. Raising cash ahead of this likely market scenario is also advisable given that the market is at an all-time high and market headwinds are building.
The possible major downturn scenario described in this article has not yet materialized, and as I advise in my book, investors should commit to staying invested at their comfort market limit until the signals are clear that a change is imminent. The signals in the current market situation are a continued sustainable rise in oil prices, a weakening dollar and the Fed pushing rates higher in the face of these events. The latter two have not yet happened, and the oil market is still in the process of confirming its upward move. When it becomes clear this market scenario is materializing and the market begins to show increasing volatility, make sure you have a good idea what you want to sell and what you are willing to keep through the likely hard downturn.
Daniel Moore is the author of the book Theory of Financial Relativity: Unlocking Market Mysteries that will Make You a Better Investor. All opinions and analyses shared in this article are expressly his own, and intended for information purposes only and not advice to buy or sell.
Disclosure: I/we have no positions in any stocks mentioned, and no plans to initiate any positions within the next 72 hours.
I wrote this article myself, and it expresses my own opinions. I am not receiving compensation for it (other than from Seeking Alpha). I have no business relationship with any company whose stock is mentioned in this article.
Additional disclosure: I am long energy stocks and MLPs which are contained in the indexes in the article.