Back in January, when coal prices reached an all-time low of $48.80/MT many analysts were quick to herald the end of an era. The fall in price had been attributed to three main factors: the successful development of the shale-gas industry in the US, ample (over) production in China, and stringent environmental policies aimed at curbing carbon emissions. The consequences for US coal producers were dire, with as many as 26 companies going out of business. Peabody (OTCPK:BTUUQ) and Arch (NYSE: ARCH), the two largest US coal producers, accounting for 22.6% of total US output, filed for Chapter 11 protection, sending shockwaves around the world.
However, the recovery in the price of coal was as dramatic as was the fall. According to the latest figures, coal is up 74% from its trough, in large part thanks to the Chinese 'National Development and Reform Commission' having committed to reducing annual coal production by 250 million tons. Figures show that the Chinese coal industry has already cut production by 95 million tons, or 39% of its target as of the end of July. With state-owned-enterprises being encouraged to meet their targets by November of this year, a market price of coal sustained at-or-near current levels is expected.
But that's just one side of the story. On the demand side, coal's resurgence has been driven by a whole host of developments: France, which relies on nuclear power generation for almost 75% of its total needs, has been undertaking routine testing on 12 of its reactors resulting in output hitting a near three decade low. And then there's Germany, which has been replacing its nuclear reactors not just with renewables but also with coal fired plants.
Price evolution of Coal (USD/MT) October '14 to October '16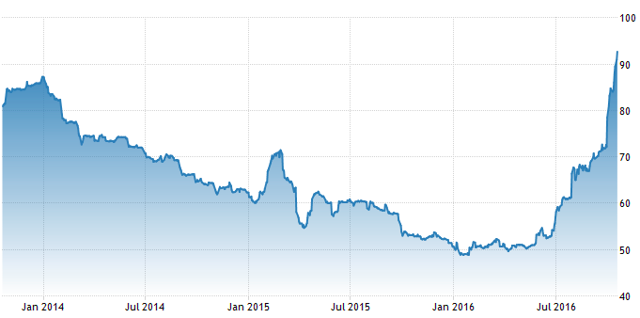 Click to enlarge
Source: Trading Economics
The same trend is mirrored across the Atlantic where the $6.6B Kemper County Project of Mississippi Power, the wholly owned subsidiary of Southern Company (NYSE:SO), is due to come online in the coming weeks after years of delays. This is however no ordinary power facility.
The project boasts a new technology trademarked 'TRIG', or Transport Integrated Gasification and is the first large scale coal-fired production plant to combine the 'gasification' of coal, as well as carbon capture and storage, or CCS technologies. It's no wonder the project has been labeled as the "coal plant to end all coal plants". The technology, developed by Southern and Houston-based engineering firm KBR, Inc. (NYSE:KBR), is being touted as a breakthrough in the continuing fight to reduce greenhouse gas emissions by offering a viable solution to the decommissioning of coal-fired plants.
Like any new technology, the 582MW Kemper Project has garnered extensive media attention, owing to a delay in construction and substantial budget overruns (the initial budget was $2.4B). The project, supported by the US Department of Energy, has nonetheless been hailed as "one of the most versatile and clean ways to convert coal into electricity, hydrogen, and other valuable energy products".
The significance of the Kemper project should therefore not be overlooked, nor understated, as its success as an innovative solution to curb excessive carbon emissions is vital to the continued and sustainable use of coal. According to the Department of Energy, "CCS technology is central to the continued reliance on coal for American power", and even General Lawson, deputy commander in chief of the U.S. European Command cited that the potential impact of Kemper on global energy security and the ripple effect of that success might have on obviating future global conflicts.
The scope for deployment of Southern Company's proprietary technology has proven alluring: Southern has signed Memoranda of Understanding with a number of foreign firms for exposing its technology beyond its immediate domestic borders. Shenhua Group, the Clean Energy Research Center, and China Huaneng Power are amongst the key thespians intending to share best practices and lessons learned from CCS in the power-from-coal industry. Southern has also signed a letter of intent with 'Alps Energy and Kellogg' in order to evaluate the deployment of the company's proprietary coal gasification technology at its new 1,000MW Alps Energy power plant in the Saemangeum Industry & Research Area in South Korea.
These agreements underscore the significant international interest in Transport Integrated Gasification technology and its varied industrial applications and provide an indication of coal's resilience in the post-COP21 world.
Coal Endures
The Kemper Project emphasizes a worldwide trend in the continued reliance on coal as a primary source of energy production. The Anglo-Indian firm Carbon Clean Solutions Limited (CCSL) developed a new solvent that renders the carbon-capture process some 66% cheaper than traditional methods. The company is currently testing the technology on a 10MW power station in Chennai, India, and the technology, according to reports, could easily be scaled up to a 1,000MW.
Despite the rise of renewables, coal is widely considered to remain an important element in the US and global energy supply mix. It accounted for 29% of the global energy production in 2013, an increase of 6% from 2011 figures.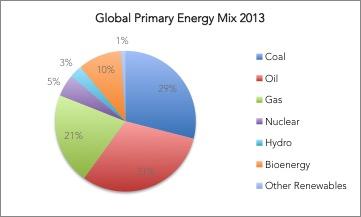 Source: Data from IEA World Energy Outlook
The expansion was largely down to an industrializing, energy hungry China, and to a lesser extent, India. To date, 13 out of the 20 largest coal-fired power stations are in China, two more in the top twenty are located in Taiwan - including the largest station in the world - and two in India. The Chinese government has moreover approved 210 new coal-fired power stations in 2015, stations that might end up idling away to retirement as China suffers from general overcapacity.
Being an integral part of the global power mix, and offering a cheap alternative to all but natural gas, the temptation for developing nations to maintain their reliance on this abundant, and relatively inexpensive resource, is therefore expected to be sustained. CCSL's technology, for example, costs $30 per ton, making it comparable if not cheaper than other renewable forms of electricity.
As the below graph shows, many developing economies - notably South Africa - are heavily reliant on coal: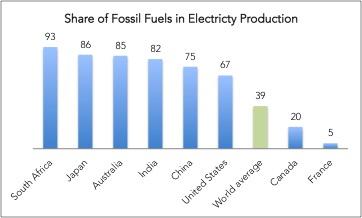 Source: Source: Electricity Information 2016 report, International Energy Agency (2015 data)
For one, South Africa is set to continue its reliance on coal, since the beleaguered national utility, Eskom, has confirmed that the black rock will remain its 'baseload' or continuous power source for the immediate future. Eskom however expects current output to be insufficient by 2022 and has activated a tender process for the construction of up to two new nuclear reactors. The utility has been beset by delays in the opening of new plants and criticized for sweeping mismanagement, maintenance delays and insufficient capital investment. Much of the country's 1.5% contraction in GDP in the third quarter of 2015 is attributed to the irregular and unreliable supply of energy and serves as a reminder of the severe economic implications of an unreliable electricity grid.
India, a country that is expected to add 400 million souls to its population by 2025, is another key case in point. It is, and will remain heavily reliant on coal to meet its energy requirements. Despite aggressive developments in nuclear and a wide array of renewables, coal will still account for 50% of energy production by 2025. The Indian government is one of the 81 countries that have since ratified the Paris climate accord, requiring a dramatic reassessment of its commitments and energy production habits if it endeavors to adhere to these pledges.
India occupies a unique position in the global landscape, eclipsing China as being one of the world's fastest growing economies, boasting a 7.1% year-on-year growth rate in the second quarter of 2016. Supporting its economic expansion and development will require increased energy generation to serve its growing middle class, but also the roughly 20% of its citizenry that do not have access to electricity.
Both China and India serve as bell-weathers for a global population that is expected to rise to 10 billion by 2050, many of which will have better living standard, or expect better living standards as compared to today. The expectation is for a sustained energy increase profile.
The EIA forecasts a continued reliance on coal produced power generation, and in order to adhere to stricter emission regulation and environmental standards the continued use of coal will remain only feasible if technologies are employed to keep the use of this resource environmentally feasible. The only viable option for growing emerging markets and developed countries heavily skewed to coal burning will be to resort to technologies such as CCS for retrofitting existing facilities in order to meet their COP21 commitments.
Conclusion
In meeting energy demand, policy decisions are fashioned on three objectives referred to as the 'energy trilemma', i.e. security of supply, affordability, and environmental protection. Coal has remained a common choice because of its abundance and relative cheapness. It has however never been the champion of environmentally aware campaigners.
With new technologies such as TRIG and CCS (or a combination of these), the suitability of coal within an environmentally sensible mix could however become a reality. Indeed, renewables should however not be expected to become a dominant part of the global energy landscape. Renewable technology is still comparatively expensive to output, and even optimistic estimates do not predict renewables to top 20% of the energy production mix by 2020.
The technology developed as part of the Kemper project is therefore not only beneficial to the burning of coal, but crucial to curbing excessive emissions resulting from its inevitable, continued use.
Disclosure: I/we have no positions in any stocks mentioned, and no plans to initiate any positions within the next 72 hours.
I wrote this article myself, and it expresses my own opinions. I am not receiving compensation for it (other than from Seeking Alpha). I have no business relationship with any company whose stock is mentioned in this article.
Editor's Note: This article discusses one or more securities that do not trade on a major U.S. exchange. Please be aware of the risks associated with these stocks.