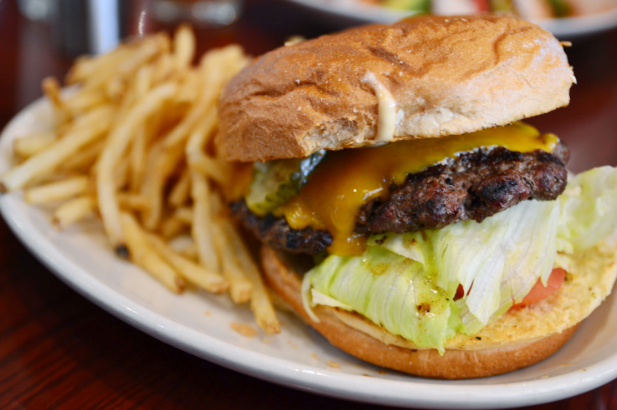 BJ's Restaurants (NASDAQ:BJRI) has been taken to the woodshed over the past couple of years as excitement about its future growth has largely given way to concern and cautiousness. That has done a number on the stock but heading into the freshly released Q3 report, I was fairly optimistic about BJRI's future and the valuation in particular. Even after the beating it is taking off of the report it is still trading right where it was earlier this week so no harm, no foul. But the report contained some very cautious language from management and it seems investors are spooked; are they right?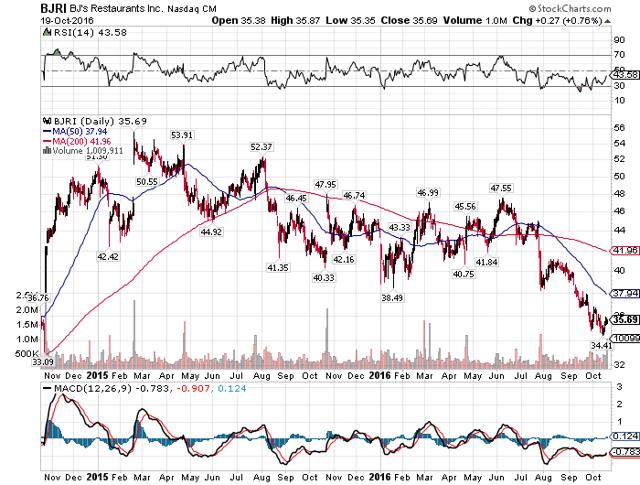 Click to enlarge
Total revenue was up 1.9% in Q3 as BJRI continues to open new units. The pace continues to be around 15 per year and with 185 units open today, that is certainly strong enough. But apart from that, comparable sales took a big chunk out of revenue growth as they came in at -3.4%. That's a very tough showing for a brand that has performed well in the past and certainly played into management's downbeat commentary about the near future. I know traffic at restaurants in general hasn't been great this year but I'll admit I didn't see a number quite this bad coming. And to be honest, I'm surprised the stock isn't down more than it is.
Management had a variety of reasons why comps were light in Q3 but not all of them were good. The Loaded Burger menu introduction was last year so with BJRI lapping that, comps are more challenging. It is working on driving additional traffic and spending with new items such as the Enlightened Menu and others. We know that traffic is light and hopefully the new initiatives help but BJRI has to do a better job than -3.4%.
Management also said that the Summer Olympics and the election drove traffic lower and to me, those sound like excuses. I don't personally know anyone that stopped eating at restaurants because the Olympics were on or because we don't know who the new president will be; that's crazy. That is roughly congruent to a management team blaming the weather or something; give me a break. I like the concept and I think this brand has a very long runway for growth but fake excuses don't work for me.
We also saw a nasty reduction in operating margins as BJRI saw pressure from a variety of angles. Even excluding the 130bps gain in last year's Q3 due to a gain on lease termination, operating margins were down 200bps to just 3.9%. That's ugly and it means that despite higher revenue, profits tanked on both a percentage and absolute basis.
BJRI saw 110bps of inflation in cost of sales, another 70bps from labor, and 30bps from operating expenses. These all make sense because comps were so terrible; BJRI has more stores to operate and on average, they were 3.4% less effective than they were in last year's Q3. That magnitude of comp sales loss is very difficult to overcome and BJRI simply didn't. But as easy as it is to understand, it is still very painful and job number one right now needs to be driving traffic to the stores. BJRI cannot afford more quarters like this from a margin perspective.
The share count is 5.7% lower than it was at this time last year and while that's great, I was hoping for better. BJRI went for 600K shares, good for $23M in Q3 but that is exactly its average run rate since the repurchase program went live in April of 2014. The difference in Q3 is that the share price was at or near multi-year lows for much of it so I was hoping BJRI stepped up the repurchases. It didn't go the wrong direction but an improvement certainly didn't happen either. Is management cautious about Q4 and saving its ammunition for even lower prices? Time will tell but still, almost 6% is a tidy tailwind and longs will certainly take it.
After today's selloff BJRI is going for 16.3 times next year's earnings estimates. That's certainly a reasonable multiple although BJRI's growth path has been altered slightly by commentary made by management during the Q3 release. The pace of store openings is going to slow somewhat at least for 2017 from this year's 17 to a range of 10 to 15. That's material when the store base is 185 and if traffic remains weak, it may be challenging for BJRI to hit the $2.13 that is forecast for next year. I'm not in the camp that BJRI will miss but I must admit that it is more of a possibility than it was before we received what amounts to a terrible Q3 report.
Sales growth is expected to be better than 9% next year although I have to think that estimate is going to come down in the next week or so. We know the store expansion rate is going to slow and that is going to knock a couple percentage points off of top line growth. In addition, margin pressure from Q3 really concerns me; without comp sales growth margins are going to continue to suffer due to input and labor cost inflation.
Everything considered, while I'm very disappointed by the Q3 report, it isn't enough for me to bail on BJRI. The growth runway is there but it is also a long-term story. That being said, if Q4 is ugly, all bets are off and we may see BJRI under $30. That's not my base case but it is a risk, more so than it was prior to this quarter's report. I still think BJRI represents cheap growth but that status is now pending at least a decent Q4; it should be interesting.
Disclosure: I am/we are long BJRI.
I wrote this article myself, and it expresses my own opinions. I am not receiving compensation for it (other than from Seeking Alpha). I have no business relationship with any company whose stock is mentioned in this article.