Shares of Laird Plc (GREY: OTC:LAIRY) crashed as much as 50 percent recently after the Apple Inc. (NASDAQ: AAPL) supplier warned of lower full-year profits, saying that production growth for mobile devices this year was lagging previous cycles and that it had "poor" visibility on order volumes.
The media, including Bloomberg, have been specifically citing Apple while reporting on the massive crash in Laird shares, which ended yesterday's session 48.65 percent lower at 158.40 pence. Such headlines, sometimes, coerce the weak hands to sell their shares.
In Apple's Supplier List 2016, one can easily see Laird Technologies as a supplier. The company is a provider of systems, components and solutions that protect the embedded electronics from electromagnetic interference and heat.
The company said in a statement,
"The acceleration of production for mobile devices has come much later than in previous cycles and visibility on volumes remains poor. In addition, we have experienced increased margin pressure due to unprecedented pricing pressures and some operational factors."
Laird CEO Tony Quinlan said in a conference call that competitors based in Asia (China?) are driving down prices, leading to continuous rounds of negotiations with customers.
The company has guided for a full-year pre-tax profit of 50 million pounds, compared to 73.1 million pounds it earned last year.
While media has been quick to attach Apple's name to the weak outlook of Laird, the above two official statements clearly reveal that the problem is not at Apple's end.
Why? Because while media has been repeatedly stating (or inciting fear) that Apple has sold 40.4 million iPhones in the three months ended June 25, down 15 percent YoY and down 21 percent QoQ, what they are feeding their readers is historical data. Forward-looking research from UBS recently published on Apple Insider reveals that Apple may blow past 74 million units in sales in Q4 2016.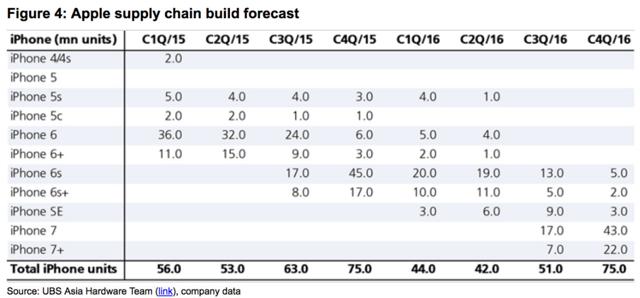 Click to enlarge
Additionally, technological advancements and fierce competition will always ensure that the one who can a provide quality at an appropriate price will trouble the rest.
Apple is Laird's biggest customer but very few pay attention to the fact that Samsung is also a key customer. Samsung Electronics (GREY: OTC:SSNLF) discontinuing the Galaxy Note 7 smartphone hasn't helped, said Laird CEO Tony Quinlan. And Samsung may have lost a big chunk of its customers who may not return any time soon.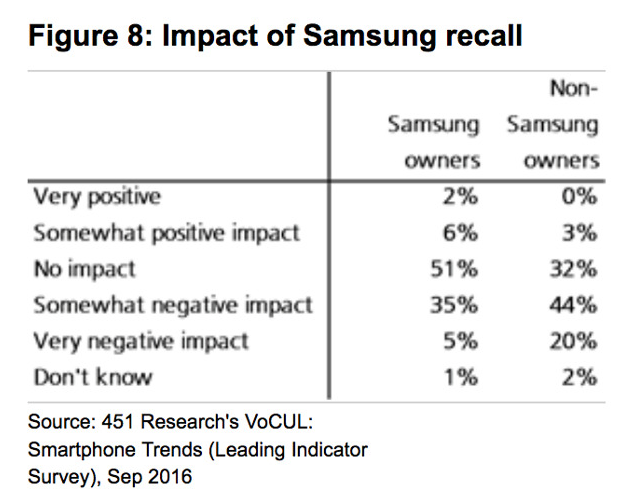 According to the infographic above, 40 (= 35+5) percent of Samsung users have registered their disappointment and were less likely to buy a Samsung device in the near future. Of the non-Samsung users, almost 64 (= 44+20) percent said that they were less likely to go for a Samsung device. Will they defect to Apple? Some of them already have.
But the impact of Samsung users defecting to Apple will have a "limited impact" in the current quarter, and significantly more in Q1 2017. My basis for this assertion is the change in analysts' estimate trends for Apple's earnings.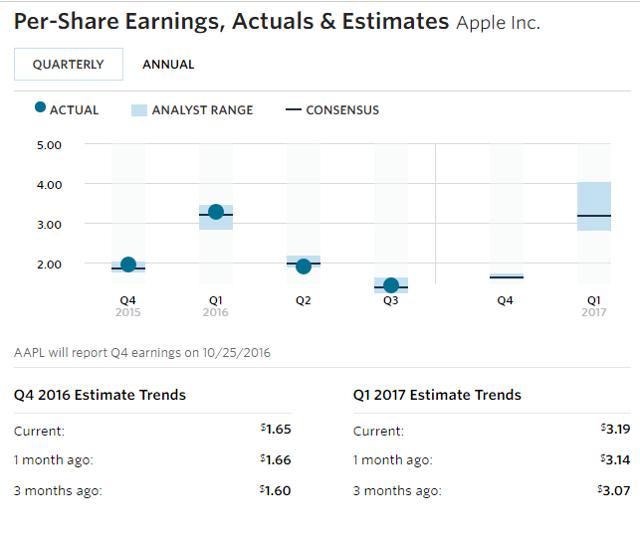 Click to enlargeSource: WSJ
Three months ago, Apple's Q4 EPS estimate stood at $1.60 per share, which was bumped up to $1.66 per share in September when the iPhone 7 was launched. But the current estimates are slightly lower at $1.65 per share.
For Q1, 2017, the estimates continue to see an upward revision. A quarter ago, it stood at $3.07, which increased to $3.14 per share, and has now jumped to $3.19 per share.
Finally, I also want to add some perspective from TSMC (NYSE: TSM)'s Q3 earnings. Contrary to Laird's pessimistic outlook, Taiwan Semiconductor Manufacturing Company was confident about the next quarter. TSMC's CFO Lora Ho said in the earnings call commentary,
Our third quarter business benefited from the new mobile product launches as well as the robust overall smartphone demand.

Despite a less favorable exchange rate than our forecast, third quarter revenue surpassed the high-end of our guidance given three months ago, mainly due to strong demand in overall smartphone market.
Not only did the management assured of a strong smartphone demand, it even raised the forecast for Q4.
Conclusion
With all the reasoning above, it can be safely said that the outlook for Apple remains positive. The business is strong, and with Samsung's Note 7 debacle, the analysts are even more bullish for the future.
This means that while the market may be waiting with bated breath for the company's quarterly earnings on Oct. 25, the real focus of analysts is on the Q1 2017 earnings which are expected to see a huge rise QoQ. I understand that the current Q1'17 estimates are still lower than Q1'16 EPS of $3.28, but I believe that the estimate will witness a good shift post the Q4 earnings announcement. Analysts are already maintaining a higher range of $4.00 per share in earnings for the first quarter next year.
There's no reason for investors to sell their shares because of any negative headline. They must be willing to see the bigger picture, and the actual picture, which could be a whole lot different from what the media is putting out. That is exactly what is called cutting the noise and seeing the forest for the trees.
Disclosure: I/we have no positions in any stocks mentioned, and no plans to initiate any positions within the next 72 hours.
I wrote this article myself, and it expresses my own opinions. I am not receiving compensation for it (other than from Seeking Alpha). I have no business relationship with any company whose stock is mentioned in this article.
Editor's Note: This article discusses one or more securities that do not trade on a major U.S. exchange. Please be aware of the risks associated with these stocks.