A recent blog post about Twitter (NYSE:TWTR) by hedge fund manager John Hempton piqued our interest in the company. Mr. Hempton pointed out that Twitter's expenses are wildly out of control. It inspired us to take a closer look at Twitter and see if we could figure out just how much the company might be worth under new management. Given Twitter is actively shopping itself, coming up with an idea what the company might be worth to a potential acquirer is a worthwhile exercise.
On the surface, Twitter should be an attractive investment. The company has grown revenues from a little more than $100M in FY2011 to over $2.2B for its latest fiscal year as shown below.

Even though the user base is starting to stagnate, Twitter still managed to grow revenue almost 12% over the last 12 months.
The problem as Mr. Hempton pointed out on his blog is the company's expenses have still been growing and are far above peer companies.
The closest comparisons for Twitter are probably LinkedIn (NYSE:LNKD) and Facebook (NASDAQ:FB), two social media companies that have experienced rapid growth and transitioned from losing money to earning a profit. Indeed, when both LinkedIn and Facebook were the size of Twitter, they each managed to turn an operating profit.
In FY2014, LinkedIn generated $2.2B worth of revenue and eked out an operating profit of $36M as shown below.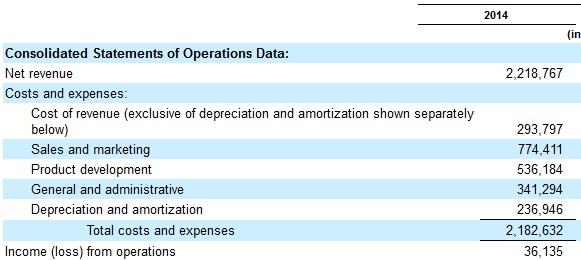 LinkedIn was almost $400M better in its expense control than Twitter at a similar time in its life.
Facebook was even better. In FY2010, Facebook generated $1.9B in revenue and an operating profit of $1B as shown below.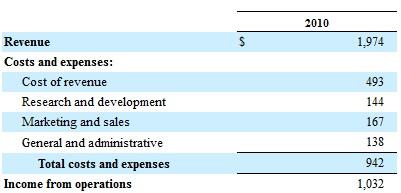 Facebook out-earned Twitter by almost $1.5B due entirely to controlling expenses. And Facebook isn't exactly a company known for being miserly when it comes to employee compensation and perks.
In fact, it might not be unreasonable to assume that Twitter could do even better than Facebook when it comes to operating expenses. In FY2015, Twitter had approximately 320M monthly active users (MAUs) and generated $2.2B or about $6.93 in revenue per user. In FY2010, when Facebook was of a similar size, it was only generating $3.25 in revenue per user. There's no reason to believe that Twitter shouldn't be able to exceed Facebook's operating margin from FY2010.
What Twitter Could Be Worth
Twitter could be quite valuable if new management were able to come in and cut expenses. We modeled three valuation cases for Twitter if it had circa 2010 Facebook level operating expenses. We modeled a conservative case where Twitter was valued at 12 times earnings, a base case at 15 times earnings, and an aggressive case at 20 times earnings. We used Twitter's trailing twelve-month revenue figure and Facebook's FY2010 operating expenses. We used Twitter's most recent interest expenses and used a 35% tax rate. Given Twitter's history of losses, it may not be paying taxes for some time, but to err on the conservative side, we used the full corporate tax rate.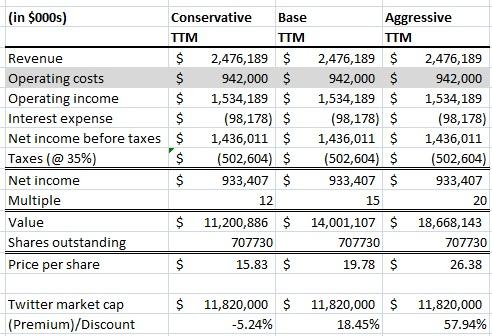 Valuing Twitter's potential earnings at just a 12 to 15 multiple would be what we might expect if the company remained independent, but under new management. While revenue is growing, the rate of growth has slowed, and the number of monthly active users has started to stagnate. Valuing Twitter somewhere around 15 to 20 times earnings is the more likely scenario if the company were to be sold. The acquirer likely sees a strategic fit for Twitter, and has plans on how they can continue to leverage and grow the platform. Two weeks ago, Twitter spiked to almost $25 on news that it was shopping itself. Given our model, that price makes sense, and we expect that if Twitter is sold, it will be somewhere around the $20 to $25 per share range.
Right now, Twitter appears relatively fairly valued as a standalone company with the expectation that management (likely new) can get operating expenses under control.
Disclosure: I/we have no positions in any stocks mentioned, and no plans to initiate any positions within the next 72 hours.
I wrote this article myself, and it expresses my own opinions. I am not receiving compensation for it (other than from Seeking Alpha). I have no business relationship with any company whose stock is mentioned in this article.