Even though the Peabody Energy (OTCPK:BTUUQ) Chronicles and Misadventure series ended in May 2016, I have been contacted many times by readers who thanked me for pitching the bonds. Incidentally, the unsecured bonds traded in the low-$40s over the past two days and thus, ironically, have achieved my original target of offering 50% upside (if you include the accrued interest). Congratulations to everyone that held their bonds. Go figure, many parts of my core original thesis ultimately unfolded. The only problem, at least in my case, was the catalysts occurred three or four months too late, which was long after when I threw in the towel in late May 2016. When the June 2016 natural gas contract approached $2 mm/Btu, I ultimately lost conviction. Clearly, in retrospect, my emotions got the better of me.
Anyway, that is neither here or there. The point of this update is to caution equity speculators and even unsecured bonds holders not to get too excited. As a matter of fact, Peabody's management team released an 8-K after the bell (10-20-2016) with this specific language.
It is uncertain at this stage of the Chapter 11 Cases if any proposed plan of reorganization would allow for distributions with respect to Peabody Energy equity or other securities. It is likely that Peabody Energy equity securities will be canceled and extinguished upon confirmation of a proposed plan of reorganization by the Bankruptcy Court, and that the holders thereof would not be entitled to receive, and would not receive or retain, any property or interest in property on account of such equity interests. In the event of cancellation of Peabody Energy equity or other securities, amounts invested by the holders of such securities would not be recoverable and such securities would have no value. Trading prices for Peabody Energy's equity or other securities may bear little or no relationship during the pendency of the Chapter 11 Cases to the actual recovery, if any, by the holders thereof at the conclusion of the Chapter 11 Cases. Accordingly, Peabody Energy urges caution with respect to existing and future investments in its equity or other securities
I too have been scratching my head as, in this week alone, Peabody's equity has leapt from less than $2 to flirt with $7 per share. So given exuberant commentary within some of my past articles and highly irrational stock action, I want to caution readers to avoid letting greed overwhelm logical thought.

Click to enlarge
When management issues an 8-K and basically says its equity is worthless, then adjust accordingly. As for the Peabody bonds, I attribute the move from the mid-teens to now the low-$40s to speculation surrounding the move in seaborne met coal, and to a lesser extent, seaborne thermal. I am certainly not on the ground in China, nor do I have detailed knowledge of China's marginal cash cost for its vast met coal mines, but for spot met coal to move from $92.5, the Q3 2016 benchmark, to upwards of $240 in a few months is highly suspect.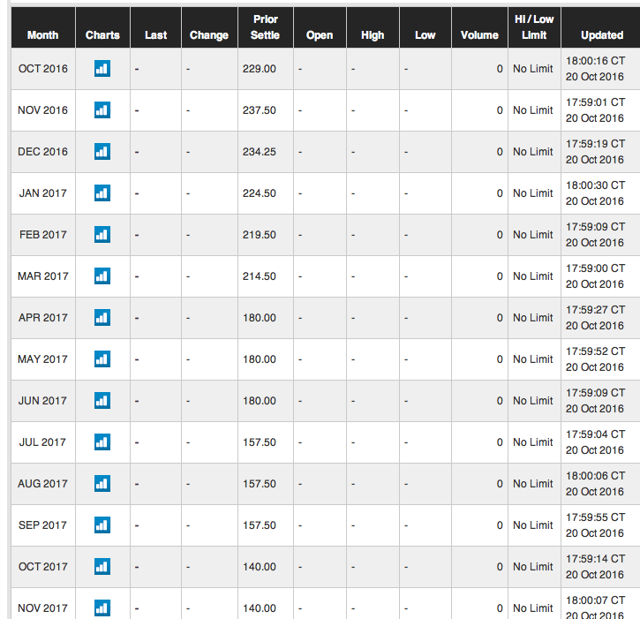 Click to enlarge
Source: CME Group (Australian Coking Coal (Platts) Low Vol Futures)
From everything that I have read, a perfect confluence of events occurred, which I will briefly summarize:
1) In February 2016, China announced its intention of cutting 15% of its steel capacity over the next few years. These targets have been met political and local resistance as China's goal is to keep people employed. As a result, Chinese steel production, despite U.S and European policy actions, is slightly higher YoY.
2) Upwards of 90% of China's met coal is sourced domestically. In a stealth move in July, the number of mining days allowed were reduced from something like 335 days to 275 days. This created a frenzy of speculative buying as some Chinese producers were short inventories. Therefore, some buyers had to go out to the seaborne met market to source physical products. Relatively small physical trading ignited the speculative market.
3) Next, there was major summer flooding in the Shanxi region that reduced production and severely impacted physical rail deliveries.
4) Finally, there were short-term mining hiccups in Australia.
However, if you look at the severe backwardation, the met coal market is telling us that these supply disruptions are temporary. Moreover, I have read that China is already relaxing its production restrictions as $240/mt met coal would impact the input cost of producing steel.
As for seaborne thermal, France took down maintenance of some of its nukes combined with very low German wind output, along with stories of lower Chinese inventories leading into winter and we have a big move in seaborne thermal. Again the curve is in severe backwardation.
Ultimately, I don't think these unexpected and dramatic movements in seaborne met or thermal are sustainable, and given the vast reserves in China, Mongolia, North Korea, and Australia, production will eventually catch and prices will correct.
Concluding Thoughts
On Oct. 20, Peabody's management issued an 8-K indicating that its existing equity is basically worthless. I am highly skeptical of the moves in seaborne met and thermal and therefore want to caution readers of mistakenly thinking the unsecured bonds will only continue their march higher. Moreover, on the U.S. thermal side, with Hilary Clinton almost assured to win the White House, her Supreme Court appointment will most likely be the deciding vote to put the Clean Power Plan into law. If this occurs, then the reserve value of coal assets, at least in the U.S., gets diminished as natural gas will continue to displace coal-fired generation. Finally, remember that Arch Coal (OTC:ARCH) shafted its unsecured bondholders, who received $0.04 on the dollar and its equityholders were wiped out. As for existing equity and unsecured holders, take the money and run. Let Paul Singer play greater fool theory with Peabody's senior lenders.
Disclosure: I/we have no positions in any stocks mentioned, and no plans to initiate any positions within the next 72 hours.
I wrote this article myself, and it expresses my own opinions. I am not receiving compensation for it (other than from Seeking Alpha). I have no business relationship with any company whose stock is mentioned in this article.
Editor's Note: This article covers one or more stocks trading at less than $1 per share and/or with less than a $100 million market cap. Please be aware of the risks associated with these stocks.