Peabody Energy Corp. (OTCPK:BTUUQ) has tripled in price the last few days and the debt prices continue their climb. Call option prices are soaring. The catalyst for this surge is the 2.5x price increase in coking coal in Australia to $230/ton since the beginning of July. This is a sharp turnaround from the first six months of 2016 when Peabody's Australian met coal operations were close to putting them into "administration" with EBITDA losses from coking of $US86.2 million. Besides the spot price soaring, the negotiated Oct.-Dec. contract price by Indian steel producers for met coal was $200/ton versus $93/ton during July-Sept. Many BTUUQ investors, therefore, are thinking "happy days are here again."
Stock, Calls, and Note Prices Increase
Other possible reasons for the recent price explosion are: 1) The exclusive period for management to file a reorganization plan was again extended until Dec. 14 and the acceptance of the plan was extended until Feb. 15 (docket 1453). It was already extended before to Nov. 9 (docket 1106). Many investors feel that additional time is bullish because it would allow for even greater improvements in the coal industry. 2) There seems to be a short squeeze again. This is a repeat of what happened in early March of this year. 3) There is chatter of Peabody trying to sell some Australian assets at full value versus the chatter in June/July when the price talk was the "day after Christmas" prices. 4) Natural gas prices have risen. 5) The equity capitalization for the new Arch Coal, Inc. (NYSE:ARCH) is currently $1.8 billion versus an estimated equity value from early July by PJT Partners in the disclosure statement of $324 million-$666 million (Arch Coal docket 1093).
Short Squeeze
Besides the BTUUQ shares sold short, a possible short squeeze may be caused by the extremely large open interest in call options compared to the number of shares outstanding. For $0.50 to $8.00 strike prices of the Jan. 2017 calls, there are 137,987 contracts and 151,811 contracts for the Jan. 2018 calls. This total of 289,798 contracts (or 28,979,800 shares) compares to only 18.5 million shares outstanding. Plus, there are additional contracts at strike prices above $8. Clearly, there are a large number of naked call sellers. (Source: finra.org) With BTUUQ rising 3x this week alone, there is some panic trading. (EDIT UPDATE: Other investors may have made the same mistake in adding up Jan. 2017 call contracts from $0.50-$8.00. I added up all contracts with trading volume from finra.org including those with strike prices of $8.00, for example, that was pre reverse stock split 8. The current total of Jan. 2017 of post reverse split strike price $0.50-$8.0 calls is 22,793. The Jan. 2018 total is the correct total from FINRA data on Oct. 20, but it seems the contract totals are declining as they are closed. Adding the two different day amounts is like adding apples and oranges, but the total is 173,900 (17,390,000 shares) This total plus other contracts still is impacting the squeeze.)
Australian Operations
The focus of investors is now on Peabody's Australian operations. During the first six months of 2016, the EBITDA of just the Australian operations was only $US1.8 million versus the same period in 2015 of $US117 million. During the second quarter, the coking segment EBITDA was a loss of $US49.2 million, which was even worse than the first quarter's EBITDA loss of $US37 million. (Source: The Australian, which may require subscription to view articles.) With the dramatic price increases for coking coal, profits, not losses, are expected for the second half 2016.
The Chinese, that usually buy in the spot market and not under quarterly agreements, cut the number of days coal miners could work to 276 from 330 days. This caused a production decline. In addition, there has been some flooding and issues of getting coal to ports. Steel mills that do not want to incur the large costs of shutting down a mill and then later restarting it because of lack of coal, may have been doing some panic buying to make sure they have available coal. Therefore, I am not sure if this large price increase is just a temporary windfall or is it going to last through 2017.
Natural Gas Prices
Natural gas prices have soared since Peabody filed for bankruptcy on April 13, but neither the demand nor the price of domestic thermal coal has soared.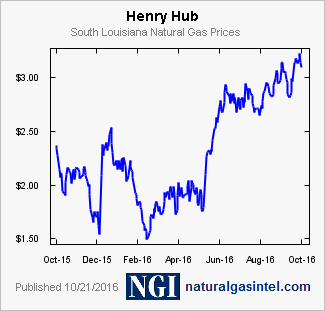 EIA Coal Outlook
The EIA released their latest short-term coal outlook on Oct. 13. It forecasted a slight improvement in coal production next year from this year, but it is still low from prior years.

Click to enlarge
Monthly Operating Reports
The monthly operating report for September was filed with court on Oct. 20 just as the market closed (docket 1465). These reports are poor quality and do not follow GAAP, but they often show trends. Total monthly revenue in Sept. was $443.7 million, up from $405 million in August.
September MOR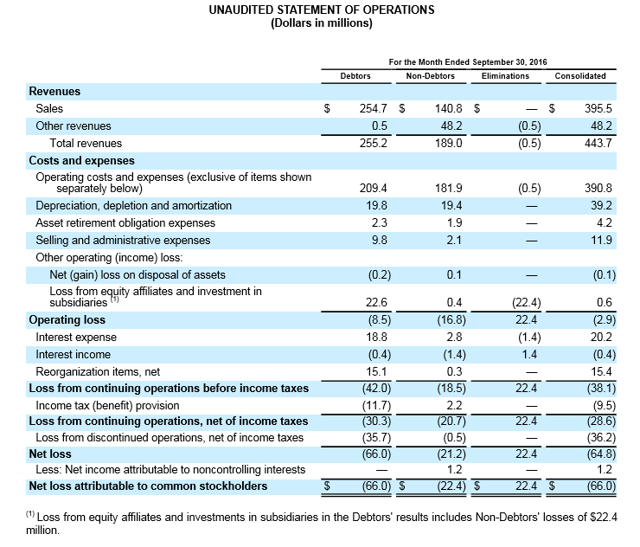 Click to enlarge
August MOR (docket 1323)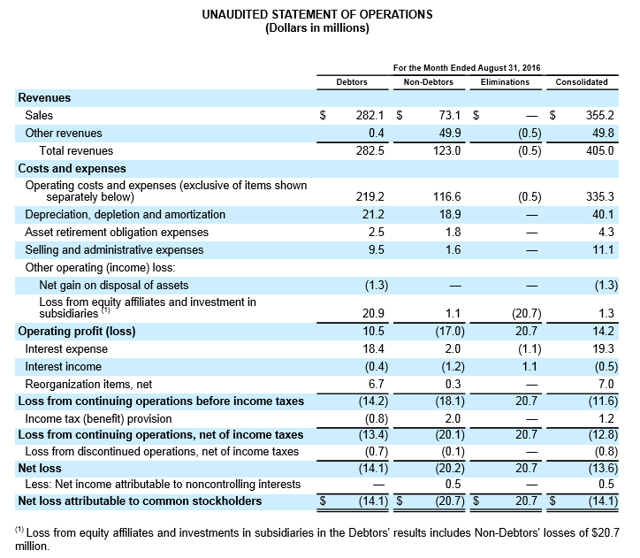 Click to enlarge
Secured Vs. Unsecured Claims
The amount that the 1liens have as a claim on secured assets has not been settled yet. The issue is the classification of long-term debt as actually a short-term liability. First liens want them classified as long term, while other creditors want them classified as short term because the 1liens have a claim on the total assets less the short-term liabilities. If they are classified as short term, the other creditors have a much larger "pot" for potential recovery under a reorganization plan.
There is also the issue about how the value of Peabody's Australian operations flow to the U.S. Peabody. The 1liens have a secured lien on all of the shares of the holding company that owns the Australian operations (via multiple corporate layers). The complexity of the multi-billion dollar loan that the Australian operations owe the U.S. company is a key factor in valuing BTUUQ. The question is if paying off this inter-company loan would greatly reduce the value of the Australian shares that secure the 1liens. The cash from any inter-company loan payment would flow into the "pot" for unsecured and secured creditors (even perhaps BTUUQ shareholders).
Conclusion
I have business associates that bought massive amounts of Peabody's debt after they filed for bankruptcy and continued to buy through July based on their expectation of a Trump win, which they feel would be very bullish for coal. They never even really focused on met coal price increases in Australia. Most other investors, however, have been very much focused on Peabody's Australian operations. I sold my notes in June, except I kept my holdings of the convertible bonds, based upon the lack of available detailed information on the large inter-company loan. The convertible bonds I held are a "lotto ticket" type of trade on the price of call. (They have risen 14x since June.)
Clearly the soaring met coal prices in Australia have pushed up the prices of BTUUQ and the notes, but there are collectively other positives that occurred that have had an influence on BTUUQ. There are too many uncertainties and lack of information on the important inter-company loan, for me to recommend purchasing BTUUQ or the notes. In addition, short squeezes are almost impossible to handicap. (They are as risky as a horse race.) During the short squeeze during March, I had a large call option position which I closed when BTU hit a limit price I had for the stock. Too many traders forget to bank profits, especially during squeezes. I am keeping my convertible bonds, but I may sell if I forecast a win by Clinton as we get closer to election day or if they hit my limit price.
Disclosure: I am/we are long CONVERTIBLE BONDS.
I wrote this article myself, and it expresses my own opinions. I am not receiving compensation for it (other than from Seeking Alpha). I have no business relationship with any company whose stock is mentioned in this article.
Editor's Note: This article discusses one or more securities that do not trade on a major U.S. exchange. Please be aware of the risks associated with these stocks.