Introduction
Previous articles on Starwood Property Trust (NYSE:STWD) have all focused on future growth and where the company is going. While I would agree that future prospects are by far the most important aspect of stock analysis, I still believe that history provides important insight into the future growth of a company too. The goal of this article is to briefly view where the company stands today, and to also review how the stock has grown and whether or not it qualifies as a solid dividend investment worth holding on to.
Company Profile
STWD got started in the Great Recession as other traditional commercial lenders began to cut back on financing, resulting in an unfulfilled need "for alternative commercial mortgage financing." Today, STWD is the nation's largest commercial mortgage REIT, "with a market capitalization of more than $5 billion."
Here are a few of STWD's competitors:
Apollo Commercial Real Estate Finance (NYSE:ARI)
Ares Commercial Real Estate Corporation (NYSE:ACRE)
Strengths
Sifting through the company's website, I think there are several important details about STWD that reduce the risk profile and increase the attractiveness of the dividend yield. Here is a short summary of what I find to be some of STWD's greatest strengths:
$0 realized loan losses globally
$28.3 billion of total capital deployed since 2009 inception (all company operations)
Average Loan to Value ratio of 61.3%
82% of loans are indexed to LIBOR
These four points alone indicate that STWD has done an excellent job of deploying capital when they feel they have identified value, and has the opportunity to increase in value because of how they have structured their loan portfolio. In addition to finding strong value, STWD has maintained a relatively conservative balance sheet and asset LTV that ultimately provides solid returns with minimal risk. The following chart illustrates that STWD has continued to reduce the overall Loan-To-Value of its assets, while still growing its loan portfolio by more than 2.5x times during the company's short seven-year history.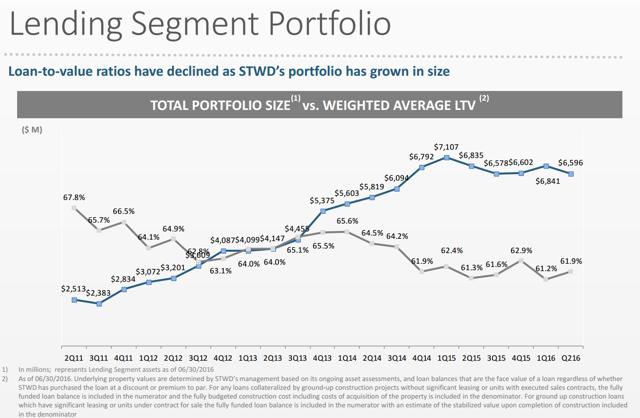 Click to enlarge
The average weighted LTV can be further broken down to see that all but 5% of STWD's total loan portfolio is less than 70% LTV. The following chart gives us a breakdown of STWD's high concentration of low LTV loans.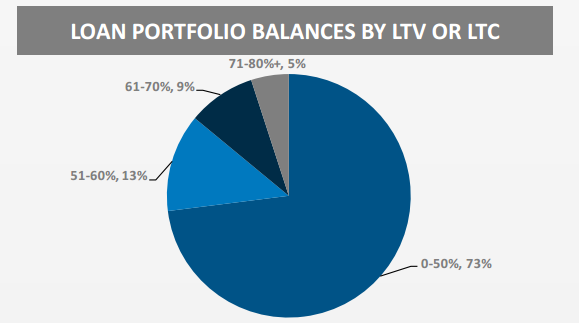 Weaknesses
There are only a few weaknesses I can see in STWD's business model, but the one that concerns me the most is the lack of dividend growth. I accept that STWD's lack of earnings and dividend growth is largely the result of the low rate environment, but I believe it is worth noting because all dividend investors want to see consistent and solid dividend growth. That being said, I want to be clear that STWD is not a triple-net-lease REIT with consistent and expected earnings growth; therefore I am happy to earn a current 8.86% dividend yield to help compensate for this uncertainty.
Stagnant dividend increases
For the last 11 quarters, the dividend has remained stagnant at $.48/quarter. Investors looking for regular growth will be disappointed by STWD's performance in this area; however, this lack of growth has more to do with rock-bottom rates than it does with management failing to grow STWD as a whole. STWD's capital deployment illustrates that the company is constantly finding more deals to grow its loan and servicing portfolios, but that a stationary LIBOR rate has prevented the company from growing the earnings of already existing loans. The following chart gives a breakdown of capital deployment over the last seven years:
Click to enlarge
Capital deployment has steadily increased, but has failed to grow overall earnings in a significant way. Even a small increase in LIBOR would result in dramatic earnings increase and this is illustrated by the following chart that demonstrates how small increases in LIBOR improves STWD's earnings dramatically.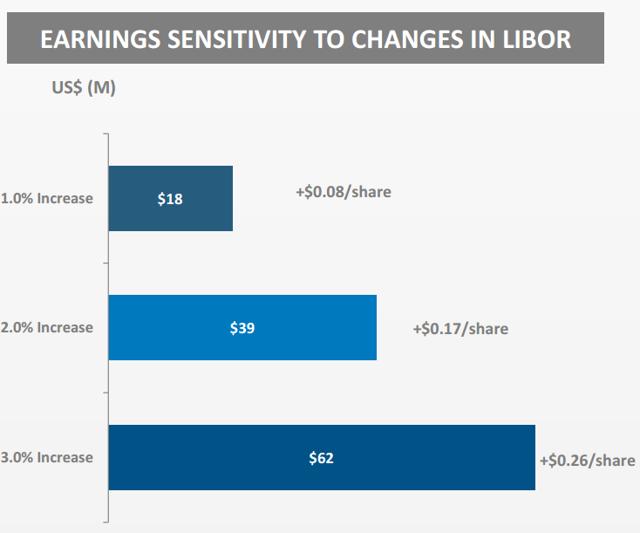 Click to enlarge
Rate increases can be a double-edged sword, but in STWD's case, I feel comfortable with such rate increases because the company has conservatively positioned their LTV in a way that would reduce or eliminate losses if one of their clients were to default.
Total Dividend Payout History
STWD's history of dividend payments over the last seven years cannot be ignored. Although stagnant for the last 11 quarters, STWD has managed to pay out a total of $12.24 per share during this seven year period.
| | |
| --- | --- |
| Year | Dividends Paid |
| 2016 | $1.96 |
| 2015 | $1.96 |
| 2014 | $1.94 |
| 2013 | $1.90 |
| 2012 | $1.76 |
| 2011 | $1.70 |
| 2010 | $1.02 |
| Total | $12.24 |
What Would the Dividend Reinvestment Story Look Like?
Let's assume an individual purchased 100 shares of STWD at inception for $10.68/share. This would constitute a total investment of $1068.00 not including the trade fee.
Looking at the dividend payment history pay date as our date of reinvestment, we can figure out how our investment would have grown from reinvesting dividends. It would look something like this: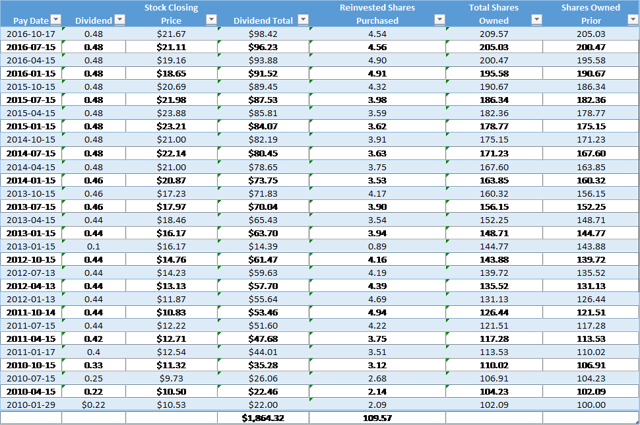 Click to enlarge
Although I am a fan of collecting my dividends as cash (to buy undervalued stock of my choosing), it's hard to argue with the dividend story of STWD, since the value of an investor's outstanding stock would have more than doubled during the seven years of payout. Adding to this, we can also figure out the average cost per share using a dividend reinvestment model. The math would look something like following calculation:
Reinvested Dividend Weight
$1864.32 / 109.57 = $17.015/share (reinvested dividends average cost per share)
109.57/209.57 = 52.3% of total value
Original Shares Purchased Weight
$1068 / 100 = $10.68/share (original 100 share purchase)
100/209.57 = 47.7% of total value
Average Cost Per Share
17.015 (52.3%) + 10.68 (47.7%) = Average cost per share
$8.90 + $5.09 = $13.99/share (Average Cost Per Share).
If we use the closing price from 10/17/2016 ($21.67) we can see that there is a margin of safety in the stock of approximately 35.4% over our break-even value. This means we are looking at a capital appreciation total of:
$21.67 * 209.57 = $4541.38 Current Investment Value (10/17/16)
$13.99 * 209.57 = $2931.88 (Total Capital including Reinvested Dividends)
Seven years = $1609.50 in capital appreciation
Conclusion
STWD appears to be a growing business with limited downside and minimal risk. Although I believe the days of its extreme dividend growth are in the past, I do believe that increases in LIBOR and STWD's conservative loan portfolio and business model make it a strong candidate for both capital and dividend appreciation in the long run. In looking at the company's dividend reinvestment track record, it is also safe to say that a doubling of outstanding stock in a seven-year period is absolutely astounding.
At this point, I would recommend STWD as a buy for any investor who is dividend/income-focused, and whose goals are medium to long term. Any investor whose primary goal is to maintain capital and gather a healthy dividend will love this stock. I hope that a look into the past provides a greater insight into where the REIT came from and where it is going.
Disclosure: I am/we are long STWD.
I wrote this article myself, and it expresses my own opinions. I am not receiving compensation for it (other than from Seeking Alpha). I have no business relationship with any company whose stock is mentioned in this article.
Additional disclosure: This article reflects my own personal views and is not meant to be taken as investment advice. It is recommended that you do your own research. This article was written on my own and does not reflect the views or opinion of my employer.