American Express (NYSE:AXP) reported 3Q16 EPS of $1.20 ($1.24 adjusted for a post-tax restructuring charge), beating consensus estimates of $0.96 by 29%. The beat was driven by stronger net interest income, lower rewards costs and loan loss provisions.
Worldwide Billed Business growth (ex-Costco (NASDAQ:COST)) was up 7% y/y, while U.S. Billings growth printed at 6% y/y. Importantly, management noted that Amex was still on track to capture at least 20% of the out-of-store Costco spending (c$12bn).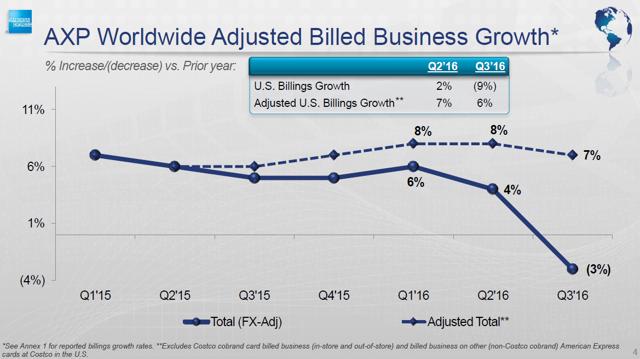 Click to enlarge
Source: Company data
Total loan balances grew 12% on an FX-adjusted basis. This growth is strong, and margins on the remaining business were higher than expected.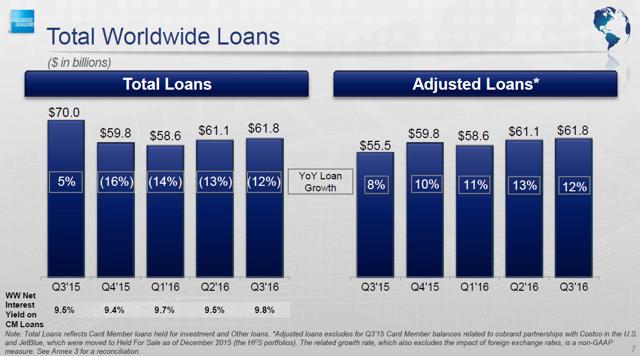 Click to enlarge
Source: Company data
Net interest income (adjusted for FX and Costco) was up 10% y/y. Reported net interest yield printed at 9.8%, up from recent quarters, was driven primarily by favorable shifts in the company's loan mix. According to the management, "the sold cobrand loan had a slightly lower average yield than the rest of our tenured portfolio. In contrast, the non-cobrand Card Member loans, to which our mix has shifted, have a higher yield."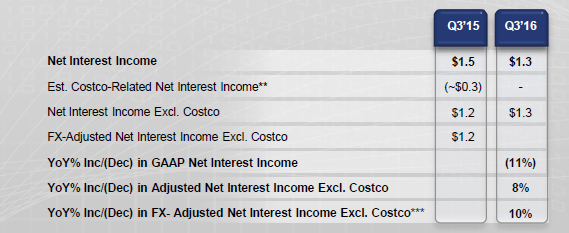 Source: Company data
Rewards costs were down 11% y/y and this came as a positive surprise. According to management, the billings from cobrand products that formally drove rewards expense come off the network and are partially replaced with new volumes that are more likely to earn cashback rewards, which are recorded as contra-discount revenue. The growth in adjusted rewards was relatively in line with the growth in adjusted proprietary billings this quarter. However, Amex expects rewards, including cashback, to grow faster than billings as the company continues to enhance its product value propositions (e.g. U.S. Platinum product) beginning in 4Q and continuing to 2017.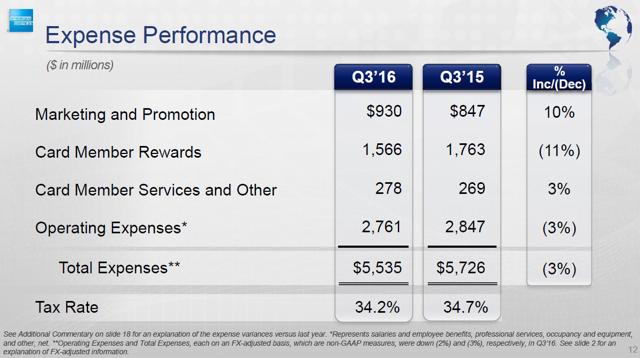 Click to enlarge
Source: Company data
Total adjusted provision grew by 6% y/y, driven by continued growth in loans. AXP's credit quality trends remain very benign.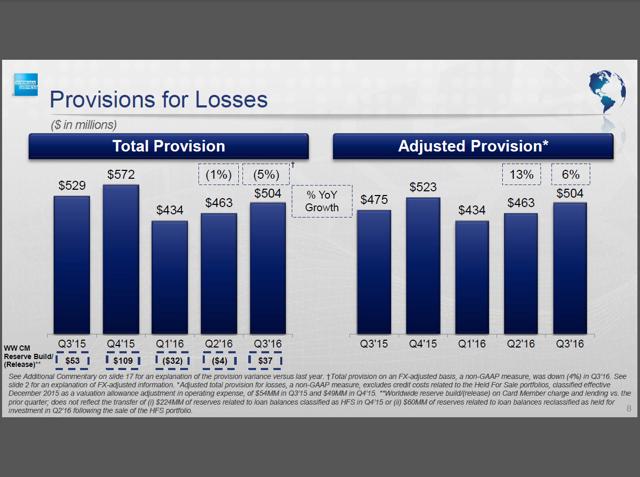 Click to enlarge
Source: Company data
After the higher earnings in 3Q, management raised FY16 EPS guidance to $5.90-$6.00. Amex also reiterated guidance of 2017 EPS above $5.60.
Click to enlarge
Source: Company data
We expect AXP's multiples to expand toward historical levels
It has been almost two years since Amex announced that the partnership with Costco would not be renewed. As a result, the stock has experienced a massive multiple de-rating. Amex is currently trading at 11.2x trailing earnings. The 11.2x multiple is nearly 25% lower than 15x historically.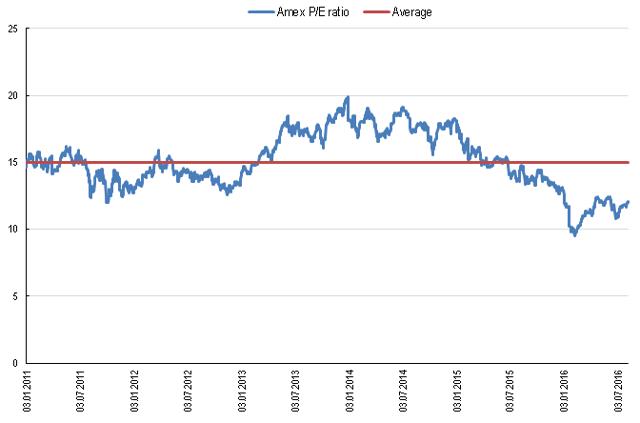 Click to enlarge
Source: Bloomberg, Renaissance Research
In addition, the following chart shows that historically, Amex has been valued at an average level equal to the S&P 500. However, the multiples have diverged considerably since the loss of Costco and AXP is currently trading at a 44% discount to the S&P 500 on a trailing P/E basis.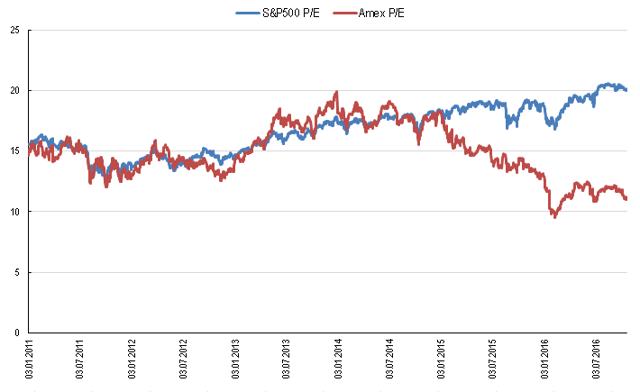 Click to enlarge
Source: Bloomberg, Renaissance Research
Bottom line: 3Q results confirmed that American Express is well on track to deliver "the re-rerating story." We expect the company's multiples to expand toward historical levels, driven by AXP's clear revenue growth strategy, solid cost discipline, a strong management team and generous capital returns to shareholders.
Thank you for reading. If you are interested in equity research on U.S., European and LatAm banks/financial companies, including fundamental analysis, DCF/multiples valuation, commentaries on price-sensitive events and actionable trading ideas, consider following us by clicking the "Follow" button beside our name at the top of the page.
Disclosure: I am/we are long AXP.
I wrote this article myself, and it expresses my own opinions. I am not receiving compensation for it (other than from Seeking Alpha). I have no business relationship with any company whose stock is mentioned in this article.