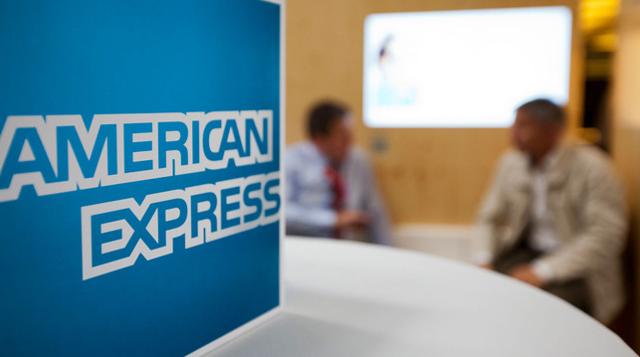 Click to enlarge
I've been bearish on American Express (NYSE:AXP) for some time now. I've lamented the company's inability to grow as a primary source of concern and along the same line, AXP's valuation premium over its peers with better growth (Discover comes to mind) made it such that I didn't see a lot to like. Indeed, I said last week that I thought the stock looked weak heading into earnings but as it turns out, I was totally wrong. I'll use this space to take a look at AXP's Q3 report and reassess if I need to tone down the bearishness.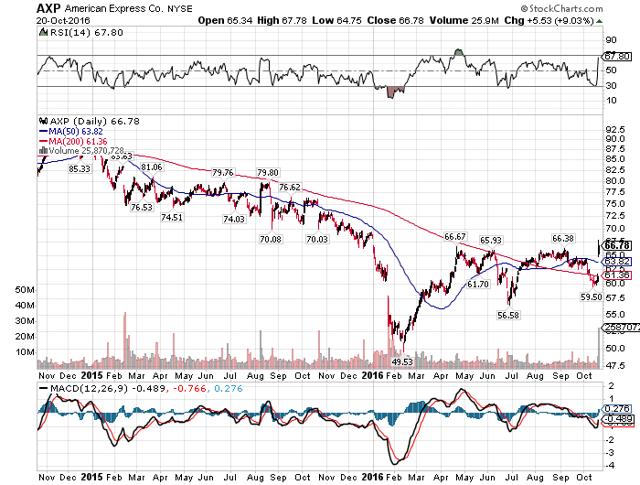 Click to enlarge
The headline revenue number was a snoozer at -5% but if we exclude the impact of the loss of the Costco (NASDAQ:COST) business, adjusted revenue actually grew 5%. That's a much better showing that what I had anticipated as AXP has had a very difficult time for many quarters now producing any sort of meaningful growth. But its members came through, spending more and generating not only higher fees for the business but higher interest income as well. AXP's revenue was really quite good in Q3 once we exclude the Costco business and it represented more growth than what I thought AXP was capable of. We've heard over and over again this year that consumers aren't spending but apparently, that doesn't apply to AXP cardholders.
Provisions were down 5% on a headline basis but that is because of the cobrand business that is now gone. On an adjusted basis, all that spending and loan growth we just talked about means adjusted provisions were up 6%. That's to be expected given the growth we saw on the top line and when a bank or lender is taking higher provisions, it usually means it is seeing loan growth. That is exactly what is happening at AXP for Q3 and higher provisions are just a necessary byproduct of a nice quarter from a loan growth perspective.
Total expenses were down 3% on a headline basis but remember that last year's Q3 included rewards costs from the Costco business and an impairment of goodwill and certain assets. That means that on an adjusted basis, AXP's expenses were up and while that's okay as long as revenue is growing, it is something to watch for in Q4 and beyond. Investments are necessary but AXP must be careful to keep costs in check or it risks simply offsetting the terrific spending growth it saw in Q3. With returns continuing to fall in general for the financials, investors are laser-focused on expenses and this was the one sort spot I saw in the Q3 report for AXP. And if growth were to slow again but spending continues to rise, AXP find itself in a very nasty situation.
Speaking of returns, AXP's prodigious ROE fell 70bps to 26.1%, still the highest ROE that I'm personally aware of in the financial sector. Discover is closer to the low-20s than where AXP is and the other financials don't come close. This is a big reason why AXP continues to trade at a premium to its peers but given that growth has slowed materially of late, I've wondered why investors continued to pay a premium for AXP. With strong Q3 results, is AXP's mojo back?
The stock was up 9% yesterday, a monster move for a stock that is so large. There is real money driving this move and that means investors are on board with AXP's growth from Q3. While I am too, it is very important to remember that AXP has had a few tough quarters in a row and that having one good one doesn't necessarily mean issues are fixed. Yes, Q3 was impressive, but let's take a look at the valuation to see if perhaps the 9% move was a little premature.
AXP raised its guidance for the rest of this year by a quarter on the strong Q3 results and certainly that played into what investors were buying. But estimates and indeed AXP's own guidance for next year are for roughly flat EPS. That is despite the fact that the share count is lower by 7% against this time last year and that we'll see roughly the same amount of reduction over the next four quarters. That means that the business itself is expected to be at approximately -7% in terms of earnings growth and that is why I'm still concerned about AXP.
If we assume $5.70 next year, AXP is currently going for 11.7 times forward earnings. And while that's not a ludicrous amount by any means, it is pretty high for a financial and in particular, in light of the fact that we are going to see flat EPS Y/Y despite a massive reduction in the float. I find that to be very disappointing and while I won't deny that ROE continues to be best-in-class, at some point, AXP needs to actually grow earnings. It just isn't and for that reason, I think investors jumped the gun off of the Q3 report.
That being said, the stock is at an inflection point. It happened to close yesterday right at its YTD highs that have been seen no less than four times now this year. What happens from here is critical because if the rally is going to continue, AXP needs to get about $67 and stay there. If it doesn't, it means that it is going to bounce off of the ceiling again and pull back. I obviously don't think there are catalysts for a move higher from this spot unless it can hang around until the Q4 report and we get another strong quarter of growth. Until then, I'm not sure what would keep AXP elevated so for now, I'm considering shorting AXP again pending what happens over the next few days. If AXP comes off of the $67 mark again, it is a short. If it doesn't, it may turn resistance at $67 into support and be a hold-your-nose-and-buy situation. I'll wait and see before taking any action but I still think the stock is ahead of the fundamentals despite the green shoots we saw in Q3.
Disclosure: I/we have no positions in any stocks mentioned, but may initiate a short position in AXP over the next 72 hours.
I wrote this article myself, and it expresses my own opinions. I am not receiving compensation for it (other than from Seeking Alpha). I have no business relationship with any company whose stock is mentioned in this article.