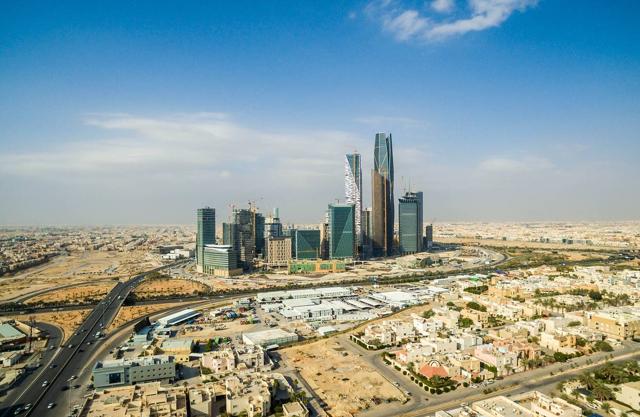 Click to enlarge
King Abdullah Financial District. Source: Bloomberg News.
According to OPEC's latest Monthly Oil Market Report (MOMR), it expects the "call" on OPEC crude oil to average 32.3 million barrels per day (mmbd) in 4Q16 based on world oil demand at 95.3 mmbd and non-OPEC production of 63.0 mmbd. For September, it reported that OPEC production averaged 33.4 mmbd, based on secondary sources.
If OPEC production held, the oversupply would be 1.1 mmbd based on OPEC's. That is an increase from 0.5 mmbd in 3Q16, and 0.8 mmbd in 2Q16, but lower than the 2.2 mmbd surplus in 1Q16, all according to OPEC's own numbers. If anything, they would have an incentive to underestimate the size of the glut.
But it appears that September's production will not hold for 4Q16. Fresh reports are that Nigeria sees a "huge cargo overhang" in the world's light, sweet crude market. This is forcing Nigeria to discount its official selling prices to compete.
In September, Nigeria reportedly produced 1.5 mmbd. Its oil minister, in India a few days ago seeking a $15 billion upfront payment from India, said it expects its oil production to rise to 2.2 mmbd by year-end, an increase of 0.7 mmbd.
Meanwhile, in Libya, crude production has increased over the past two months, rising to more than 580,000 b/d, according to a Platt's report. Libya's production averaged 363,000 b/d in September. Libya's target is to get production up to 960,000 b/d by year end.
Both Nigeria and Libya are "exempt" from any freeze or cut OPEC says it will announce at the end of November. But 4Q16 overproduction is now like to be well beyond 1 million barrels per day and may approach 2 million barrels per day.
Conclusions
Data reported by the Energy Information Administration (EIA) since late August has shown that U.S. stockpiles have dropped by 34 million barrels due to low crude imports. I have questioned the accuracy of that data.
Nonetheless, if OPEC's supply/demand numbers are correct, the glut will get larger in 4Q16. The market is hoping Saudi Arabia takes care of it.
Given that KSA has reportedly launched a $17.5 billion debt offering, I have little doubt that they will try to improve oil market conditions in 2017. But it is going to be on them, largely, to make it happen.
Disclosure: I/we have no positions in any stocks mentioned, and no plans to initiate any positions within the next 72 hours.
I wrote this article myself, and it expresses my own opinions. I am not receiving compensation for it (other than from Seeking Alpha). I have no business relationship with any company whose stock is mentioned in this article.