Yesterday, I wrote an article in which I announced that I was adding three new REITs to my Monthly Dividend Portfolio. With less than twenty REITs that pay monthly dividends to choose from (equity and mortgage REITs), I decided that it was time to cast a net in Canada and specifically initiate research on Mainstreet Health Investments ( OTC:MHIVF), MedEquities Realty Trust, Inc.( OTC:MRT), and WPT Industrial( OTCQX:WPTIF) (TSX:WIR.U).
I wish more U.S. REITs would begin paying monthly dividends and hopefully the trend will continue. I have mentioned it to a few REIT management teams including Care Capital Properties (NYSE:CCP), STORE Capital (NYSE:STOR), Lexington Realty (NYSE:LXP), National Storage (NYSE:NSA), and Farmland Partners (NYSE:FPI).
Nonetheless, many retail investors like to own monthly paying stocks, and since REITs payout higher dividends, it stands to reason that more REITs should look to satisfy the growing demand of the retail investor who is looking to generate monthly mailbox money.
It's been a while since I took a look at Apple Hospitality (NYSE:APLE), so I decided that I would dig into the Virginia-based REIT. My friend and fellow contributor, RoseNose wrote on APLE a few weeks ago (article here) and I promised her that I would inspect the recipe for this REIT, or in the words of Warren Buffett,
Your premium brand had better be delivering something special, or it's not going to get the business.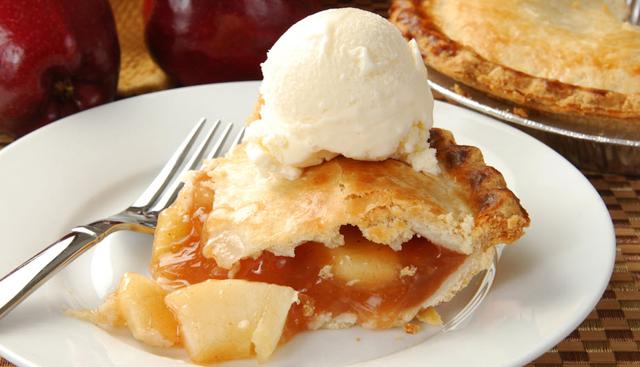 Click to enlarge
The Basics
In May (2015), I wrote an article on APLE in which I recommended the company at a price of $18.00 with an expected year-end target price of $20.00. Shares were headed in the right direction, but have since pulled back to a recent close of $18.23.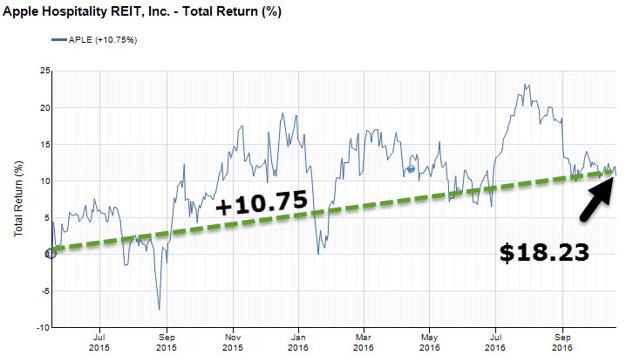 Click to enlarge
Source: S&P Global Market Intelligence
Back in May (2015) APLE began trading on the New York Stock Exchange. Previously structured as a Non-Traded REIT and in connection with the listing, APLE said it commenced a modified Dutch auction tender offer to purchase up to $200 million of its common shares.
Apple Hospitality was formed in March 2014 with the merger of Apple REIT Seven Inc., Apple REIT Eight Inc. and Apple REIT Nine Inc. In February 2014, the company amended its articles of incorporation to provide for a 50% reverse share split of its common stock.
On September 1, APLE completed its roughly $1.26 billion merger with Apple REIT Ten, Inc. adding 56 hotels to the portfolio. The combined company has an enterprise value of roughly $5.7 billion and a combined portfolio of 236 hotels.
As a result of the merger, Apple Ten shareholders received $1.00 in cash and 0.522 Apple Hospitality common share for each Apple Ten unit, which consisted of one common share and one series A preferred share. Additionally, each Apple Ten series B convertible preferred shareholder received the same consideration on an as-converted basis.
APLE issued roughly 48.7 million of its common shares and paid approximately $93.4 million as consideration in the merger. It also assumed or repaid all of Apple Ten's outstanding debt at closing, totaling approximately $257 million.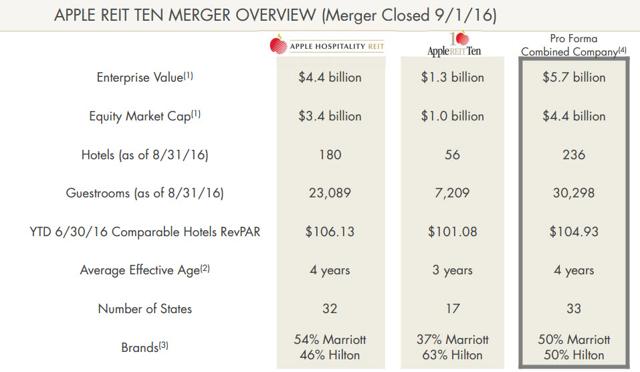 Click to enlarge
APLE joins a long list of other Lodging REITs in REIT-dom. APLE's Total Capitalization is over $5 billion, ranking the new public player as one of the largest Lodging REITs.

Click to enlarge
Source: S&P Global Market Intelligence
The Apple REITs have a long history of value creation in the hospitality sector - investing in over $9 billion of asset transactions since 1999. The average executive tenure with the Apple REIT Companies is more than 14 years and the principles have established and operated 8 public hospitality REITs and have raised and invested approximately $7 billion in hotel assets.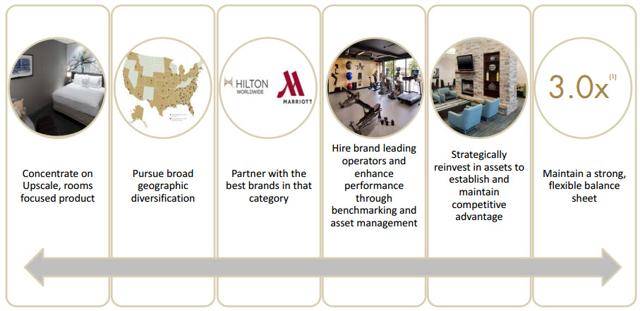 Click to enlarge
The company has 236 hotels in 33 states (30,298 rooms). In addition, APLE's portfolio is younger than the peers - APLE hotels have an average effective age of just 4 years.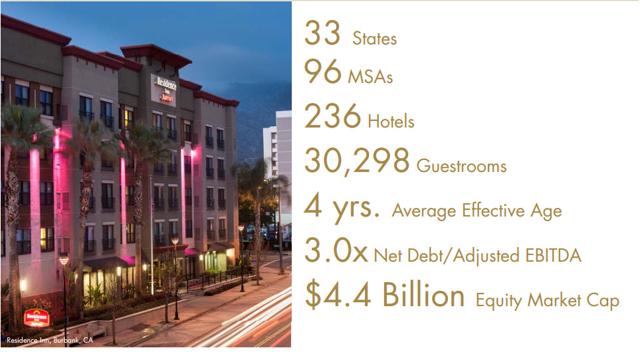 Click to enlarge
APLE has highly concentrated brand ownership: Hilton (50%) and Marriott (50%) are the only brands where APLE flies its banners. APLE is ranked among the top five largest owners for both Hilton® and Marriott®.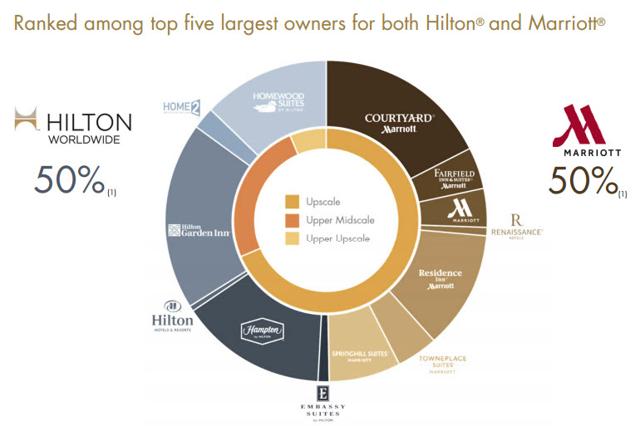 Click to enlarge
Within these two brands (Hilton and Marriott) APLE enjoys a diverse product offering that includes select service, extended stay, and full service. Apple Hospitality's hotels benefit from industry leading brand affiliation.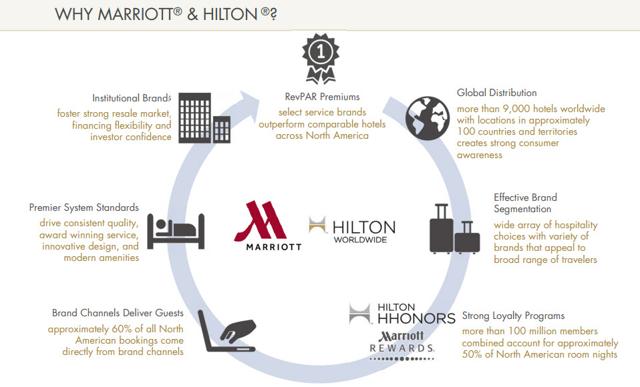 Click to enlarge
APLE has a diverse platform - investing in urban, high end suburban, and developing markets where diverse demand drivers and proximity to guest amenities generate strong, consistent performance.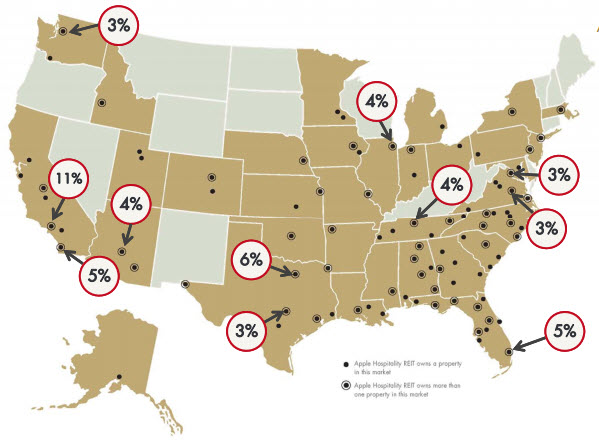 Here's a snapshot of APLE's Adjusted Hotel EBITDA contribution by market type: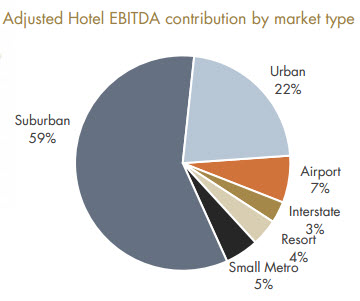 Apple's Operating Model
Tax code provisions governing REITs impose limitations on the income and activities of REITs that are at odds with hotel ownership and operation. Consequently, to qualify as a REIT all income must be derived from rents, interest, and mortgages (or real estate related activities).
Because hotel operations don't meet that REAL ESTATE test, the typical hotel REIT leases the hotel assets to a separate entity that manages the hotel or hires a third party manager. The tenant may manage the hotels itself, or hire a property management firm to carry out some or all hotel operations.
APLE has the following operators: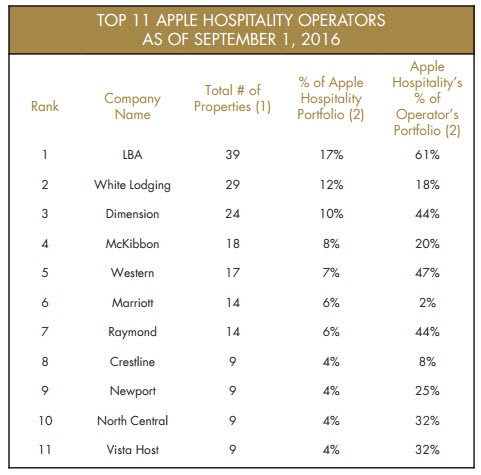 100% of Apple Hospitality's portfolio is operated by 3rd party property managers and 93% are independent of brand management. 22 operating companies provide a platform for comparative analytics and shared best practices. APLE transformed its management contracts to maintain flexibility with over 70% of management contracts converted to the new structure and terminable within one year or upon sale.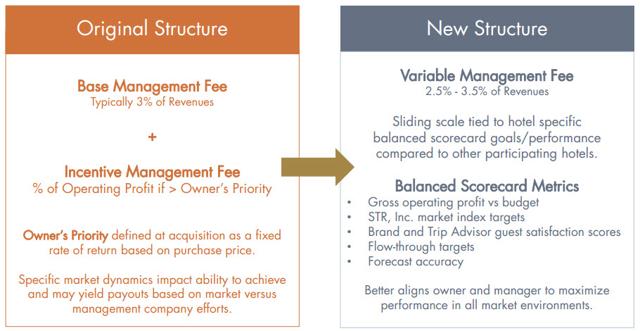 Click to enlarge
Some Notable Differentiators
In my review of APLE's portfolio we can see that the portfolio is "like new" with an average effective age of 4 years (includes new construction and renovations).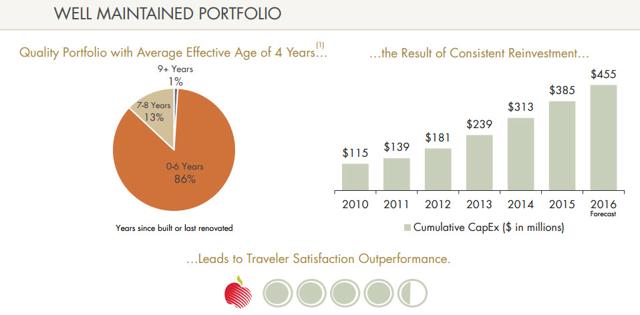 Click to enlarge
Consistent reinvestment provides for strong customer satisfaction and more predictable future capital needs. As a result, APLE has been an industry leader relative to its Tip Advisor rating (4.23 out of 5.00).
APLE has one of the best efficiency scores overall - based on Adjusted Hotel EBITDA margin - second only to Chatham (NYSE: CLDT) - a stock I own already. Emphasis on higher operating margins provide more stable cash flow.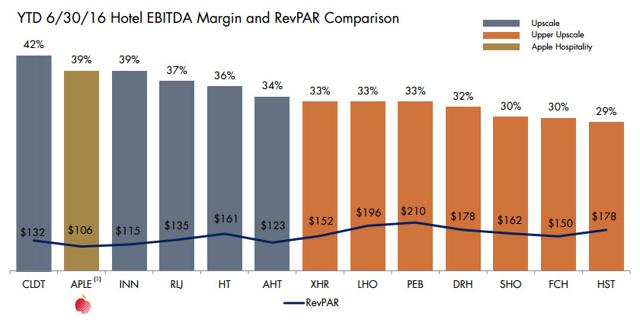 Click to enlarge
Another Differentiator - The Balance Sheet
The strength of APLE's balance sheet continues to be an important differentiating factor for the company providing additional security during periods of volatility and the flexibility to act in meaningful ways to enhance shareholder value.
APLE ended the second quarter with outstanding debt at 3x trailing 12 months adjusted EBITDA with approximately $480 million available on the unsecured credit facilities (before Apple Ten merger).
Subsequent to the end of Q2-16 APLE closed on the acquisition of the 128 room Home2 Suites by Hilton in Atlanta for $24.6 million. Also the above-referenced Apple Ten transaction maintains the strength and flexibility of the balance sheet.
Excluding debt issuance cost and fair value adjustments on acquired debt, APLE's debt is comprised of $400 million in property level debt and $631 million outstanding on the $1.1 billion unsecured credit facilities. The outstanding debt is ~23% of enterprise value at the end of the quarter.
At the end of June, APLE had approximately $1 billion of outstanding debt with a current combined weighted average interest rate of 3.5% for the remainder of revenue year.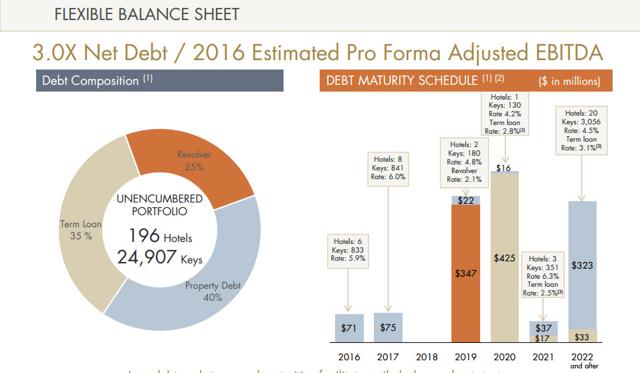 Click to enlarge
The Latest Earnings
In Q2-16 APLE generated solid RevPAR growth, increasing adjusted EBITDA to $100.5 million and $179.1 million, an increase of almost 12% for the quarter and over 11% year-to-date from last year. APLE's Modified FFO per share grew to $0.52 for the second quarter and $0.91 year-to-date, representing growth of 18% for the second quarter and 17% year-to-date.

Click to enlarge
Source: S&P Global Market Intelligence
With over 200 hotels located in more than 80 MSAs across 33 states, APLE's portfolio of hotels is one of the largest, most geographically diverse hotel portfolios in the US. This broad geographic diversity provides exposure to a wide variety of demand generators and minimizes the overall impact of volatility within a single market, region, or industry.
APLE's strategy has somewhat insulated the portfolio from supply demand dynamics uniquely impacting gateway markets over the past several quarters. Given the strong operating performance of APLE's hotel properties year-to-date and the anticipated mix of business and operating fundamentals for the remainder of the year, management did not see a need to adjust EBITDA guidance:
Anticipated adjusted EBITDA of $340 million to $360 million for the full year of 2016 and slightly reduced our anticipated Comparable hotels RevPAR growth to 3% to 5%.

Click to enlarge
APLE's guidance does not take into account the impact of any unanticipated developments in the business or changes in the operating environment. During the second quarter, APLE paid distributions of $0.30 per share. The board of directors authorized a regular monthly cash distribution of $0.10 per common share. Here's a snapshot of our forecasted AFFO growth: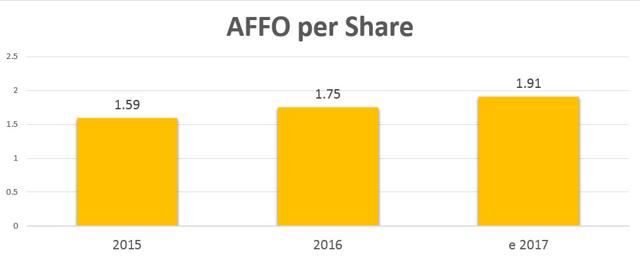 Click to enlarge
Source: S&P Global Market Intelligence
Here's a snapshot of the forecasted payout ratio: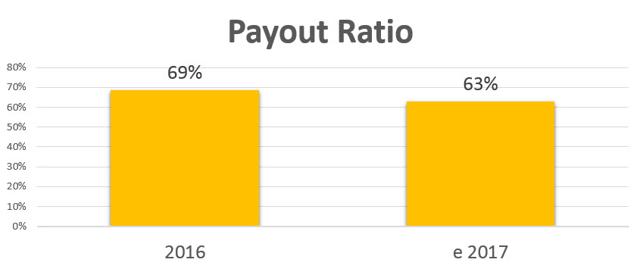 Click to enlarge
Source: S&P Global Market Intelligence
The annualized $1.20 per common share represents a 6.6% yield based on the recent closing price. Here's how APLE's yield compares with the peer group:

Click to enlarge
Source: S&P Global Market Intelligence
This Premium Brand Gets Our Business
With more than 28,000 select service and extended stay hotel rooms, APLE is one of the largest owners of select service and extended stay hotel rooms in the industry. In some ways, I compare APLE in the Lodging sector to STAG Industrial (NYSE:STAG) in the Industrial sector. Both REITs have diverse portfolios that protects them against geographic or market-based risks.
For that reason, I consider APLE a consolidator and that should allow the company to continue to build economies of scale, lower its cost of capital, and to continue to grow earnings and dividends. Here's how APLE's P/FFO compares with the peers:

Click to enlarge
Source: S&P Global Market Intelligence
Here's how APLE has performed over the last 12 months:

Click to enlarge
Source: S&P Global Market Intelligence
Now let's compare over the last 30-days:

Click to enlarge
Source: S&P Global Market Intelligence
Since I mentioned STAG, let's compare the dividend yield histories: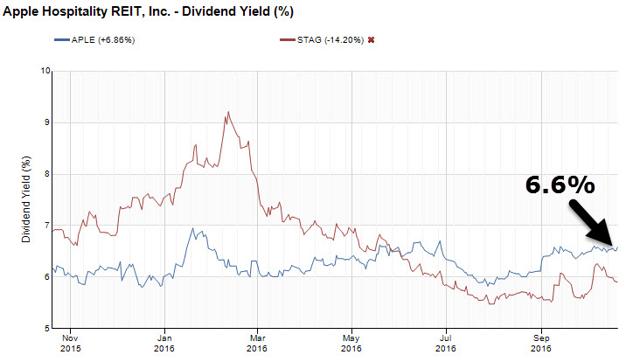 Click to enlarge
Source: S&P Global Market Intelligence
As you can see, APLE's dividend yield (of 6.6%) is now higher than STAG. Let's compare to CLDT: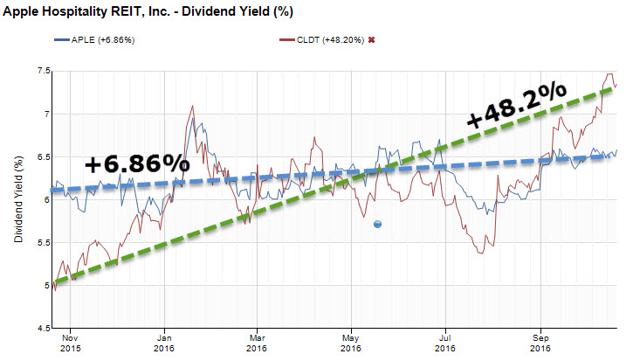 Click to enlarge
Source: S&P Global Market Intelligence
The Bottom Line: APLE has been a much less volatile performer in the Lodging sector. The dividend appears safe and the Apple Ten merger should enhance APLE's geographic diversification. Also, APLE's board is experienced:

Click to enlarge
In conclusion, we are recommending APLE at the current share price (see chart below). Although economic projections are hard to forecast - consumer spending and job growth both seem to be improving, but the market fears declining corporate profits and spending - we believe that APLE is better positioned due to the enhanced diversification of the portfolio.
APLE's concentrated ownership of specific select service and extended stay brands provides the company with unparalleled access to performance benchmarking data and this, combined with purchasing power enhanced by scale, enables the company to consistently produce industry-leading operating margins.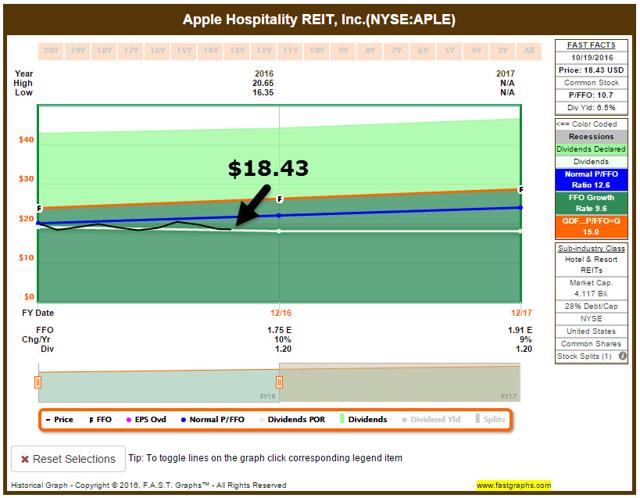 Click to enlarge
Source: S&P Global Market Intelligence, FAST Graphs, and APLE Filings.
Q3 Earnings Date: November 7, 2016
Author Note: Brad Thomas is a Wall Street writer and that means that he is not always right with his predictions or recommendations. That also applies to his grammar. Please excuse any typos and be assured that he will do his best to correct any errors if they are overlooked.
Finally, this article is free, and the sole purpose for writing it is to assist with research while also providing a forum for second-level thinking. If you have not followed him, please take five seconds and click his name above (top of the page).
Other REITs mentioned: (NYSE:AHP), (NYSE:AHT), (NYSE:DRH), (NYSE:FCH), (NYSE:HT), (NYSE:HST), (NYSE:HPT), (NYSE:LHO), (NYSE:PEB), (NYSE:RLJ), (NYSE:INN), (NYSE:SHO), (NYSE:XHR), (NASDAQ:CDOR), and (NYSE:RHP).
Disclaimer: This article is intended to provide information to interested parties. As I have no knowledge of individual investor circumstances, goals, and/or portfolio concentration or diversification, readers are expected to complete their own due diligence before purchasing any stocks mentioned or recommended.
Disclosure: I am/we are long O, DLR, VTR, HTA , STAG, GPT, ROIC, HCN, OHI, LXP, KIM, WPC, DOC, EXR, MYCC, TCO, SKT, UBA, STWD, CONE, BRX, CLDT, HST, APTS, FPI, CORR, NHI, CCP, CTRE, WPG, KRG, SNR, LADR, PEB, BXMT, IRM, CIO, LTC, DEA, NSA, HASI.
I wrote this article myself, and it expresses my own opinions. I am not receiving compensation for it (other than from Seeking Alpha). I have no business relationship with any company whose stock is mentioned in this article.
Editor's Note: This article covers one or more stocks trading at less than $1 per share and/or with less than a $100 million market cap. Please be aware of the risks associated with these stocks.