Why I Bought Long-Term Care Properties in a Roth IRA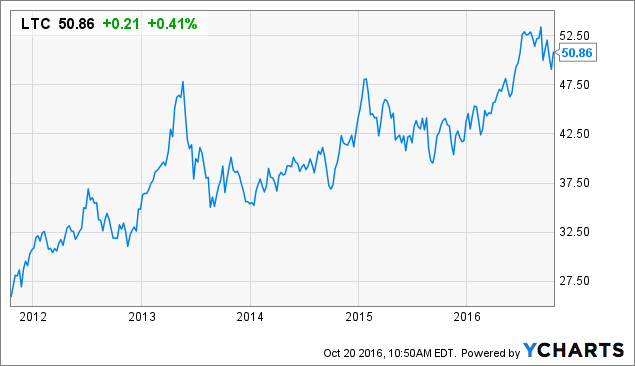 For investors with several decades to go until retirement, I think buying Long Term Care Properties (NYSE:LTC) in a Roth IRA is a pretty smart move. The stock pays a solid monthly dividend (and yields over 4%), and I expect the dividend to continue to grow over the coming years. The monthly dividend allows investors to compound their returns faster, as I'll explain below.
Here's some background on LTC: In business since 1992, the company owns over 200 health care properties in 30 states and is actively building its portfolio of senior housing and health care properties. I think the company's business model will continue to benefit from long-term health care trends, as the U.S. population continues to age and as health care spending increases.
The company's asset base is primarily a mix of skilled nursing facilities (49.8% of total properties) and assisted living facilities (43.6%). The company has invested over $1 billion since 2010. Over the past 12 months, it has earned approximately $122 million in rental income from its properties. Shareholders have done very well.
Here, I'll discuss why I think LTC is a solid stock to own over the long-term, and why it makes a lot of sense to own shares in a Roth IRA.
Why LTC is a Solid Long-Term Pick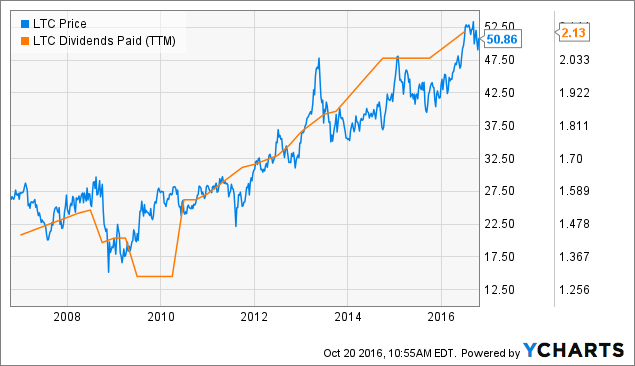 Long Term Care has been an excellent stock to own over the past decade or so and has developed quite a track record. The company has grow its annual dividend from $1.29 to $2.16 per share, from 2005 to 2016(NYSE:E), representing a compound annual growth rate of 4.8%. The share price has also rewarded investors, advancing over 100%.
You'll see below that the company was even able to maintain and later grow its dividend throughout the financial crisis of 2008. With a payout ratio of 77.1% (in Q2), the company has some room to grow this dividend in the future.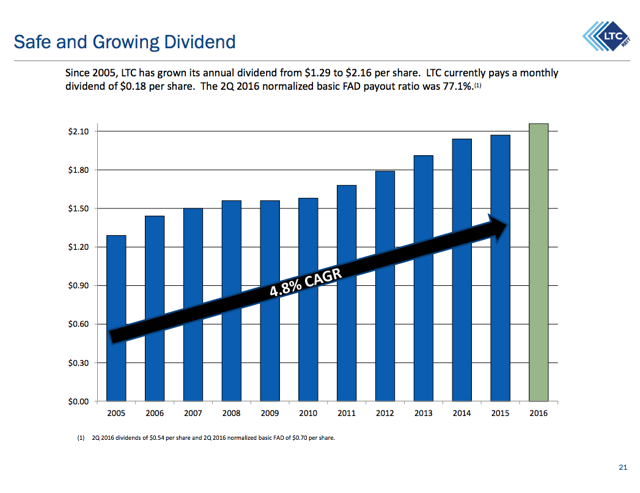 Click to enlarge
(Credit: LTC Corporate Presentation)
Meanwhile, over the past 3 years, LTC has the fourth-highest returns among its peers in the healthcare sector, as it has returned 56.5%. Going back 5 years, the stock carries a total return of 140%, outperforming the S&P 500 (NYSEARCA:SPY) and Russell 3000, and only trailing peers Sabra Health Care (NASDAQ:SBRA), Omega Healthcare Investors (NYSE:OHI), and Healthcare Realty Trust (NYSE:HR).
I believe the company is well positioned to profit from the aging of the American population. The number of people aged 75 and over is expected to increase by 89% to 34 million by 2030, while by 2040 that figure is expected to increase to 44 million, according to info from the U.S. Census Bureau.
By 2025, the number of Americans over 65 with Alzheimer's disease is expected to grow 40% to 7.1 million, according to the 2015 Alzheimer's Disease Facts and Figures and Journal of the American Medical Association. Meanwhile, national health care spending is expected to top $5 trillion by 2020, up from $3.1 trillion in 2014, according to the company.
LTC's portfolio benefits from strong geographic diversification, as its 215 properties are located in 30 different states. Meanwhile, the company is also diversified by operators, as no single operator makes up more than 16% of LTC's annual income (the top 3 operators are Prestige Healthcare, Senior Lifestyle Corp. and Brookdale Senior Living -- the company only targets experienced operators).
Meanwhile, LTC also benefits from strong occupancy rates, as it reported an 86% occupancy at its assisted living facilities in Q1 2016. LTC has entered into attractive lease terms with its operators: Its triple-net lease terms are generally 10 to 15 years and include annual rent increases, which protects against inflation.
The company also has a strong balance sheet. With a debt to enterprise value of 23%, LTC is a lot less leveraged than most of its peers. The company only has $593 million in total debt, and $278.82 million of it does not mature until after 2023. All of this makes LTC one of my favorite picks in the REIT sector.
Why Own in a Roth IRA?
Investors like myself that are saving for retirement with a long timeframe (20+ years) are much better off owning shares in an IRA than a traditional brokerage account. Both traditional and Roth IRAs can provide some good tax benefits, but a Roth is often a superior choice.
Here's why: A traditional IRA is paid with pre-tax dollars and contributions may be fully or partially deductible in the year you contribute. You can lower the amount of taxes you owe and potentially net a larger tax refund. Dividends and capital gains are tax-deferred; however, you'll pay taxes on your earnings and capital gains when you make withdrawals at retirement (after age 59 1/2), and this could add up to a huge tax bill.
Roth IRA contributions are made with after-tax dollars (meaning, you get paid from your job, then contribute the funds), but when you withdraw funds at retirement, you don't owe a single dime in taxes, so all dividends and capital gains you've earned are tax-free.
I also expect a higher tax rate in my later years, so a Roth IRA makes much more sense than a traditional IRA, since I'd have to pay higher taxes on traditional IRA withdrawals if I went that route.
Here's an example: Let's say you are 30 years old and buy $5,000 worth of LTC stock in a Roth IRA and you contribute another $3,000 annually for 30 years. You have a tax rate of 33% currently. You earn a total annual rate of return of 8% on the stock. By the time you retire at 60, your total position will be worth $390,162.92 and you'll have earned over $200,000 in taxable savings, as withdrawals will be both tax- and penalty-free at age 59 1/2.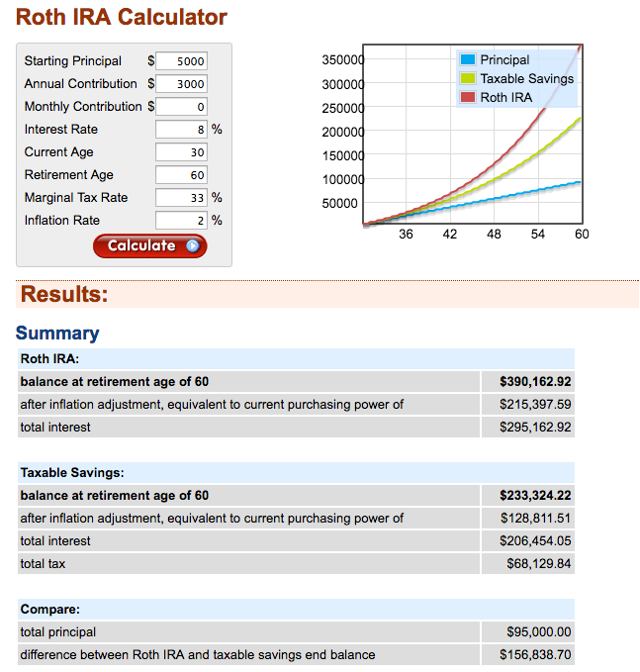 Click to enlarge
Check out the calculations above and plug in the numbers at Calculator.Net.
Note: there are some rules and income limitations to be aware of. Check out the IRS website for more details.
Monthly Dividend Growth Example
It's important to note again that LTC actually pays a monthly dividend, as opposed to quarterly, semi-annually or annually. Assuming you re-invest all dividends (as you should), you'll earn a greater rate of return on your investment due to the more frequent compounding.
Here's where things get a bit more interesting: What if LTC is able to grow its dividend at an annual pace of just 3% over the next 30 years? (Remember, LTC has actually grown its dividend by 4.8% annually over the past decade, and recently announced a 5.56% increase in its monthly dividend to $.19 per share). What kind of returns can investors expect in this case?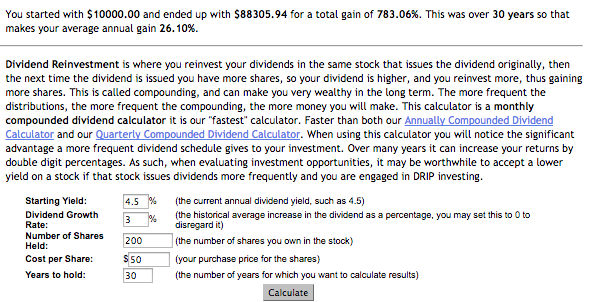 (Credit: Dividend-Calculator.com's Monthly Dividend Calculator)
Let's say you currently own 200 shares at a cost basis of $50 per share, valued at $10,000, and your initial yield was 4.5%. You wisely re-invest all monthly dividends paid by LTC.
By the 30th year, your shares will be worth just over $88,000, for a total gain of 783% (26.1% average annual gain). You'll receive just over $9,000 in dividends by year 30, which is almost as much as your initial investment. You'll also face zero taxes or penalties if the shares are held in a Roth IRA (as long as you withdraw past age 59 1/2).
In a more bullish scenario, if the company can somehow manage to increase its dividend by an annual rate of 5%, the investor would end up with $223,120, with a total gain of 2,131%, and an average annual gain of 71% over 30 years. Another REIT, Omega Healthcare (NYSE:O), has grown its dividend at 4.6% since 1994, and LTC has grown its dividend annually by 4.8% since 2005, so this type of dividend growth is certainly possible.
Using a more conservative annual dividend appreciation of 2% leaves you with $63,145 by year 30. And, readers should keep in mind that these calculations assume zero share-price appreciation (and zero additional investments).
For this calculation, readers can use Dividend-Calculator.com's monthly compounded dividend calculator. Again, this is just an example and meant to show you the power of compounding monthly dividends.
The Bottom Line
I don't necessarily recommend holding just one stock in a Roth IRA. I think it's wise to diversify a bit and hold low-cost ETFs. Then investors can add some individual stocks if you are willing to take on a bit more risk.
Having said that, Long Term Care Properties is an outstanding stock to own in a Roth IRA for the reasons mentioned above. I expect the company to continue to benefit from an aging population and health care spending trends, and I think there is a great chance the company will continue to increase its monthly dividend in the future. I expect market-beating returns over the next several decades.
Disclosure: I am/we are long LTC.
I wrote this article myself, and it expresses my own opinions. I am not receiving compensation for it (other than from Seeking Alpha). I have no business relationship with any company whose stock is mentioned in this article.