Shares of Microsoft (NASDAQ:MSFT) traded sharply higher in after-hours trading on Thursday, 10/20, following a strong Q1 earnings report. The quarter was all about the cloud, and emphasized Microsoft's continued success in transitioning itself to a cloud-based business with significant ARR, healthy margins, and strong cash flows. We think the stock's valuation remains supported at these levels, and believe the stock has good upside over the next several quarters.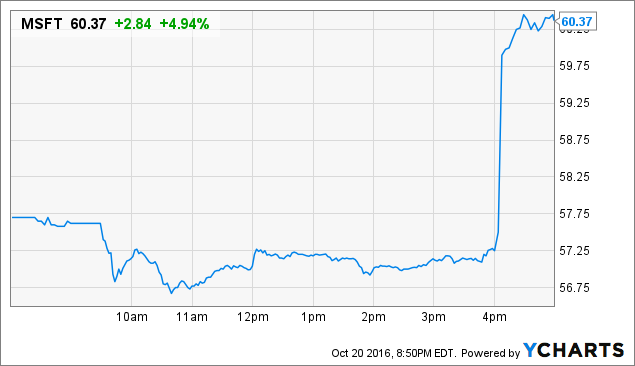 MSFT Price data by YCharts
The quarter was really all about the cloud. When Satya Nadella took over as CEO in 2014, he emphasized transitioning Microsoft from an archaic, PC-focused business to an innovative, cloud-focused one. Thus far, the transition has been a tremendous success, and share prices have concurrently rallied better than 65% since Nadella was appointed CEO, a near 3x outperformance of the S&P 500.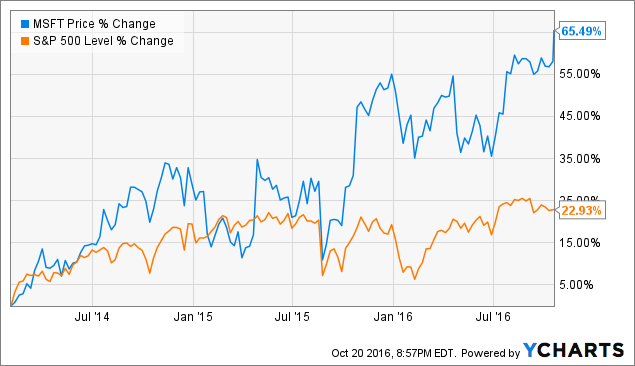 MSFT data by YCharts
Q1 was a strong affirmation of the continued success of Nadella's plan. For several quarters, we have specifically focused on two aspects of Microsoft's cloud as we view them as the most critical, Office 365 and Azure. Both performed very well in the quarter.
Office 365 continued its blistering growth in the quarter with 51% YoY growth, on top of 54% growth last quarter, and this reinforces Microsoft's successful transition of one of its main businesses to the cloud. The Microsoft Office suite of products (Word, Excel, Powerpoint, etc) was once the universal standard for "office work", but the secular transition to cloud-based services has de-standardized the market, allowing platforms such as Google (NASDAQ:GOOG) (NASDAQ:GOOGL) Docs to gain mass market traction. Microsoft, however, has responded strongly with Office 365, and consistent 50%-plus growth quarters imply Microsoft could re-standardize the market in the cloud. LinkedIn (NYSE:LNKD) synergies will start to really take effect this fiscal year, so we expect strong Office 365 growth for the balance of the year.
Beyond Office 365, Microsoft's hyper-growth Azure cloud platform once again notched triple-digit growth. Although bears may attribute the strong growth to the platform's relative youth, it is uniquely impressive for two reasons. First, it laps greater than 100% growth last year, so that it is a two-year stack of greater than 200% growth, a rate that is impressive regardless of the youth of the cloud platform. Second, the 116% growth this quarter is 14 percentage points higher than the 102% growth last quarter, implying a sequential acceleration in Azure adoption.
The quarter also showed that the Surface continues to sell very well thanks to 2-in-1 growth (revenue +38%), and the Xbox community continues to grow at an impressive rate (MAUs +21%). With both its big and small growth engines firing on all cylinders, Microsoft's stock has rallied more than 25% over the past year. We think, though, that the valuation remains attractive, and believe the stock can continue to benefit from multiple expansion and strong earnings growth.
The company's cash balance is strong and continues to grow, with a reported $62 billion in net cash this past quarter. That equates to roughly $8 in net cash per share, so the enterprise value of the company is currently somewhere around $52 per share. That is roughly 16x next year's earnings estimate. Investors, then, are paying 16x forward earnings for sustainable high single digit earnings growth, a strong and growing 2.7% dividend yield, and lots of share buybacks. Cash flows are also ramping up thanks to the transition to a less capital intensive cloud business, giving the company ample cash to grow the dividend and accelerate share buyback programs.
We don't see any reason to sell shares of Microsoft here. The stock is up big over the past 2 years, but the growth has been steady. The valuation remains attractive, and growth continues to impress. We remain long and think the stock has significant upside in a long-term window.
Disclosure: I am/we are long MSFT.
I wrote this article myself, and it expresses my own opinions. I am not receiving compensation for it (other than from Seeking Alpha). I have no business relationship with any company whose stock is mentioned in this article.