Abstract
We believe that the election process will bring volatility and uncertainty to financial markets. Hence it is vital to distinguish industries that will relatively outperform others and the overall S&P 500 (NYSEARCA:SPY). Also, assuming that the Fed will increase interest rates in December, investors should position themselves accordingly. I mentioned in my previous article on State Street Corp (NYSE:STT) that I am expecting a likely consolidation period all across the board; before looking at industries for buy opportunities. Also, there will be industries that will be affected negatively from the rate hike in December. But before we explore short opportunities lets first dive into some industries that will benefit from the rate hike.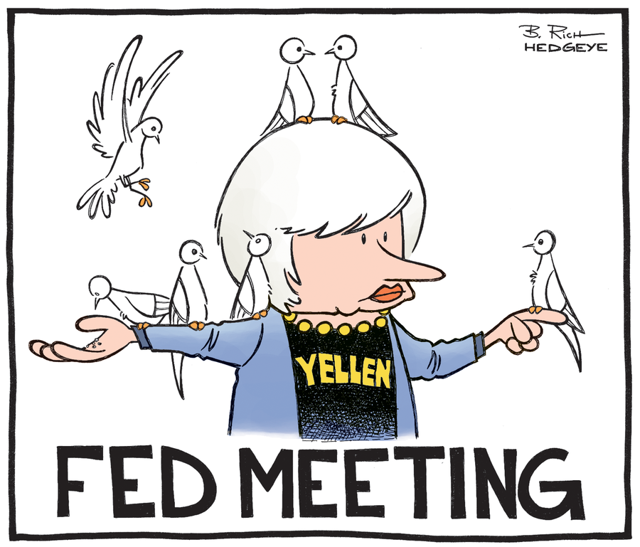 Click to enlarge
Source: HEDGEYE
Banks
Interest rates charged by banks are directly tied to the Fed target rate. Thus, this results with the interest collected to be higher relative to interest collected by banks when interest rates are low, as of currently. So it is pretty probable that the overall financial services will benefit from the rate hike in December. However if we look at earnings for the past two quarters for all U.S equities; most companies have had below forecast figures in regards to earnings. Also, as the election process comes to an end, volatility should be expected all across the board.
Financial Select Sector SPDR ETF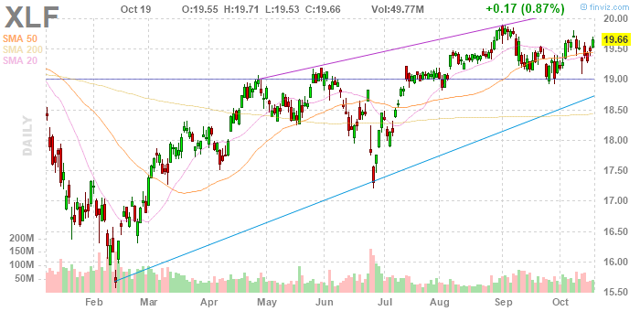 Click to enlarge
XLF data via finviz
The aggregate financial services industry is eager for Janet Yellen's interest rate hike around the end of the fourth quarter this year. A hike would result in most of the equities in the industry to enter a bullish trend until the effect of the hike goes away, which would probably be around the end of the second quarter of 2017.
Top Holdings
As seen, the XLF is made up of mostly long-lived companies in the universal banking industry. The exchange-trade fund has a expense ratio of 0.14%, and has $12.44 bln assets under management "AUM". Fundamentals listed below also indicate that XLF is relatively undervalued compared to the overall S&P 500.
Portfolio Data
P/E Ratio: 13.7
P/B Ratio: 1.11
The fundamentals of XLF showed that, from a purely P/B perspective, the XLF is dirt cheap. The S&P 500 has a P/B ratio of 2.85, hence its safe to assume that financial services are relatively undervalued. I prefer looking at the market-to-book ratio (also known as the P/B ratio) when it comes to evaluating banks and financial services in general. P/E tends not to be very representative when it comes to balance sheet of financials.
Furthermore, the exchange-trade fund is down 16.93% YTD. Fairly stable, beta stands only at 1.03. Hence the rate hike in December should push the financial select sector into an uptrend from the undervalued state they are in as of right now.
XLF Holdings and Portfolio data via ETF.com
U.S Dollar
Besides equities, investors can lean towards the strong dollar currency which has been up 24% against other currency since June 2014. The Fed is more than likely going to have two interest rate increases in the fiscal year of 2017. This should put pressure on the ECB to easy policy as well. Yield spreads are in favor of the dollar in retrospect to other major currencies. Its evident that the USD is near a maturity stage, however, there is definitely room for appreciation in the next year. As seen in the graph below, the U.S dollar has appreciated relative to rival currency of the European common market, the Euro.

Click to enlarge
EURUSD data via finviz
Utilities and Technology
U.S utilities kept constant earnings growth profiles throughout the past year. Current average yield on Utilities Select Sector SPDR (NYSEARCA:XLU) is trading currently around 3.4%, also the dividend yield has not gone under 3% since 2009.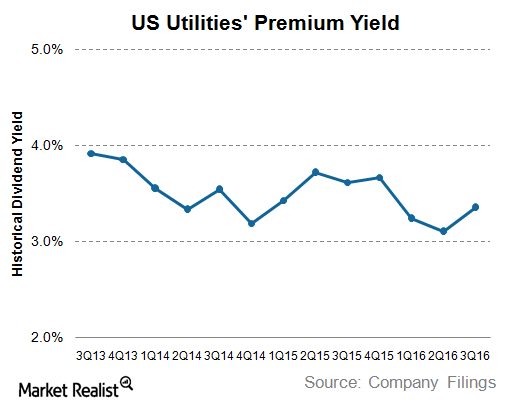 US Utilities' Premium Yield data via Market Realist
The S&P 500 has returned back almost 9% YTD, while the XLU has underperformed the overall market. While technology stocks (NYSEARCA:XLK) HAVE outperformed the S&P 500 in all given time intervals, which are portrayed below in the chart.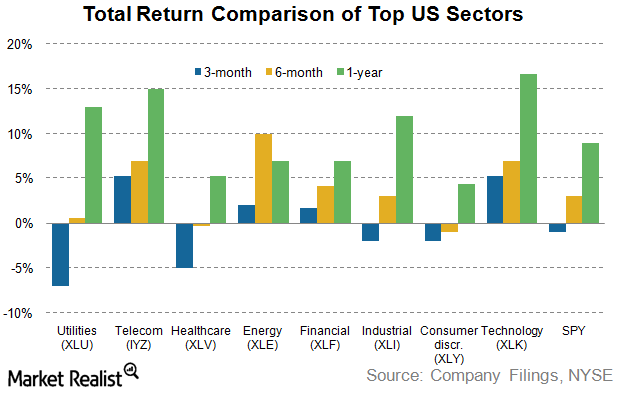 US Sector Returns via Market Realist
One of XLK's two largest holdings, Intel (NASDAQ:INTC), raised its sales outlook, due to improvements that they are forecasting for their personal computer market share. As we come to the close of the mid-to-late phase of business cycles. Another catalyst is the rate hike expected in December.
Technology stocks tend to outperform the overall market in both of these two occasions, which are upcoming. The exchange-trade fund features high quality technology stocks like Apple (NASDAQ:AAPL), Microsoft (NASDAQ:MSFT), and Facebook (NASDAQ:FB).
Going back to Utility equities, the approach of the mid-to-late business cycles would imply the opposite effect on XLU.
Interest rates on the 10 year t-bill yields barely over 3%, as the treasury rates rise we should expect a downward pressure on utility stocks. Considering utilities as almost fixed income securities, increase in treasury rates mean most fixed-income instruments should have a similar respond just as utilities would.
Biotech
Historically speaking, biotechs (NASDAQ:IBB) have had low correlation figures for price movements relative to interest rate increases. However, the best way to position oneself in the industry is to stick with large cap biotechs, whom have had historically weak negative correlations to interest rate hikes.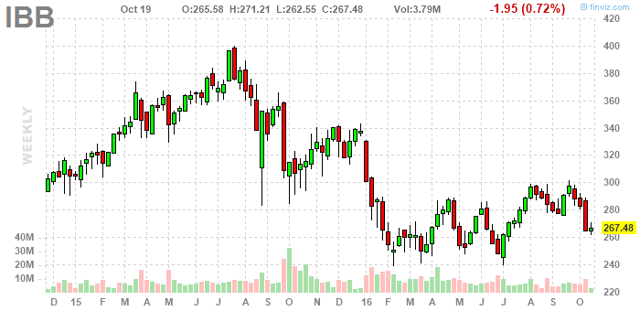 Click to enlarge
Biotechs data via finviz
Therefore when picking equities in this industry, we choose large cap biotechs in the industry such as; Nasdaq Biotechnology (NBI), Amgen Inc (NASDAQ:AMGN), and Biogen Inc (NASDAQ:BIIB). Some major themes that are vital in our decision making when it comes to choosing biotechs are:
Predictable/Staple Legal & Regulatory Environment
Increased Healthcare Utilization
Growing Earnings Power
R&D Productivity Increase Relative to The Past
Conclusion
In sum, the election process and the rate hike in December by the Fed should be the main two catalyst shifting the direction of financial market in the U.S. Banks should benefit the most from the hike and the overall XLF should appreciate in value going into the fiscal year of 2017.
Technology, U.S dollar, and financial services should outperform the overall stock market going into the fiscal year of 2017. Fixed income securities should be effected negatively due to the 10 year T-bill putting downward pressure, especially on utilities.
Large cap biotechs should also outperform the aggregate S&P 500 and also small and mid cap biotech equities.
Disclosure: I/we have no positions in any stocks mentioned, and no plans to initiate any positions within the next 72 hours.
I wrote this article myself, and it expresses my own opinions. I am not receiving compensation for it (other than from Seeking Alpha). I have no business relationship with any company whose stock is mentioned in this article.