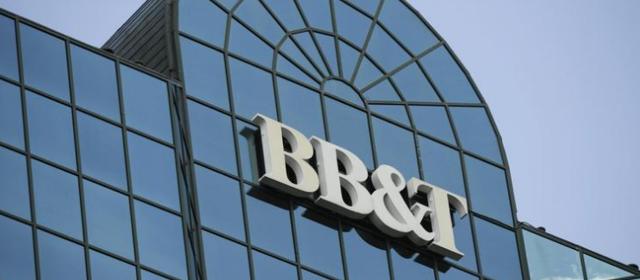 Click to enlarge
After being a bull on BB&T (NYSE:BBT) for a long time, I have more recently been bearish as the company's acquisitions have gotten out of hand in my view. That led me to say before the company's Q3 earnings that the stock was expensive in light of the massive run it has seen since the bottom in February. The stock was up slightly yesterday off of the report so it isn't as though a big move was made in either direction, but I do think it was telling that BBT reported record earnings and the stock didn't move.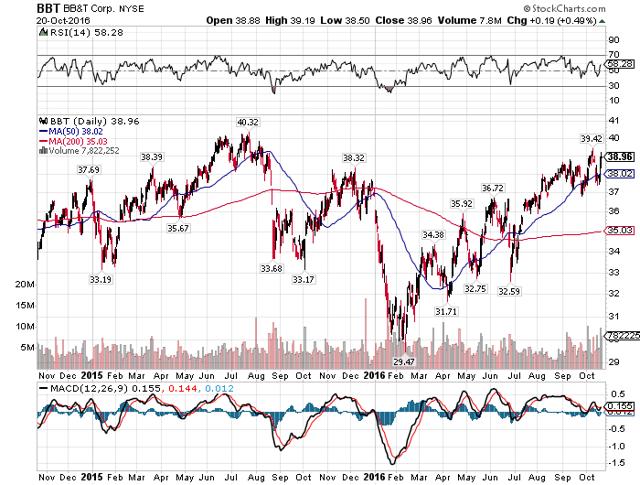 Click to enlarge
My bearishness has been based upon the fact that BBT's acquisitions have been expensive and that its expenses remain very high despite the synergies you'd normally expect from acquiring competitors. BBT has made its living for a very long time buying other companies and while that certainly boosts the top line, it is very expensive up front and it is difficult to integrate large acquisitions. BBT's earnings have suffered as a result but in Q3, we started to see some daylight.
BBT's press release is quick to point out that Q3 saw record earnings but let's also keep in mind that at this point, it should be producing record earnings. Constantly making acquisitions means that earnings should be hitting records all the time so I don't consider the fact that Q3 was a record to be an accomplishment. If we look beyond the headline, BBT is making some progress - I'll give credit where it is due - but given the valuation, it still isn't making enough progress.
The acquisitions of Swett & Crawford as well as National Penn make it such that comparisons to last year aren't particularly useful. To that end, unless otherwise stated, I'll be comparing Q2 to Q3 hereafter.
Total revenue was basically flat against Q2 as net interest income declined slightly but was offset by a nice gain in fee income. BBT's fee income ratio moved up 70bps to 41.9% in Q3, roughly congruent with where it normally is. With lower rates continuing to be the norm, higher amounts of fee income are desirable and that is a big reason why BBT diversifies away from traditional banking with its insurance products. The formula is working to keep revenue steady but it isn't producing a lot of growth just yet.
Net interest margin was down two bps to 3.39%, still a very strong NIM to be sure. Other big banks are closer to the high-2% area or perhaps the low 3s, but BBT continues to produce strong margins on its lending. Management said that Q4 NIM is going to be slightly lower but even so, BBT's NIM is certainly not a concern of mine. I'll point out that when/if rates do rise, BBT's reliance upon fee income will become a negative and even if its NIM does move up, it will see less leverage than a name that is more reliant upon net interest income. Again, this isn't a near term negative, it is just something to remember as rates begin to normalize; BBT is not a high leverage name when it comes to rates.
Where it gets really juicy for BBT is the discussion of expenses because that has been a primary source of concern for me for a few quarters at this point. Noninterest expense was down roughly 5% during the third quarter, a noteworthy reduction to be sure. Merger-related charges fell by $49M during the quarter so that made up the bulk of the decline. Another $33M in lower compensation and benefits costs made up the bulk of the remainder and while that will work until it anniversaries, BBT won't likely see reductions like that over the long term. The merger charges are certainly transitory so BBT's adjusted expense reduction was very much smaller than the nearly 5% headline number. While progress was made, there still wasn't much.
BBT's adjusted efficiency ratio was down 90bps during the quarter but is still elevated near 59%. That's a below average efficiency ratio for a regional bank and it is largely because BBT is still bloated from all of its acquisitions. And while 90bps is a worthy improvement, as I said, most of the gain is transitory as BBT cannot continuously reduce merger-related costs; those are finite by definition. Therefore, I'm still wondering aloud how in the world BBT is going to get its expenses under control because right now, I don't see any significant catalysts. I wouldn't be surprised to see the efficiency ratio tick down but sizable moves will be tough to come by.
Total loans as well as deposits were roughly flat against Q2, meaning that once again, BBT cannot grow by itself. For years BBT has grown only through acquisitions and that hasn't changed, which means that if you're long, you're either accepting no real growth or you assume BBT has more acquisitions coming. The answer over the medium term is probably a combination of both but keep in mind that neither of those is a particularly clear path to earnings growth.
In light of that, BBT's valuation is still quite high at 12.7 times next year's earnings. That's a sky-high multiple for a bank and in particular, one that has as many headwinds to growth as BBT. Analysts are expecting 4% sales growth next year but for the life of me, I can't figure out why. BBT has proven over and over again throughout the years that it doesn't grow organically; we saw more of that in Q3. Thus, unless there is a big acquisition on the horizon, BBT's sales growth is at risk for next year. That means EPS estimates are at risk and that means that BBT's "real" multiple may be closer to 14 than 13 for next year.
BBT is an average bank that happens to buy lots of other companies that make it look like it is growing. But expenses are perpetually high and even though its NIM is elevated, it will see far less leverage on higher rates than some of its competitors. In other words, BBT is one of the least deserving financials to trade for a premium valuation but that is exactly what we have. The fact that the stock failed to reclaim its YTD highs off of a "record" Q3 is telling to me; I think people are realizing the growth simply isn't there to support the valuation. BBT is an avoid at best and if it gets rejected from the $39 level, it is a short at least down to the 200DMA at $35. BBT has way too many problems to be trading for almost 13 times forward earnings.
Disclosure: I/we have no positions in any stocks mentioned, and no plans to initiate any positions within the next 72 hours.
I wrote this article myself, and it expresses my own opinions. I am not receiving compensation for it (other than from Seeking Alpha). I have no business relationship with any company whose stock is mentioned in this article.