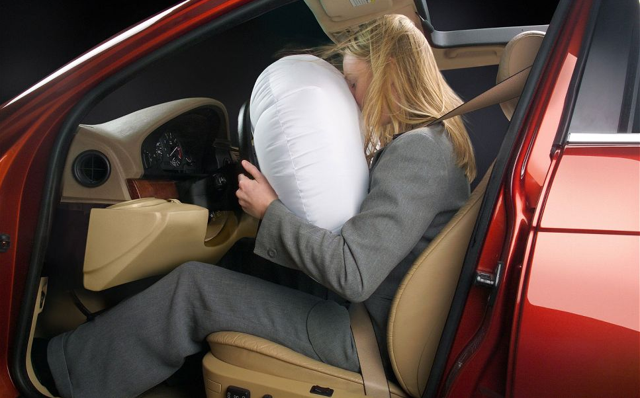 Click to enlarge
Estimize Bullish On GM Ahead Of Q3 Earnings
Ahead of General Motors' (NYSE:GM) 3rd quarter earnings release next week, the analysts at Estimize are more bullish than Wall Street, predicting $1.49 per share in earnings versus Wall Street's consensus of $1.44.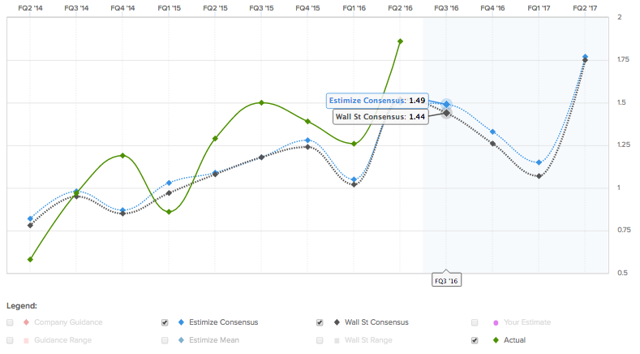 Click to enlarge
Seeking Alpha analyst Mark Bern, CFA is less sanguine about GM's prospects further out though. In an article earlier this month (Ford versus General Motors: Can The Behemoths Survive?), Bern argued both GM and Ford (NYSE:F) were "pulling future sales into the present":
In order to keep sales at elevated levels car makers have already been making more sales to subprime buyers and offering incentives. In the future, as sales slow, Ford and GM will most likely increase incentives to try to lure people to buy before they would otherwise be interested in a new car. That is called pulling future sales into the present and it can only go on for so long. It works until it no longer does. Then sales fall below levels that would have been because a portion of the future demand is no longer there. We are nearing that point in the cycle, in my opinion.

From this point forward I expect the incentives and falling sales to begin to squeeze margins and profits for auto manufacturers. The downward slope of the cycle could take several years to play out before the bottom is reached and sales begin to increase again. The slope may be gentle or it make be painfully harsh.
Although Bern was slightly less negative on GM than Ford, he advised avoiding GM:
In all GM looks to be in better shape this time than Ford at the top of the cycle. But it is still the top of the cycle and the future for both companies is less than appealing for either a short-term trader or a long-term investor.
With Bern's analysis in mind, we'll look ways to limit downside risk for those who want to stay long GM.
Adding Downside Protection To General Motors
If you're long GM and want to add downside protection here, we'll present two ways of doing so below. Remember though: you hedge when you are bullish, but want to limit your risk in the event that you're wrong. If you are bearish on GM, you're better off exiting here. You're up about 18% from the stock's February lows, so you can consider that a win.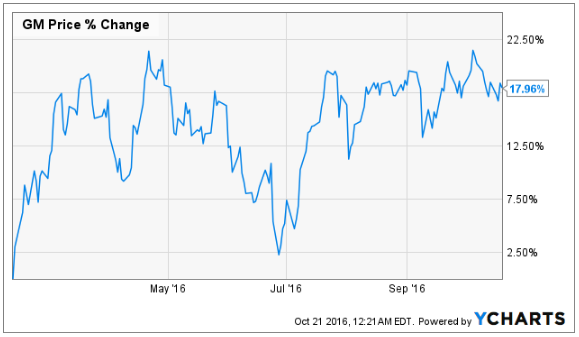 But if you want to hold onto your shares while limiting your risk, read on.
We'll use the Portfolio Armor iOS app to find optimal hedges for it, but you can also find them manually, using the process we outlined in this article if you're willing to do the work (for a refresher on hedging terms, see the section titled "Refresher On Hedging Terms" in this article).
For both examples below, we'll assume you have 1,000 shares of GM and are unwilling to risk a decline of more than 15% over the next several months. You could, of course, use different parameters, but the lower your decline threshold (the less of a drawdown you're willing to risk) the more expensive it will be to hedge, all else equal.
Hedging GM With Optimal Puts
As of Thursday's close, these were the optimal puts to hedge 1,000 shares of GM against a greater-than-15% decline by mid-March.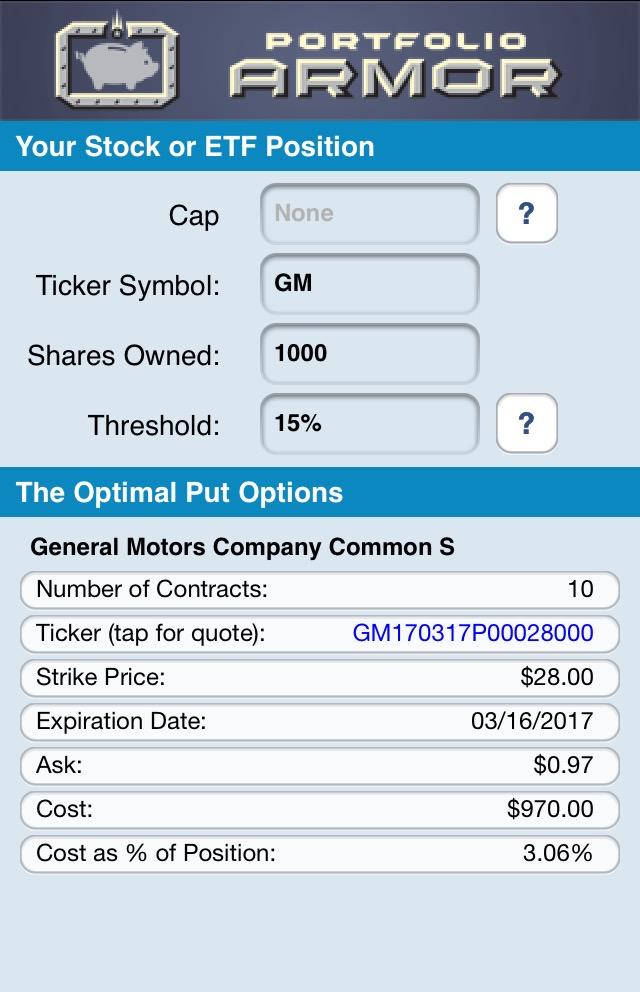 As you can see above, the cost was $970, or 3.06% of position value. Note that this cost was calculated conservatively, using the ask price of the puts. Since you can often buy puts for some price between the bid and ask, you could probably have purchased these puts for a bit less.
Hedging GM With An Optimal Collar
Since you're limiting your possible upside with a collar, you may want to take into account the stock's potential return over the time frame of the hedge when setting that cap. Wall Street's 12-month consensus price target (below, via Nasdaq) implies a potential return of about 7% by mid-March.

Click to enlarge
The Portfolio Armor website's potential return estimate for GM was less than 2%, so we used 7% as our cap below.
This was the optimal collar, as of Thursday's close, to hedge 1,000 shares of GM against a greater-than-15% drop by mid-March.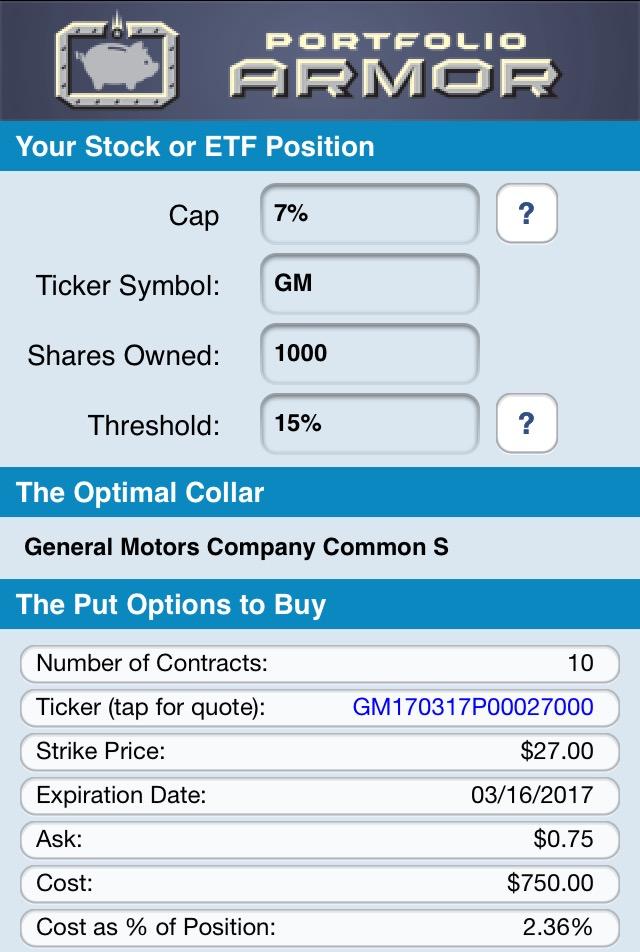 As you can see above, the cost of the put leg was less than that of the optimal puts above: $750, or 2.36% of position value. As you can see below though, the income generated by selling the call leg was a bit more: $910 or 2.87% of position value.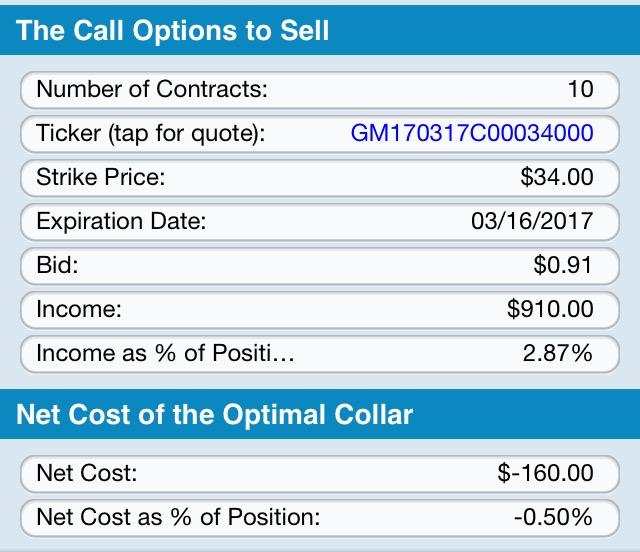 So the net cost of this hedge was negative, meaning an investor opening the hedge would have collected an amount equal to $160, or 0.5% of position value. As with the optimal puts above, this cost was calculated conservatively, so the investor may have collected more than $160 when opening this collar.
Disclosure: I/we have no positions in any stocks mentioned, and no plans to initiate any positions within the next 72 hours.
I wrote this article myself, and it expresses my own opinions. I am not receiving compensation for it (other than from Seeking Alpha). I have no business relationship with any company whose stock is mentioned in this article.