Timmins Gold (NYSEMKT:TGD) has been a strong performer all year, outperforming many of the junior miners (NYSEARCA:GDXJ). Over the past 3 months, the stock has pulled back from its highs, but seems to be finding support at the $0.40 cent level. I have received many questions from readers about Timmins Gold, so have decided to do some deeper digging of my own. The consensus seems to be that the stock is undervalued at current levels. My goal is to help readers understand why the stock is languishing at its current valuation, if it is indeed undervalued.
I am no stranger to Timmins Gold as the company bought out my favorite junior miner Newstrike Capital last year. Newstrike Capital owned the Ana Paula Project, which sits on the Guerrero Gold Belt in Mexico. The Ana Paula deposit held nearly 2 million ounces of gold at a gold equivalent grade of 1.6 grams per tonne at the time of acquisition. The hole which put the project on the map was AP-37, which intersected 317 meters of 5.8 grams per tonne gold. I believe Timmins Gold stole the property from under Torex Gold's (OTCPK:TORXF) nose, and at a great valuation.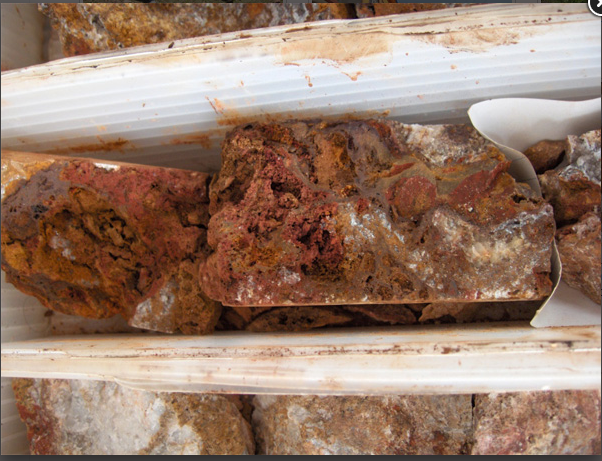 Source: Newstrike Capital Corporate Presentation
Having said all this, I ignored Timmins Gold the past year due to being unimpressed by their operations at their San Francisco mine. The company reported 2016 operation performance of 93,000 ounces of production at all-in sustaining cash costs of $1,144/oz. This was an abomination from their 2014 results of 120,000 ounces at all-in sustaining cash costs of $925/oz. Fortunately, for Timmins Gold, two great things happened this year. The price of gold went up which added to the company's mine life, and they managed to make massive improvements in their operating performance.
Valuation
Timmins Gold currently has 319 million shares outstanding and $13 million in cash. Based on their closing prices of $0.48 cents, this gives the company an enterprise value of $140 million. The company recently released Q3 production results from its San Francisco Mine of 24,052 ounces for the quarter. This places the company on track to meet guidance of 90,000 to 100,000 ounces for 2016.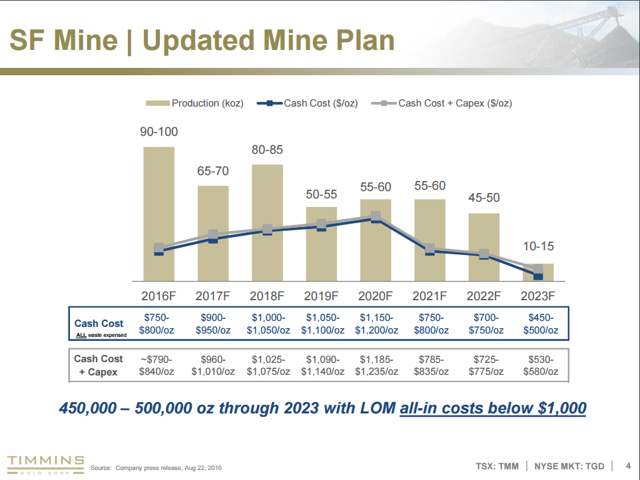 Click to enlarge
Source: Timmins Gold Corporate Presentation
At first glance, the company seems enormously undervalued. A 100,000 ounce producer trading for an enterprise value of $140 million. Unfortunately, the valuation for this company is a little tricky to assess. While Timmins Gold can be labeled a 100,000 ounce producer for 2016, production is dropping off significantly over the coming years. Looking at the mine plan above, we can see that production at San Francisco is dropping off to an average of 60,000 ounces a year for the next 6 years. In addition to this, cash costs are going to increase by roughly 20%.
Looking at the company based solely on the San Francisco Mine, the company seems very fairly valued. While the mine is quite profitable this year earning $0.02 per share last quarter, these earnings will be halved going forward. Having said that, this is giving no value to the world class Ana Paula deposit.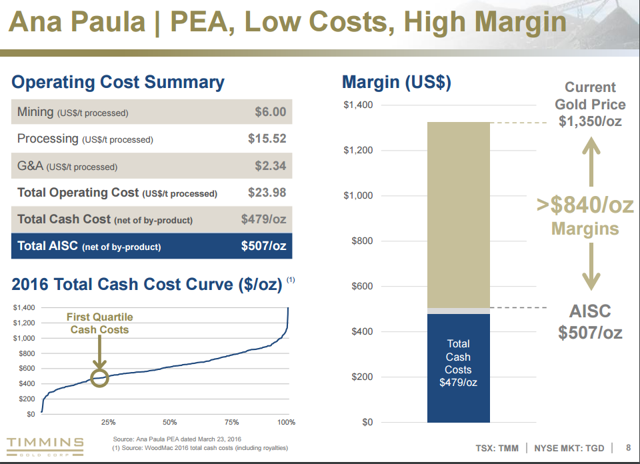 Click to enlarge
Source: Timmins Gold Corporate Presentation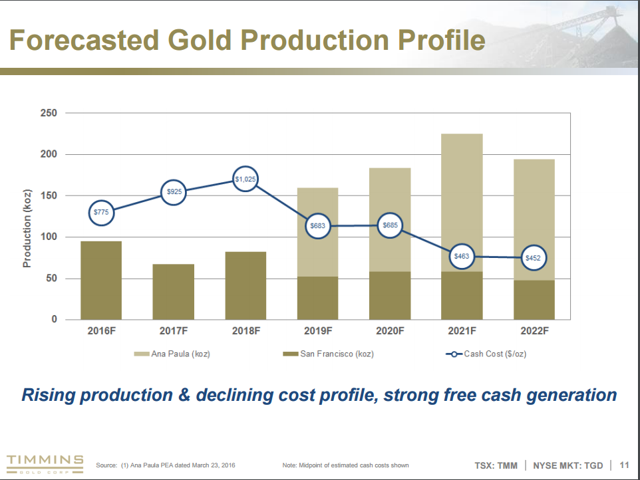 Click to enlarge
Source: Timmins Gold Corporate Presentation
The company is currently fast-tracking the Ana Paula project, which will add significant ounces to their production profile. In addition, the ounces added by Ana Paula will be some of the lowest cost ones in the industry. The PEA on Ana Paula has projected all-in sustaining cash costs of $507/oz, which will do wonders for Timmins Gold's bottom line. Ana Paula has the potential to transform Timmins Gold into a 150,000 ounce plus producer, at sub $700 all-in sustaining cash costs. A 150,000 ounce producer with all-in sustaining cash costs of under $700/oz could easily fetch a $500 million valuation.
Why the low valuation currently?
So what is the market missing? Why is the company trading for an enterprise value of $140 million?
While Timmins Gold should be a lean, production powerhouse by 2019, the market is being very short sighted in my opinion. Despite a massive transformation for the company underway, the market is worried about the next 2 years. While this is perfectly understandable, I believe it's providing investors with a longer-term outlook an opportunity at these levels.
In my opinion, the market has 2 concerns:
1) The first concern is that production is dropping by over 30% the next 2 years with cash costs increasing. It's not easy to bring in new investors to a stock that has declining growth, and lower operating margins.
2) The second concern is that the company is going to need to do some financing to fund Ana Paula's construction.
The total bill to put Ana Paula into production should be roughly $125 million. Given that Timmins Gold currently has $13 million in their treasury, this is not an amount they can internally fund. If the company was maintaining their 100,000 ounce a year production this would be attainable, but given the drop off in production, it's going to be difficult to raise $100 million in 2 years.
Based on a gold (NYSEARCA:GLD) price of $1,300/oz over the next 2.5 years, the company should be able to earn roughly $48 million. The company earned $6.4 million in the second quarter with a gold price of $1,260/oz. Having said that, this was with the lowest all-in sustaining cash costs the company will see going forward at San Francisco.
I am expecting the company will earn another $16 million to close the year out, or $8 million each for Q3 and Q4 in 2016. Looking forward as production dips and cash costs increase, I believe $4 million in earnings per quarter is being generous. This means that if we use a conservative gold price of $1,300/oz for 2017 and 2018, the company should earn $16 million in both 2017 and 2018.
My projected earnings are as follows:
2016 (Q3 & Q4) - $16 million total
2017 - $16 million total earnings
2018 - $16 million total earnings
Based on a current treasury of $13 million, and $48 million in future earnings over the next 2.5 years, this will provide approximately $60 million to put towards Ana Paula construction. Ana Paula pre-production capex is estimated at $120 million, therefore $60 million will leave the company roughly $60 million short.
This means that before investors reach the light at the end of the Timmins Gold tunnel, there are a couple of minor hurdles. The first is a $60 million financing if gold stays at these levels, and the second is 2 years of declining earnings.
All bets are off if the gold price does what I expect it will for the next year. I am looking at a price range on gold of between $1,200/oz and $1,520/oz over the next 12 months. If the price of gold can average $1,400/oz or higher, Timmins Gold should have no problem funding Ana Paula internally.
Summary
For investors that have a long-term view and do not mind sitting through a financing, I believe Timmins Gold to be quite undervalued. The company is currently trading for a price tag of $140 million, and by 2019, should fetch a valuation of closer to $500 million. I believe the market is valuing Timmins Gold as it is currently as the stock is still a little too far out from its transformation, with a couple of hurdles left to wade through.
Having said that, I would not be surprised if the stock slightly underperformed the GDXJ over the next 1-2 years. The stock has lots of short-term hurdles to get through if the price of gold does not get above $1,400/oz. A $60 million financing should put a ceiling on the stock, and declining earnings don't do anything to help attract investors. If the price of gold does get above $1,400/oz, I believe Timmins should easily outpace its GDXJ peers. The stock has massive upside at $1,400/oz as Ana Paula can be internally funded, and San Francisco can add more ounces to its production profile at an elevated gold price.
I believe the stock is worth a speculative buy at this point, and a starter position at current levels. The company owns a world class gold deposit and will be one of the lowest cost 150,000 ounce producers in the world if Ana Paula goes into production without a glitch.
At the current valuation, the company is potentially a takeover target for an intermediate producer willing to fund Ana Paula themselves. I believe Ana Paula alone to be worth more than $150 million with all permitting in place. I currently do not have any position in Timmins Gold but am stalking the company for a position at current levels.
Disclosure: I/we have no positions in any stocks mentioned, and no plans to initiate any positions within the next 72 hours.
I wrote this article myself, and it expresses my own opinions. I am not receiving compensation for it (other than from Seeking Alpha). I have no business relationship with any company whose stock is mentioned in this article.
Additional disclosure: If you liked this article and found it useful, please feel free to follow me by clicking on my name next to my avatar at the top of this article. I also invite you to check my performance at TipRanks.com where I am ranked in the Top 100 Contributors for performance with an average return this year of 65% on new long positions.
Editor's Note: This article covers one or more stocks trading at less than $1 per share and/or with less than a $100 million market cap. Please be aware of the risks associated with these stocks.