This is a quick update as I was the original author that wrote the article The Hedge Funds Have An Exposed Left Flank on February 26, 2016 highlighting the massive number of naked calls written against Peabody's (OTCPK:BTUUQ) equity relative to its 18.5 million share count. Given the dramatic move in the stock, I want to clarify that outstanding in the money call options are not nearly as high, at least as of yesterday, relative to back in February 2016. SA contributor, Wyco Researcher, who I think does very in depth and good work may have inadvertently misspoken about the number of outstanding calls. In Wyco's latest piece, Peabody Energy Stock Prices Triples This Week - What's Up?, he states the following: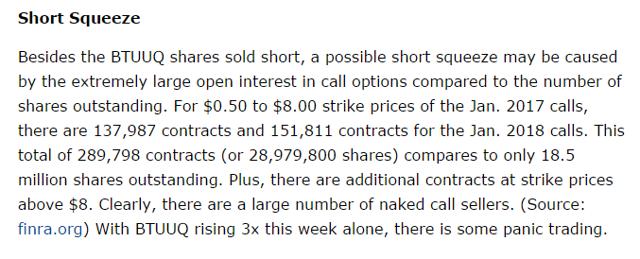 Click to enlarge
Based on my calculations, I show the following open interest.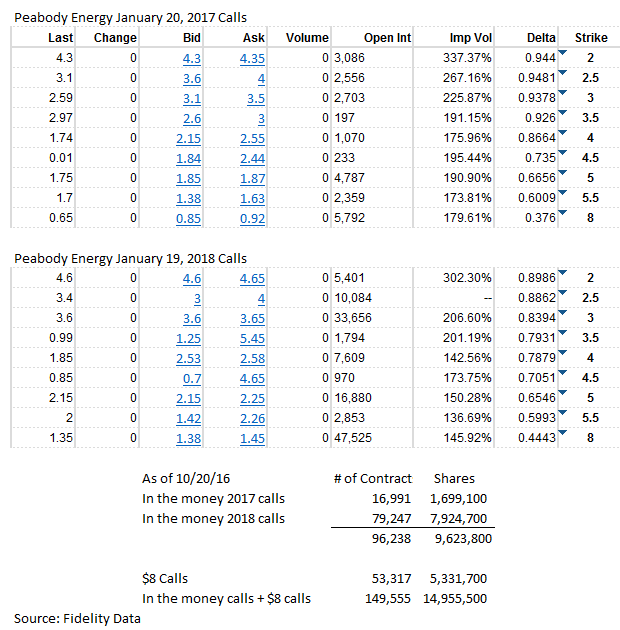 Here is the Fidelity data as of last night.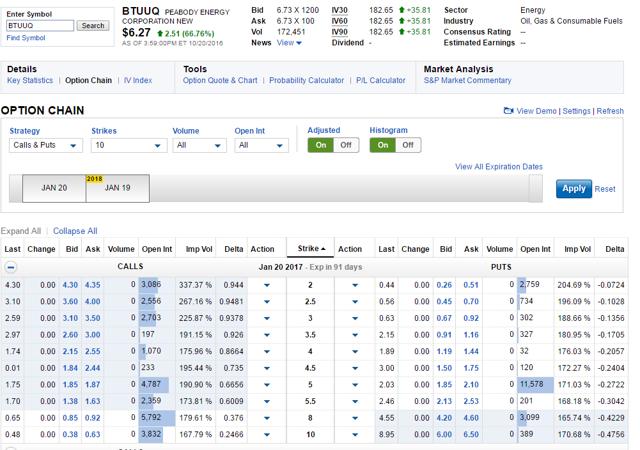 Click to enlarge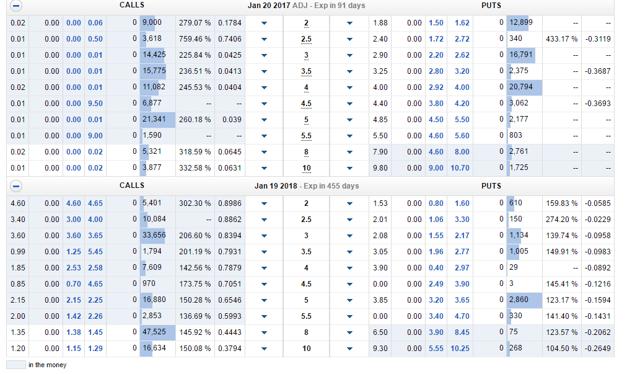 Click to enlarge
Concluding thoughts: I would caution equity speculators that even if you include the $8 calls that the open interest is closer to 15 million shares and not the 29 million shares suggested by Wyco. And as I noted in my article published this morning that management issued the following disclaimer in last night's 8-K:
It is uncertain at this stage of the Chapter 11 Cases if any proposed plan of reorganization would allow for distributions with respect to Peabody Energy equity or other securities. It is likely that Peabody Energy equity securities will be canceled and extinguished upon confirmation of a proposed plan of reorganization by the Bankruptcy Court, and that the holders thereof would not be entitled to receive, and would not receive or retain, any property or interest in property on account of such equity interests. In the event of cancellation of Peabody Energy equity or other securities, amounts invested by the holders of such securities would not be recoverable and such securities would have no value. Trading prices for Peabody Energy's equity or other securities may bear little or no relationship during the pendency of the Chapter 11 Cases to the actual recovery, if any, by the holders thereof at the conclusion of the Chapter 11 Cases. Accordingly, Peabody Energy urges caution with respect to existing and future investments in its equity or other securities.
Also, look at how expensive put options are as of this morning.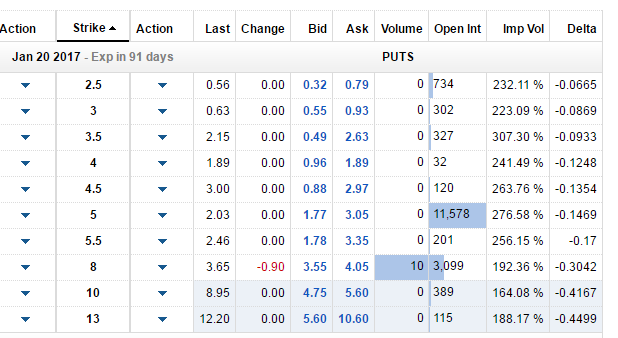 Source: Fidelity
Finally, almost half of Peabody's coking reserves are PCI, which has a Q4 2016 benchmark price of $133 m/t not the headline $200 for hard coking coal. Speculators can chose to ignore Peabody management's explicit warning at their own risk.
Disclosure: I/we have no positions in any stocks mentioned, and no plans to initiate any positions within the next 72 hours.
I wrote this article myself, and it expresses my own opinions. I am not receiving compensation for it (other than from Seeking Alpha). I have no business relationship with any company whose stock is mentioned in this article.
Editor's Note: This article discusses one or more securities that do not trade on a major U.S. exchange. Please be aware of the risks associated with these stocks.